2023 Gulf Coast Intercollegiate Consortium (GCIC) Conference
Register Now! Gulf Coast Intercollegiate Fall Conference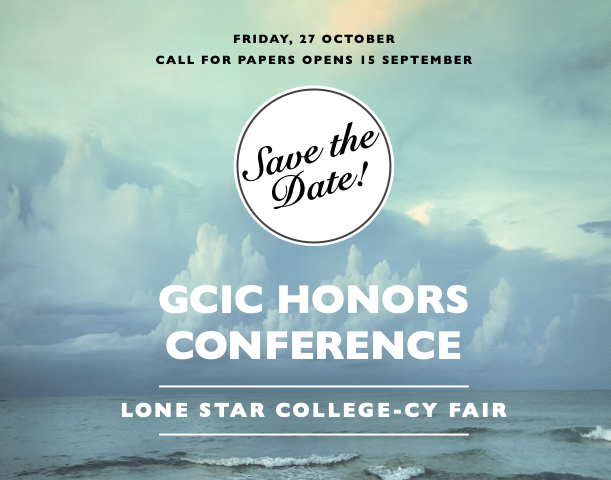 Lone Star College-CyFair
9191 Barker Cypress Road, Cypress, TX 77433
Proposal Submission: Due October 15, 2023 by MIDNIGHT (11:59P.M.)
Upload your Formstack ABSTRACT SUBMISSION here
Abstract Submission Details:
Students are asked to paste their abstract into a text box located on the form and provided with following guidance: Abstracts should be about 250 words and provide the reviewer with a clear idea of the central research question and/or purpose of the presentation. To help develop a strong and comprehensive abstract some the best practices used by the Council for Undergraduate Research (CUR) are listed below.
The National Conference on Undergraduate Research (NCUR) abstract guidelines for humanities, science, technology, engineering, and mathematics:
Clearly state the central research question and/or purpose of the project.
Provide brief, relevant scholarly or research context (no actual citations required) that demonstrate its attempt to make a unique contribution to the area of inquiry.
Provide a brief description of the research methodology.
State conclusions or expected results and the context in which they will be discussed.
Include text only (no images or graphics)
Be well-written and well-organized.
The Council for Undergraduate Research (CUR) provides additional resources and best practices for student presenters on their webpage: https://www.cur.org/
Registration Fee: $25 Due at time of registration - Friday, October 20, 2023 (11:59PM)
**Please remember to register ANY and ALL guests attending the conference (Directors included)**
For EventBrite tickets/registration PAY HERE
Itinerary
8 am - Registration Begins
8:30am- transfer fair begins
10am- Director's meeting
11am- Poster session
12pm- Lunch
12:30pm- Keynote
1:30-2:30pm- Afternoon session 1
2:30-3:00pm- Refreshments break
3-4pm- Afternoon session 2
4pm- Conference Adjourns
For more information
**Please Check Back for further information regarding the Spring 2024 retreat**
For more information, contact your honors dean, director, or coordinator for details or call:
Make LSC part of your story.