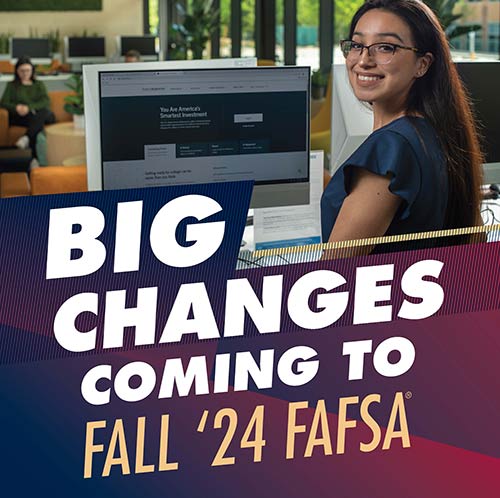 There are major changes and improvements coming to the 2024–25 Free Application for Federal Student Aid (FAFSA) form. As a result, the new form will now be available in December 2023 rather than October 1 as in previous years.
FAFSA is the official form that students or their families use to apply for financial assistance for college from the federal government. There are some significant changes taking place and its important you understand them so you don't leave money on the table.
You can estimate your eligibility for federal student aid and your Student Aid Index (SAI) with the Federal Student Aid Estimator. Be sure to use the tool before you fill out the FAFSA form.
Already applied for 2023-24?
You are good to go. Now you can focus on your studies!
Applying for Fall 2024-25
A new simplified FAFSA is being introduced for the 2024-2025 academic year. Due to the many changes involved, the FAFSA form for the 2024-2025 school year will not be available until December 2023.
Did you fill out a FAFSA form for 2023–24? Log in to your StudentAid.gov account and be sure they have your current email address. Once the exact FAFSA launch date is announced, the Department of Education will send an email to students (and parents of dependent students) who applied on the 2023–24 form, reminding them to apply for 2024–25.
Didn't submit a 2023–24 FAFSA form? Make sure to create your StudentAid.gov account—and remember your username and password so you can access and submit the 2024–25 FAFSA form when it is available.
Students who file the FAFSA during the first three months the application process is open tend to get twice as many grants, on average, as compared with students who file the FAFSA later.
Learn more at LoneStar.edu/FA-Resources.
Make LSC part of your story.