LSC-North Harris - Graduation

Congratulations, graduates, on achieving this honorable milestone in your educational journey. You put in the hard work, and you did not give up. You persisted, worked hard, and made sacrifices to get to this moment. Now, it is time to apply to graduate and get the degree/certification that you worked so hard to complete. With immense pride, Campus Leadership and the Faculty and Staff of LSC-North Harris, we would like to congratulate you on your candidacy for graduation. Below are important topics related to participating in graduation.
Meet with your Academic Advisor
Meet with your academic advisor to discuss your degree requirements in time for graduation, transfer requirements and career opportunities.
Have a question for your Academic Advisor?
Contact the LSC-North Harris Advising Department
Graduation Application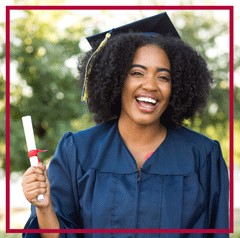 It is time to apply to graduate and get the diploma and/or certificate that you worked so hard for! The next step is easy. All Lone Star College students must apply for graduation online. It's as simple as completing the Graduation Application* in your MyLoneStar student account.
*Note that if an application is submitted after 3:00 pm on April 18, 2023, the student's name will not appear in the commencement program book.
2023 Bachelor's Graduation Ceremony:
Friday, May 12, 2023 at 5:30 p.m.
StoneBridge Church
1 Stonebridge Church Dr., The Woodlands, TX 77382
Graduation Application Help
Have a question for your academic advisor or need help completing the graduation application online? Check out our graduation resources below.
Student Caps & Gowns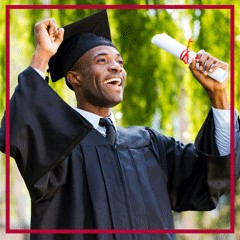 All students participating in the LSC-North Harris Commencement ceremony must wear a black cap & gown. You may purchase caps & gowns from any vendor, including the campus bookstore, borrowed from a previous graduate or family member, or loaned out by the LSC-North Harris Admissions department. We're here to help you!
Commencement Orientation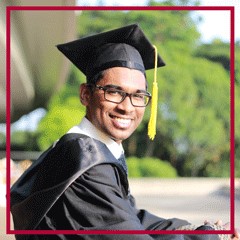 The LSC-North Harris campus will be hosting a mandatory Commencement Orientation for graduates on Friday, April 28, 2023. Graduates should only choose one session to attend:
Morning Session: 10:00 a.m. – 11:30 a.m.
Afternoon Session: 2:00 p.m. – 3:30 p.m.
Evening Session: 6:00 p.m. – 7:30 p.m.
The Commencement Orientation will provide students with vital information and guidelines, including arrival times, ceremony length, caps & gowns, graduation photos, and much more. Please note participation in commencement orientation is mandatory.
Reserve Your Seat For Orientation
RSVP Link
(Only the graduate needs to reserve their seat.)
Last day to reserve your seat for orientation is April 26, 2023, at 1:00 p.m.

Commencement Ceremony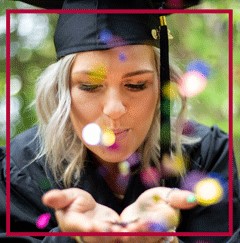 Join your fellow LSC-North Harris graduates at Commencement! Commencement is a graduation ceremony for graduates, families, faculty, and staff. It is an excellent opportunity to celebrate the hard work, dedication, and achievements of our students. Pick up your cap & gown and get ready to walk across the stage!
2023 LSC-North Harris Commencement Ceremony:
Friday, May 12, 2023, at 6:00 p.m.
M.O. Campbell Educational Center
1865 Aldine Bender Rd., Houston, TX 77032
Graduation Accommodations Request
If you require accommodations at the commencement ceremony, please contact the Disability Services Office at NH-DSO@LoneStar.edu to plan how we can best accommodate your needs on this exciting day. In the email subject, please type "Graduation Accommodation Request."
Livestream and Photographs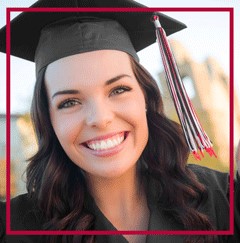 The 2023 LSC-North Harris Commencement ceremony will be streamed live. To access the livestream, click here. Flash Photography will be on hand to photograph graduates at the Commencement ceremony. Graduates will be able to purchase photos directly from Flash Photography. Questions? Contact Flash Photography for ordering options.
Diploma Mailing Information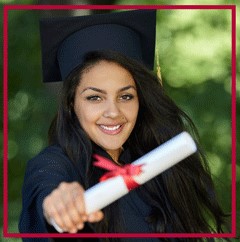 Diplomas will be printed and mailed from the System Office (not individual campuses) after requirements are certified.
***Please note that diploma printing will begin as of June 1. Mailings will occur mid-June for May graduates, mid-September for summer graduates, and mid-February for December graduates. Questions? Contact our campus graduation department for more information at NH-Graduation@lonestar.edu.

***Replacement diplomas requested one year after the posted graduation date will incur a $25 fee. To request a Diploma Reprint form and payment options, please contact our campus graduation department via email at NH-Graduation@lonestar.edu.
**Graduation Notice and Disclaimer**
Please note that participation in the ceremony does not guarantee graduation from Lone Star College. Graduates must meet all requirements and competencies before degrees will be issued and must not have any outstanding financial obligations to Lone Star College System. It is the student's responsibility to ensure that all requirements are complete before applying for graduation. Please check your MyLoneStar email for important updates about Commencement and your graduation status.
Follow us on:
Make LSC part of your story.