Hats become a springboard for an exploration of cultural history and identity in the upcoming co-production of "Crowns" on stage Oct. 8 through Oct. 18 at Lone Star College-CyFair.
This moving and celebratory musical play, which LSC-CyFair Theatre and Houston Family Arts Center will co-produce, is based on the photography book "Crowns: Portraits of Black Women in Church Hats" by Michael Cunningham and Craig Marberry.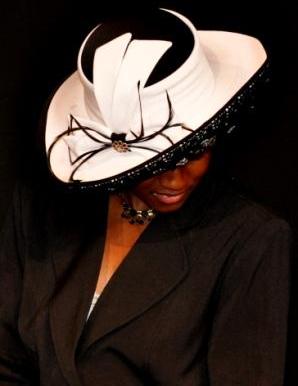 "Crowns" celebrates the lives of the "church hat queens," six African-American women of the South whose stories of love, loss, identity, and sisterhood are woven into the hats that crown their heads and the songs that speak their truth. This unique play captures the thrill of self-expression with a series of intimate gospel-infused musical portraits, as seen through the eyes of a Brooklyn teenager sent to live with her grandmother in South Carolina. The show-stopping musical numbers carry audiences across the Deep South, through urban streets, to the Caribbean and Africa.


Starring as the "church hat queens" are: Andrea Boronell, Cynthia Brown, Bridgette Harris, Courtney Jones (an LSC-CyFair student as Yolanda above), Stephanie Jones and Cynthia Miller.
LSC-CyFair's Ron Jones and HFAC's Lisa Garza co-directs this cast of talented college students as well as community members. Daria James is the choreographer and Glenn Sharp is the musical director.
A $5 preview performance will be held Thursday, Oct. 8, with 8 p.m. performances set Fridays and Saturdays and 3 p.m. matinees set Sundays. Tickets are $16 for adults, $14 for seniors and $12 for students/children. Group discounts are available.
All performances will be held in the Main Stage Theatre located in the Center for the Arts on the Barker Cypress campus at 9191 Barker Cypress.
For information, call 281-290-5201 and for tickets go to http://www.houstonfac.com/.