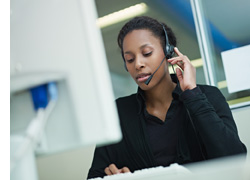 Lone Star College-CyFair offers students with disabilities the opportunity to gain a Customer Service Certificate through the College of Careers and Development for Exceptional Learners (CCDEL.)
"Through this certificate program, students learn the skills necessary to run a help desk, to deal with challenging customers, as well as to communicate more effectively with co-workers," said Director of Continuing Education Kenya White.
CCDEL is a unique program designed to meet the needs of motivated developmentally disabled adults who wish to further their education beyond a high school level in order to provide skills that can be utilized for employment. Students complete an internship on campus to learn real life applications in a customer support environment.
"All CCDEL courses are tailored to provide successful life application skills that can be utilized for employment," said White. "Our purpose is to not only provide students with exceptional workforce training and skills, but to foster social and financial independence."
Students must be at least 18 years old, have a high school diploma or GED and be able to function independently in a classroom setting and on campus in order to be eligible for the CCDEL program. Attend an upcoming information session to learn more about other admission requirements, the application process and Fall 2013 program deadlines and certificate options.
All information sessions will be held from 6 p.m. to 7 p.m. Jan. 28, Feb. 25, March 25 and April 29 in the Center for Student and Academic Affairs building, CASA 121.
For CCDEL program information, email Noemi Silva at noemi.v.silva@lonestar.edu or call the Continuing Education office at 281.290.3460.