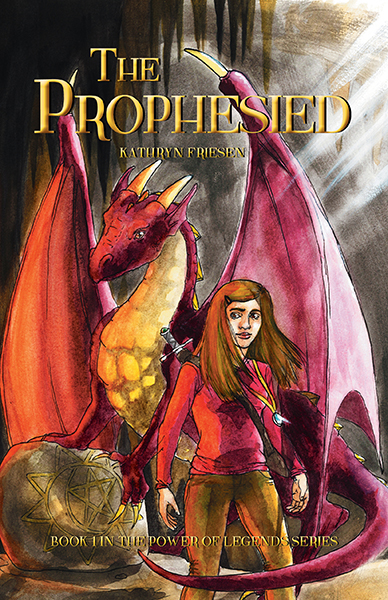 Kathryn Friesen is inspiring others to reach for their dreams. The 14-year-old author and student at LSC-University Park and iSchool High has proven that writing and publishing a YA novel can become reality.
With persistence, creativity and the help of her parents, Kathryn developed an idea for a story into The Prophesied (Friesen Press). She will be on hand Feb. 15 to sign copies of her YA fantasy novel at the Montgomery County Book Festival.
ďI look forward to meeting people and moving readers to buy The Prophesied,Ē she said about the time and effort involved in book promotion. ďIím also excited to meet Ridley Pearson, whose books Iíve read.Ē Pearson, author of the Kingdom Keepers series, will be the book festivalís keynote speaker.
In The Prophesied, Kathryn writes of Amber, who has been forgotten by everyone that matters on her 12th birthday. Even her best friend, Mo, seems to have disappeared. Mo suddenly reappears and tells Amber about a hidden kingdom of dragons. When sharp, red points turn up on Amberís skin, she accidently sets fire to a mean girl who mocks her appearance. Only then does Amber finally realize that she is a dragon!
The Prophesied is available for order from http://FriesenPress.com/bookstore, Amazon, Barnes & Noble and from most book retailers. Readers can also purchase the ebook on Kindle, Nook, iTunes and GooglePlay.
Book Signing Event: Montgomery County Book Festival, Lone Star College-Montgomery, Feb. 15.
LSC-University Park is the sixth LSCS campus located in the former Compaq Computerís world headquarters complex. The 71-acre campus houses four university partners, a charter high school, several business partners, Lone Star Corporate College and the LSC Energy and Manufacturing Institute. Under the first President, Shah Ardalan, LSC-University Parkís vision is to be nationally recognized as the model for the innovative college of the 21st century. In just two years, LSC-University Parkís Invitation-2-Innovate (i2i) has resulted in many local, national and global recognitions, including one patent. The campus is located at the corner of State Highway 249 and Louetta Road across from Vintage Park. For more information about LSC-University Park, call 281.290.2600 or visit LoneStar.edu/UP.
Lone Star College System has been opening doors to a better community for 40 years. Founded in 1973, LSCS remains steadfast in its commitment to student success and credential completion. Today, with 78,000 students in credit classes, and a total enrollment of more than 90,000, Lone Star College System is the largest institution of higher education in the Houston area and the fastest-growing community college system in the nation. Dr. Richard Carpenter is the chancellor of LSCS, which consists of six colleges including LSC-CyFair, LSC-Kingwood, LSC-Montgomery, LSC-North Harris, LSC-Tomball and LSC-University Park, five centers, LSC-University Center at Montgomery, LSC-University Center at University Park, Lone Star Corporate College, and LSC-Online. To learn more visit LoneStar.edu.