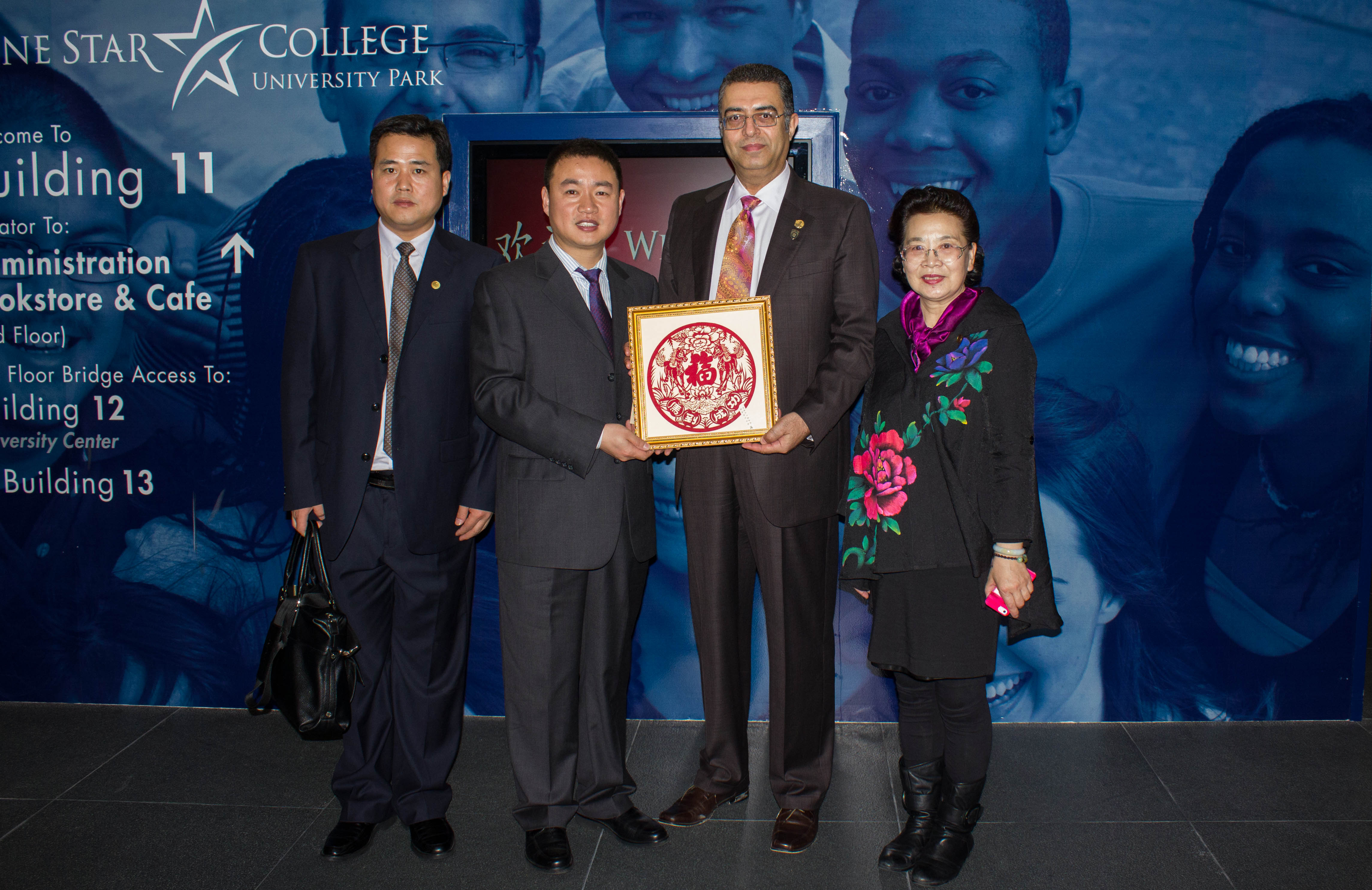 The world got a little flatter this week when Lone Star College-University Park hosted a visit by a delegation representing Chinese cultural organizations on Feb. 17.
LSC-University Park President Shah Ardalan met with representatives of the China Confucius Foundation for a tour of the campus and to discuss possible educational partnerships.
The China Confucius Foundation supports the study of traditional Chinese culture and promotes international cultural exchanges. Highlights of the visit included a tea with campus leaders followed by a visit with students and a tour of the Student Learning and Research Center.
"This visit is our opportunity to show how Lone Star College is a global institution with many innovative opportunities for education and workforce development, particularly in the oil and gas industries, which are of great interest to China," Ardalan told the group.
"We are impressed by what we have seen and we look forward to talking more about how we can help bring Chinese students to Lone Star College," said Xu Guojing, the foundation's ambassador of culture.
The delegation visited LSC-North Harris earlier in the day, accompanied by representatives of the Texas Buddhist Association and the America Bodhi Center. The foundation delegation plans to participate in two events on Saturday, Feb. 22, to observe Chinese New Year and the Lantern Festival at the America Bodhi Center in Hempstead.
This week's visit is the second time LSC-University Park has hosted a delegation from China. In December, a delegation from Qufu Normal University visited LSC-University Park and LSC-North Harris. Also, in November of last year, Ardalan was among a group of Lone Star College administrators and faculty members who went to China with the 2013 China Bridge Delegation, a one-week educational exchange program sponsored by the Confucius Institute Headquarters.
LSC-University Park is the sixth LSCS campus located in the former Compaq Computer's world headquarters complex. The 71-acre campus houses four university partners, a charter high school, several business partners, Lone Star Corporate College and the LSC Energy and Manufacturing Institute. Under the first President, Shah Ardalan, LSC-University Park's vision is to be nationally recognized as the model for the innovative college of the 21st century. In just two years, LSC-University Park's Invitation-2-Innovate (i2i) has resulted in many local, national and global recognitions, including one patent for the Education and Career Positioning System. The campus is located at the corner of State Highway 249 and Louetta Road across from Vintage Park. For more information about LSC-University Park, call 281.290.2600 or visit LoneStar.edu/UP.
Lone Star College System has been opening doors to a better community for 40 years. Founded in 1973, LSCS remains steadfast in its commitment to student success and credential completion. Today, with 78,000 students in credit classes, and a total enrollment of more than 90,000, Lone Star College System is the largest institution of higher education in the Houston area and the fastest-growing community college system in the nation. Dr. Richard Carpenter is the chancellor of LSCS, which consists of six colleges including LSC-CyFair, LSC-Kingwood, LSC-Montgomery, LSC-North Harris, LSC-Tomball and LSC-University Park, five centers, LSC-University Center at Montgomery, LSC-University Center at University Park, Lone Star Corporate College, and LSC-Online. To learn more visit LoneStar.edu.