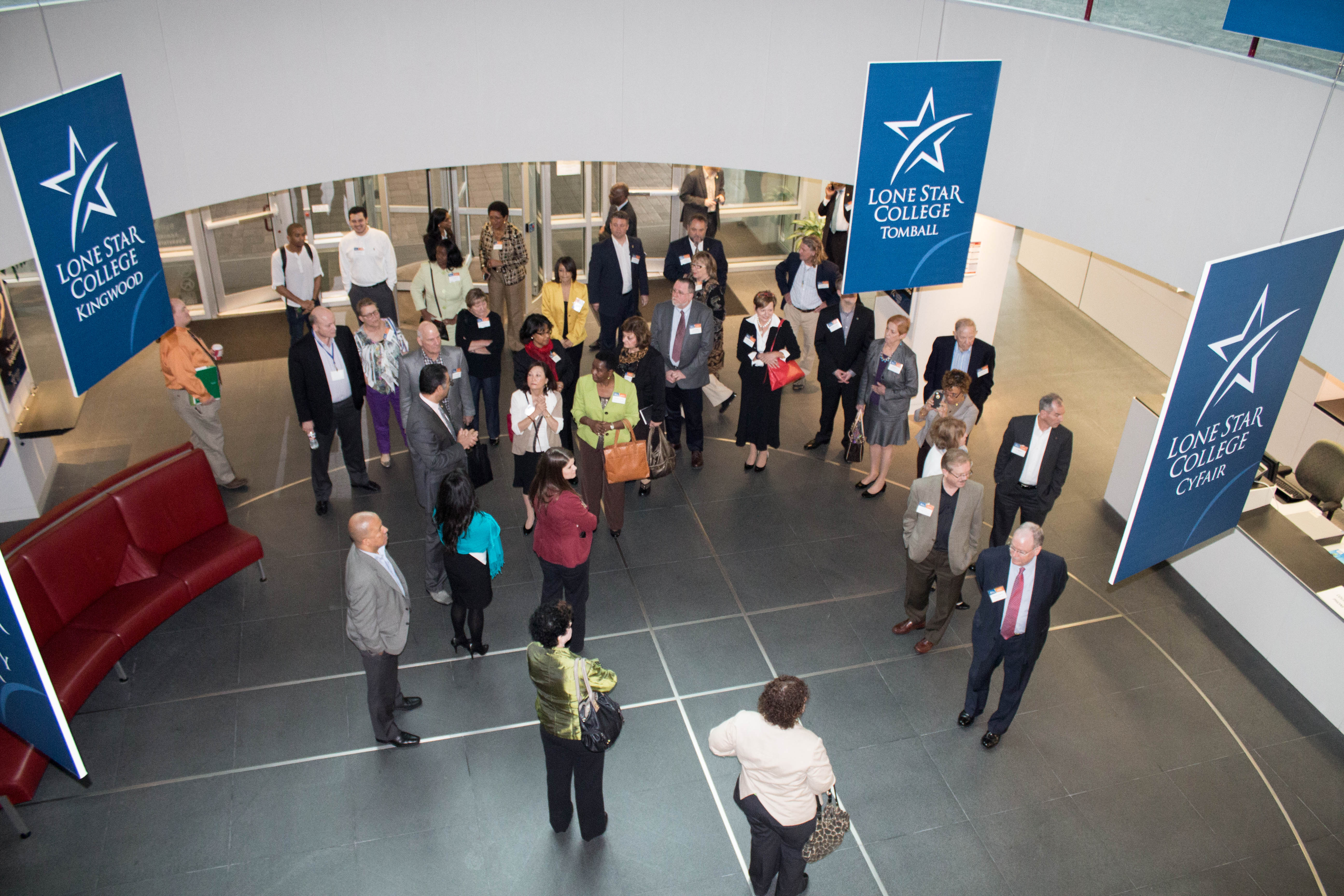 The National Alliance of Community and Technical Colleges (NACTC) held its 2014 Winter Conference at Lone Star College–University Park on Feb. 20-21.
Dr. Tony Newberry, NACTC president, opened the conference by referencing Lone Star College's recent awards as a national leader in globalization and recognizing it as the most appropriate place to host this year's conference.
Participating universities and colleges included: Capella University, Cuyahoga Community College, Florida State College, Hillsborough Community College, Houston Community College, Iowa State University, Jefferson Community College, Kentucky Community and Technical Colleges, Maricopa Community College, Morton College, National American University, Pellissippi State Community College, San Jacinto College, Tarrant SE Community College, Tidewater Community College.
The theme of this year's conference was: Bringing the World to the Classroom and the Classroom to the World.
LSC-University Park President Shah Ardalan served as both host and presenter as he outlined LSC-University Park's Invitation-to-Innovate (i2i) initiative that invites faculty, staff and the community to help build the innovative college of the 21st century. "LSC-UP is a perfect example of how community colleges have redefined the "community" as the world and redesigned the "college" to serve our local and global communities."
Ardalan, a new NACTC board member, introduced Lone Star College innovators like faculty member Cassandra Khatri, who is leading the development of a Model United Nations (UN) program at LSC-UP and Nithy Sevanthinathan, executive director of international programs and global strategic partnerships, who spoke about global trends and opportunities.
Dr. Donetta Goodall shared the success of Lone Star College-Jakarta and presented on the impact of community colleges in global education. "Lone Star College is the first to provide associate degree education in Jakarta, a city of 16 million."
Dr. John Roueche, NACTC board member and president of National American University, hosted a reception at a nearby restaurant and discussed the critical need for visionary leaders to promote and demonstrate the value of community colleges both locally and globally.
Dr. Robert McCabe, NACTC executive director, closed the event by expressing his appreciation for "an excellent conference" and shared his admiration for LSC-University Park. "Your campus is outstanding physically and in operational design," he said.
LSC-University Park is the sixth LSCS campus located in the former Compaq Computer's world headquarters complex. The 71-acre campus houses four university partners, a charter high school, several business partners, Lone Star Corporate College and the LSC Energy and Manufacturing Institute. Under the first President, Shah Ardalan, LSC-University Park's vision is to be nationally recognized as the model for the innovative college of the 21st century. In just two years, LSC-University Park's Invitation-2-Innovate (i2i) has resulted in many local, national and global recognitions, including one patent. The campus is located at the corner of State Highway 249 and Louetta Road across from Vintage Park. For more information about LSC-University Park, call 281.290.2600 or visit LoneStar.edu/UP.
Lone Star College System has been opening doors to a better community for 40 years. Founded in 1973, LSCS remains steadfast in its commitment to student success and credential completion. Today, with 78,000 students in credit classes, and a total enrollment of more than 90,000, Lone Star College System is the largest institution of higher education in the Houston area and one of the fastest-growing community college systems in the nation. Dr. Richard Carpenter is the chancellor of LSCS, which consists of six colleges including LSC-CyFair, LSC-Kingwood, LSC-Montgomery, LSC-North Harris, LSC-Tomball and LSC-University Park, seven centers, LSC-University Center at Montgomery, LSC-University Center at University Park, Lone Star Corporate College, and LSC-Online. To learn more visit LoneStar.edu.