Photo cutline: Shawna Beaudreau, pictured right of center, with fellow Phi Theta Kappa inductees and advisors.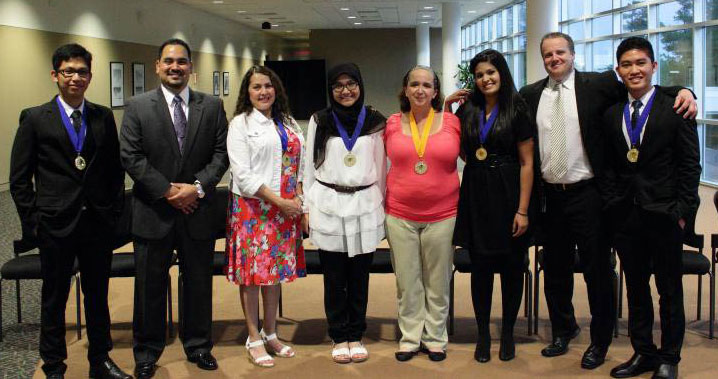 Shawna Beaudreau, former Navy veteran and student at Lone Star College-University Park, shares her story about motherhood. Her daughter, Anna, happened to be born at the naval base where Shawna was stationed shortly after 9/11.
Anna, who is now 10 years old, relishes the idea that each morning she and her mother are both preparing for a day at school. ďI enjoy spending those moments with my daughter,Ē said Shawna. ďShe gets so excited about going to school while Iím heading to class, too.Ē
While Anna attends a local public elementary school, Shawna is completing her studies at LSC-University Park on the G.I. Bill. She hopes to obtain a bachelorís degree in mathematics with a concentration in finance once she transfers to the University of Houston-Downtown. A mom planning for a future where she can provide for her child, Shawna also wants to build a viable career for herself as an actuary.
On Motherís Day, Shawna plans an outing for lunch with Anna, who she has raised on her own with the support of her generous parents. Her learning journey as a single mom has not been without challenges, but her dedication has paid off. By the end of the semester, Shawna will have maintained a 4.0 grade point average. Also participating in the life of the LSC-University Park campus, she was recently inducted president of the Beta Upsilon Nu Chapter of the Phi Theta Kappa Society.
LSC-University Park wishes all moms a Happy Motherís Day!
LSC-University Park is the sixth LSCS campus located in the former Compaq Computerís world headquarters complex. The 71-acre campus houses four university partners, a charter high school, several business partners, Lone Star Corporate College and the LSC Energy and Manufacturing Institute. Under the first President, Shah Ardalan, LSC-University Parkís vision is to be nationally recognized as the model for the innovative college of the 21st century. In just two years, LSC-University Parkís Invitation-2-Innovate (i2i) has resulted in many local, national and global recognitions, including one patent. The campus is located at the corner of State Highway 249 and Louetta Road across from Vintage Park. For more information about LSC-University Park, call 281.290.2600 or visit LoneStar.edu/UP.
Lone Star College System has been opening doors to a better community for 40 years. Founded in 1973, LSCS remains steadfast in its commitment to student success and credential completion. Today, with 78,000 students in credit classes, and a total enrollment of more than 90,000, Lone Star College System is the largest institution of higher education in the Houston area and one of the fastest-growing community college systems in the nation. Dr. Richard Carpenter is the chancellor of LSCS, which consists of six colleges including LSC-CyFair, LSC-Kingwood, LSC-Montgomery, LSC-North Harris, LSC-Tomball and LSC-University Park, seven centers, LSC-University Center at Montgomery, LSC-University Center at University Park, Lone Star Corporate College, and LSC-Online. To learn more visit LoneStar.edu.