Members of Lone Star College-CyFair's Beta Lambda Mu chapter of Phi Theta Kappa are taking advantage of student scholarship, academic achievement and leadership opportunities.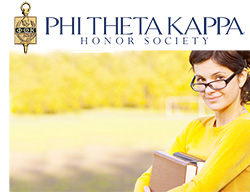 "They are driven and work so hard to ensure that they are competitive at every level," said co-advisor and Dean of Enrollment Management Daniel Villanueva. "They apply for national scholarships, compete for national awards, and excel locally with their academics."
Among the noted scholarship recipients are Peggy Hicks, Briana Aguado and Nicholas Develle.
Hicks, chapter president, won the Oberndorf Lifeline to Completion Challenge, a national scholarship that helps members overcome unanticipated financial barriers that could prevent them from completion of an associate degree or certificate.
Aguado earned the Terry Transfer Scholarship, which is intended for those transferring into Texas A&M University and awarded based on transfer GPA, extracurricular activities, employment and community service.
Develle was selected as a 2014 Coca-Cola Leaders of Promise Scholar from among more than 900 applicants based on outstanding academic achievement and demonstrated leadership potential.
"We could not be more pleased with our officers and chapter members. Their dedication to scholarship, service and our campus community has inspired me," said co-advisor and Associate Professor of History Dr. Blake Ellis.
In October, chapter members provided a "Haunted Maze" as part of the campus's annual Howl-O-Ween celebration. Members also led two panel sessions on the topic of "Developing Leadership within an Officer Team" at the Texas Leadership Conference held at Grayson College.
"Our officer team has also taken our chapter to new heights by developing Honors in Action and College Mentoring Projects that required intensive research, thoughtful planning, successful implementation and data-driven follow-up," said Ellis.
The Honors in Action project focused on Houston's unique role in attracting immigrants to the U.S. and developing a vibrant economy based on diversity and inclusion with particular attention to the role that public education has played in helping Houston become a hub for immigration and economic innovation, said Ellis. Students then hosted a campus forum in which immigrants told their stories and explained how Houston provided unique educational and professional opportunities that resulted in their success.
Serving as mentors for LSC-CyFair financial aid recipients, Schroeder Scholars and minority males in the Men of Honor program, chapter members and their mentees attended the Phi Theta Kappa "Committing to Complete" event which drew more than 300 students to sign "Completion Cards" committing to complete their college education.
"This fall has been an exciting time for our chapter. We've grown numerically and in our leadership on campus," said Ellis.
LSC-CyFair's Beta Lambda Mu chapter inducted some 210 new members, each of whom holds at least a 3.5+ GPA over 12 hours of coursework toward a college degree. At the induction ceremony, students heard from Susan Edwards, Dean of Academic Affairs and Honors Programs at Phi Theta Kappa national, and Debra Esparza, Coordinator of the Texas Region for Phi Theta Kappa.
For information on this LSC-CyFair chapter, email advisors at Blake.A.Ellis@LoneStar.edu or Daniel.Villanueva@LoneStar.edu.