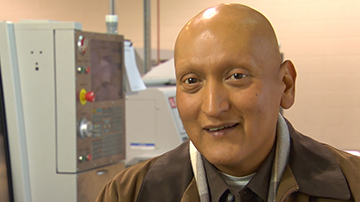 Even though George Ochoa had worked as a machinist for more than eight years, he still had trouble finding work because he lacked the proper training certification.
After being turned down by several companies, Ochoa visited the Texas Workforce Commission who told him of a program at Lone Star College that would not only train him, but help pay for that training thanks to grant funds from Accelerate TEXAS.
"I honestly had no idea there was a program like that," said Ochoa, a single parent who was struggling to balance kids, their activities, cook meals all while looking for work. Still, the thought of going back to school seemed daunting.
Machinists are in high demand. The Texas Workforce Commission predicts that the growth for machinists will grow by 37 percent from 2012-2022. Texas leads the nation with the highest employment level for machinists according to the U.S. Department of Labor and can earn an annual salary of $38,670 after receiving their Machinist 1 Certificate.
To people who are struggling to find a job Ochoa offers this advice: "Don't be discouraged like I was. Don't let the day to day monotony get in the way of thinking you don't have the time to do this because you can find the time. This is not a want thing; this is a need thing."
Interested in the learning more about getting financial assistance to learn a middle skills trade like machining? Visit LoneStar.edu/Accelerate or #CollegeNow to find out how.

The more you learn, the more you earn!