Lured to a conference room under false pretenses, Lone Star College-University Park student Jessica Kent found herself surrounded by 30 well-wishers in on a secret: her next two years of college are paid for.
Kent, 25, has won one of 90 Undergraduate Transfer Scholarships from the Virginia-based Jack Kent Cooke Foundation. The scholarship amount varies, but can be worth up to $40,000 a year for tuition, living expenses, books and required fees.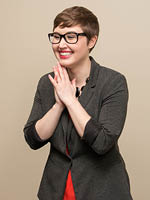 "It basically allows me to really put my education first and make sure I'm doing the best I can," Kent said. "And I'll have leisure time to make sure I'm doing things that are progressing my career. I would love to be volunteering more and doing internships."
She said she became suspicious when Phi Theta Kappa honor society advisor Frank Rodriguez asked her to give a talk about the application process. She knew some rejection emails had gone out recently and she hadn't received one. 
"I didn't want to come in here with my hopes up," Kent said. "I'm still in awe that I won. Looking at past winners, they invented things and started nonprofits. I'm just a mild overachiever."
LSC-University Park President Shah Ardalan was one of the first to congratulate her.
"Jessica is the first student from our campus to receive this honor and we are extremely proud," Ardalan said. "She has distinguished herself by embracing the opportunities available here and becoming a student leader."
Two other Lone Star College students – one from LSC-Montgomery and one from LSC-Tomball – have also received the scholarship. Recipients must attend community college, have a cumulative GPA of at least 3.5 on a 4.0 scale, and plan to transfer to a four-year institution for the fall semester.
The exact value of each award depends on the actual costs at the institutions the recipients attend and whether they received other grants or scholarships. 
Kent, an Idaho native, plans to attend The University of Texas at Austin and major in International Relations and Global Studies. After earning a bachelor's degree, she hopes to obtain a master's degree at UT in public affairs, focusing on nonprofit management.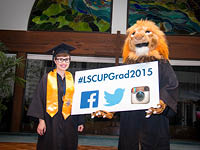 In addition to academic qualifications and financial need, the scholarship foundation looks for recipients who have demonstrated persistence, leadership and a desire to help others.
As a child of divorced parents who had both been laid off from their jobs at different times, Kent said she didn't want her education to be a financial burden on them. She left her local community college after a semester and eventually began volunteering with her father at a Habitat for Humanity ReStore.
"It really inspired me to want to do philanthropic work," she said.
Several moves and jobs later, she found herself in Houston, ready to focus on college. At LSC-University Park, she joined the Student Government Association, became a Student Ambassador, and took a work-study job in the professional development office. She also served on the campus Cultural Blueprint Committee.
"Opportunities just kept coming," Kent said. "The more I got involved, the more people kept seeking me out."
Adjunct professor Teresa Kerley, who taught Kent in American government and Texas government courses, completed one of two faculty recommendations for the scholarship.
"Jessica makes a very short list of the very best students I've ever had – and I've had thousands," Kerley said. "I hate to use the word 'perfect,' but if her work is not up perfection, she worries about it. She's her own worst critic and she's highly motivated. She also has a great heart for other people's concerns."
Kent said receiving the Jack Kent Cooke scholarship means she won't have to take out student loans as she moves on to pursue her passion.
"I really above all just want to express my immense gratitude for all of the opportunities that Lone Star College-University Park has afforded me," she said. "I am so extremely thankful for all of the faculty and staff that I have met at University Park."
---
LSC-University Park is the sixth LSCS campus located in the former Compaq Computer's world headquarters complex. The 71-acre campus houses a University Center with three university partners – University of Houston-Downtown, University of Houston and Sam Houston State University. It is also home to a Law Enforcement Academy, the Energy and Manufacturing Institute, iSchoolHigh, a charter high school; several business partners and Lone Star Corporate College. Under its first President, Shah Ardalan, LSC-University Park has been recognized nationally as a model for the innovative college of the 21st century. The campus is located at the corner of State Highway 249 and Louetta Road. For more information about LSC-University Park, call 281.290.2600 or visit LoneStar.edu/UP.
Lone Star College has been opening doors to a better community for more than 40 years. Founded in 1973, LSC remains steadfast in its commitment to student success and credential completion. Today, with almost 83,000 students in credit classes, and a total enrollment of more than 95,000, Lone Star College is the largest institution of higher education in the Houston area and one of the fastest-growing community colleges in the nation. Stephen C. Head, Ph.D., is the chancellor of LSC, which consists of six colleges including LSC-CyFair, LSC-Kingwood, LSC-Montgomery, LSC-North Harris, LSC-Tomball and LSC-University Park. To learn more visit LoneStar.edu.