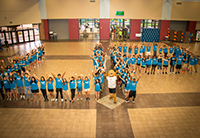 Before the Klein Forest High School senior picnic on May 22, a large group of 12th-graders had another celebration to attend: a signing ceremony recognizing their commitment to attend Lone Star College-University Park.
More than 100 seniors signed a congratulatory banner that will hang in the school, took photos with Leo, LSC-University Park's lion mascot, and heard from LSC-University Park administrators welcoming them to the college. 
As students entered the lunchroom, Klein Forest senior Jacob Bigelow helped point his classmates toward the banner. He said he has already taken 33 college credit hours through LSC-University Park through dual credit courses at Klein Forest, online classes, and regular classes on the college campus at State Highway 249 and Louetta Road.
"UP's actually really nice. I love the building," Bigelow said. "I really love the professors, they're really chill. They have smaller classes, so it's easier to communicate with them."
In all, about 240 Klein Forest seniors have committed to LSC-University Park.
The reception made students feel proud of their accomplishments, said senior Santiago Soto, who will start taking classes in the fall.
"I want to be the first one to go to college in my family and show them that I can do it," he said. 
Zack Coapland, vice president for student success at LSC-University Park, assured the students they will get good attention from their instructors.
"You're going to love the classes, you're going to love the convenience of it, and I know you're going to love the price of it," Coapland said. "Some of you were telling me how much money you're spending on prom and these other things, so I know value is on your mind. We will make sure you get good value for your money."
LSC-University Park student government president Marc Thibodeaux, a Jersey Village High School graduate, told the seniors he remembers exactly how are feeling: happy to be ending one chapter in life and beginning another one.
"In the pit of my stomach, I was nervous to enter somewhere where it was unfamiliar," he said. "But UP is not unfamiliar. We're a family. We look out for each other."
Klein Forest college and career counselor Michelle McCharen said she thought the event helped the Lone Star College-bound students feel special and validated their choice.
"Other colleges come and they have signing days at Klein Forest that are not athletics specific, but this is the first time we've ever had a junior college come," she said. "This is a fabulous experience for our students to realize that this is important."