LSC-University Park and a host of other agencies and institutions are collecting new teddy bears through Friday, Dec. 4, to assist law enforcement officers when they make calls involving stressful situations and children.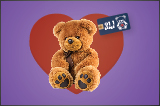 Bears will be donated to a variety of agencies, and then will ride in squad cars until they are needed. 
LSC-University Park's Professional and Support Staff Association President Sony Simon and Chief Strategist for Innovation Christina Robinson say that they hope to collect more than 1,000 bears. Hundreds were already donated at the College's Law Enforcement Academy graduation on Oct. 17 as graduating cadets and their families embraced this project.
Efforts expand next week with donation boxes in LSC-University Park buildings and at local YMCAs. 
"We hope that the bears provide comfort to children and that they help law enforcement officers as well," Robinson said.
North West Digital Works will donate 288 bears and the group is approaching other groups and businesses, but they also are encouraging individuals to get involved.
Other groups and agencies participating include the University of Houston-Downtown and its Department of Education, Be a Teacher Club, and Criminal Justice Department; the University of Houston Northwest; Harris County Precincts 4; Leadership North Houston; Klein Independent School District Police Department; and the Cypress-Fairbanks Independent School District Police Department.
LSC-University Park groups supporting the project include PSSA, the Education Department, Justice Agents of Change club, Phi Theta Kappa honor society; the Criminal Justice Department, the Police Department, the Law Enforcement Academy and the system office at LSC-University Park.