Students from Lone Star College received the Outstanding Delegation award for the second year in a row at the recent National Model United Nations conference.
The National Model United Nations (NMUN) advances understanding of the U.N. and contemporary international issues and has positively impacted the lives of numerous delegates. The Outstanding Delegation award is based on the delegation's ability to represent the positions of their country, participate actively in committees, and follow the proper rules of procedure for diplomatic exchange.
"Lone Star College students competed against upper-division and graduate students representing prestigious colleges and universities around the globe," said Dr. Theresa Kurk McGinley, LSC associate vice chancellor, International Programs. "To win this award for a second straight year against that type of competition is truly reflective of the caliber of our students, and the leadership by dedicated faculty advisors."
In all, the LSC-Joint Delegation consisting of LSC-Kingwood, LSC-Montgomery, and LSC-Tomball received the Outstanding Delegation Award representing the nation of Chad, five position paper awards and two Best in Committee awards. The LSC-North Harris Model UN delegation, representing Poland, was also recognized as Honorable Mention delegation.
"You gather at a moment of challenge and opportunity for the human family," Ban Ki-moon, United Nations secretary-general told attendees. "By taking part in this Model United Nations, you are demonstrating your commitment to peace, justice human rights and human dignity."
"Participating in conferences like this helps Lone Star College students understand the global issues we face and how to formulate solutions to solve them," said McGinley.
More than 50 percent of participating students in the event were from schools outside of the U.S., many of them university students studying foreign policy who plan to pursue diplomacy as a career. Colleges represented at the event included Brigham Young University, Syracuse University-Maxwell School, The Hague University of Applied Sciences, University of Mississippi, University of South Wales, University of Ottawa, and Washington State University.
Every year, more than 5,000 college/university students come to New York City to discuss current global issues as diplomats, and formulate solutions. Delegates come prepared to solve three pressing issues relevant to 21 simulated U.N. committees.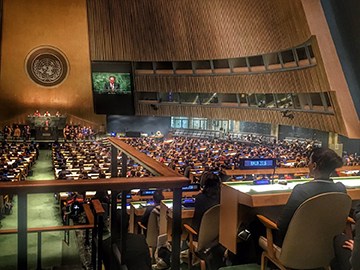 Lone Star College students won the Outstanding Delegation award
for the second year in a row at the recent National Model United Nations conference.
Known for its leadership, innovation and steadfast commitment to student success, Lone Star College provides high-quality academic transfer and workforce education/career training programs to more than 83,000 credit students each semester, and a total enrollment of 95,000 students. LSC is training tomorrow's workforce today and redefining the community college experience to promote student success and economic prosperity. Stephen C. Head, Ph.D., is the chancellor of LSC, the largest institution of higher education in the Houston area, which consists of six colleges, eight centers, two university centers, Lone Star Corporate College and LSC-Online. To learn more visit LoneStar.edu.
####