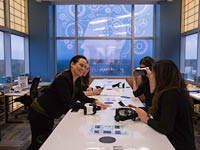 Ideas and imaginations will come to life when LSC-University Park's new Innovation Room opens today (Tuesday, Feb. 21). A public open house from 11 a.m. to 6 p.m. will feature demonstrations and hands-on opportunities of virtual reality, and tinker stations will let visitors try out a variety of technology tools.
The laboratory features high-tech equipment such as 3-D printers, virtual reality goggles, Ozobots that students use to learn computer programming and even a media lab with recording equipment. The new venture will give students and faculty easy access to emerging technologies in a collaborative, cross-disciplinary environment.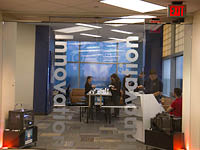 "Our College was founded in 2012 based on an 'Invitation to Innovate (i2i),'" said LSC-University Park President Shah Ardalan. "The equipment in the innovation room will serve as a springboard to new ideas across the curriculum and will let our students have early access to new technologies in their academic careers."
LSC-University Park faculty members introduced the concept in 2016 during an internal technology grant competition hosted by LSC System Chancellor Stephen C. Head. Project lead Misty Sabol, associate professor of business, said that the idea has gained strength, and gives Lone Star College students access to the kind of innovation efforts found only at a handful of four-year universities. It's a cross-disciplinary effort that will allow all students to experiment with the technology, including students in the Honors College.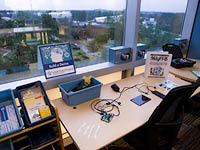 "This is amazing technology that will fascinate students who are always looking to learn more," she said. "It will be exciting to see where their imaginations lead them."
Equipment in the room includes:
Virtual reality camera
Virtual reality goggles
Amazon Echo
iPad Pros
HP Sprout 3D all-in-one computers
Raspberry Pi devices (credit-card computer boards used to teach basic computer science concepts)
Arduinos (microcontroller-based kits for building digital and interactive devices)
An audio recording booth
A green screen
Video camera and video editing software
Leap Motion used for gesture computing
Ozobots used to teach programming
Structure Sensor for 3-D scanning
3D printers
Ubi hardware & software (Products that turns any surface into a touch screen)
Funding for the effort also comes from a Perkins Grant.