Lone Star College students received top honors at the recent National Model United Nations (NMUN) conference which took place in New York.
The LSC-Montgomery delegation received the Outstanding Delegation award for the fifth year in a row. LSC-CyFair, LSC-North Harris, LSC-Tomball and LSC-University Park were also recognized with a Distinguished Delegation award. LSC-Kingwood was awarded an Honorable Mention Delegation award.
"These students prove once again that Lone Star College stands second to none in academic excellence," said Stephen C. Head, Ph.D., LSC chancellor. "For the Lone Star College delegations to be awarded is truly reflective of the caliber of our students and the excellent guidance by dedicated faculty advisors."
This year's LSC delegations represented the Czech Republic, Uzbekistan, South Sudan and Comoros. LSC students were also recognized for Outstanding Position Papers and Outstanding Delegates in Committee.
"Use the ideas and solutions you produce when you go back to your universities and communities," said María Fernanda Espinosa Garcés, United Nations president 73rd General Assembly, during the opening ceremony. "Give us your ideas on making the UN more effective. Let us know how we can foster a more people-centered multilateralism."
The theme for this year's conference was "Building a Climate for Peace" empowering delegates to think about how to both create and enhance an environment that fosters sustainable peace.
"Three Lone Star College Honors College students were selected to give a speech in the U.N. General Assembly room on the one Sustainable Development Goal that is most important to them personally," said Katharine Caruso, Ph.D., LSC associate vice chancellor Honors and International Education. "And former LSC-Kingwood student and NMUN delegate Angela Shively was selected to serve as Secretary General of the NMUN Washington, D.C. conference."
The 2019 New York conference brings together more than 5,000 delegates from six continents. The conference includes 22 committees as well as an additional Security Council. NMUN offers a unique opportunity for students to better understand the inner workings of the United Nations while building skills in diplomacy and compromise.
Other colleges represented at the event included the University of Ottawa, Brigham Young University, The Hague University of Applied Sciences, Rutgers University, West Virginia University, Frankfort School of Finance and Management, and Baylor University.
The National Model United Nations advances understanding of the U.N. and contemporary international issues and has positively impacted the lives of thousands of student delegates. The Outstanding Delegation award is based on the delegation's ability to represent the positions of their assigned country, participate actively in committees, and follow the proper rules of procedure for diplomatic exchange.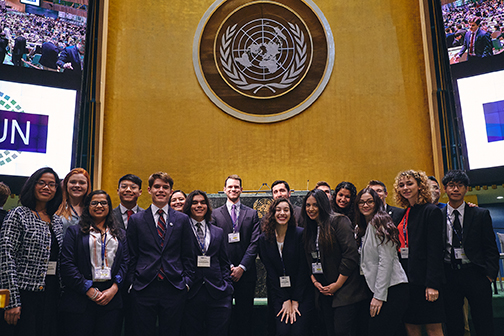 Lone Star College students took top honors at the recent National Model United Nations conference including the Outstanding Delegation award.
Lone Star College offers high quality, low-cost academic transfer and career training education to 99,000 students each semester. LSC is training tomorrow's workforce today and redefining the community college experience to support student success. Stephen C. Head, Ph.D., serves as chancellor of LSC, the largest institution of higher education in the Houston area with an annual economic impact of nearly $3 billion. LSC consists of seven colleges, 8 centers, two university centers, Lone Star Corporate College and LSC-Online. To learn more, visit LoneStar.edu.
####