Three Lone Star College students were awarded the prestigious Jack Kent Cooke Foundation Transfer Scholarship making it possible for them to complete their bachelor's degrees at a selective four-year college or university.
"The Jack Kent Cooke Foundation awarded scholarships to only 61 deserving students nationwide this year," said Stephen C. Head, Ph.D., LSC chancellor. "To have three chosen from Lone Star College is quite an accomplishment."
Selected for the scholarship were LSC-Kingwood students Diego Degenhart and Alberto Gonzalez, and LSC-University Park student Christina Ware.
Each will receive up to $40,000 per year for up to three years to cover a substantial share of educational expenses including tuition, living expenses, books and required fees. These recipients will also receive all-inclusive educational advising from foundation staff to guide them through the processes of transitioning to a four-year school and preparing for their careers. In addition, they will also be eligible to apply for $50,000 annually for graduate school.
"Waking up to an email declaring me as a Jack Kent Cooke scholar felt like the continuation of a dream," said Degenhart. "I was immediately overwhelmed with unparalleled joy, as the unavoidable barriers for achieving my dreams (finances) were essentially removed."
"This scholarship means so much more to me than winning a typical award," said Ware, who was also named a 2019 Coca-Cola Academic Team Gold Scholar. "It means that I am now a part of a community of high-achieving students whose purpose is to excel academically while serving and making a difference in their campus and community."
"I am still in awe," said Gonzalez. "After focusing so much of my attention on finances for school for so long it is a completely new feeling to know that I no longer have to. I have never been more excited to continue my education, meet other scholars and have the opportunities to help others reach their academic goals."
Nearly 1,500 students applied for the 2019 Cooke Undergraduate Transfer Scholarship. The foundation reviewed the submissions based on academic ability, persistence, leadership and service to others.
"Lone Star College had 21 semi-finalists named for this important scholarship this year," said Head. "This is, in large part, due to the Honors College at Lone Star College which offers our students the opportunity to travel to off-campus educational and cultural events, conduct high level research projects, travel abroad and participate in other co-curricular activities."
The 2019 recipients chosen represent 18 different states and have a median household adjusted gross income of $28,000, with an average GPA of 3.93. This year's cohort of Jack Kent Cooke Transfer Scholars has applied to the nation's most selective institutions.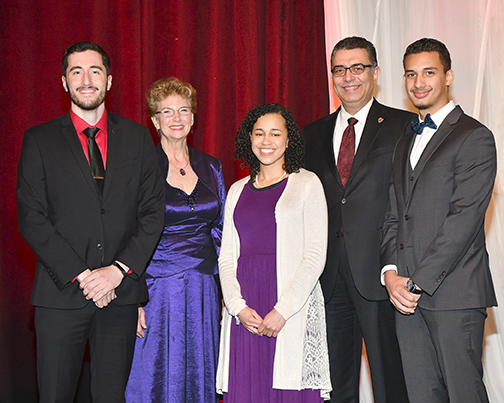 Lone Star College students Diego Degenhart, Alberto Gonzalez and Christina Ware were awarded the prestigious Jack Kent Cooke Foundation Scholarship. Pictured (left to right) are Diego Degenhart, LSC-Kingwood; Dr. Katherine Persson, LSC-Kingwood president; Christina Ware, LSC-University Park; Dr. Shah Ardalan, LSC-University Park president; and Alberto Gonzalez, LSC-Kingwood.
The Jack Kent Cooke Foundation is dedicated to advancing the education of exceptionally promising students who have financial need. Since 2000, the Foundation has awarded $190 million in scholarships to nearly 2,500 students from eighth grade through graduate school, along with comprehensive counseling and other support services. The Foundation has also provided over $100 million in grants to organizations that serve such students. www.jkcf.org
Lone Star College offers high-quality, low-cost academic transfer and career training education to 99,000 students each semester. LSC is training tomorrow's workforce today and redefining the community college experience to support student success. Stephen C. Head, Ph.D., serves as chancellor of LSC, the largest institution of higher education in the Houston area with an annual economic impact of nearly $3 billion. LSC consists of seven colleges, eight centers, two university centers, Lone Star Corporate College and LSC-Online. To learn more, visit LoneStar.edu.