The Honors College at Lone Star College-CyFair student Valentina Tardugno Poleo was awarded a 2019 Sloane Prize for Undergraduate Research from the National Collegiate Honors Council (NCHC).
"We are very proud of the work Valentina has done and congratulate her on this very impressive accomplishment," said Stephen C. Head, Ph.D., LSC chancellor. "Students who attend the Honors College at Lone Star College have tremendous opportunities to take their higher education to the next level."
Tardugno Poleo was awarded for her work on "Morality and Evolution: The Role of Natural Selection in the Development of Human Moral Identity".
The award was presented in New Orleans at the group's 54th NCHC Annual Conference. Founded in 1966, the NCHC is a unique educational organization designed to support and promote undergraduate honors education. NCHC has nearly 900 member institutions and several hundred individual members, impacting over 330,000 honors students.
"Valentina's research study investigated the biological origins of moral behavior and explores human moral identity from a scientific perspective by studying it under an evolutionary lens," said Katharine Caruso, Ph.D., LSC associate vice chancellor, Honors and International Education. "Valentina is a shining example of what students in The Honors College at Lone Star College can accomplish."
The Honors College at LSC offers a wide range of opportunities for high-achieving students seeking to graduate with honors distinction as well as for students interested in earning individual honors course credit.
"I am very appreciative of the support I received while researching this project," said Tardugno Poleo. "I am especially grateful to Esther M. Robinson, the Honors College at LSC-CyFair director, who really helped me through this process."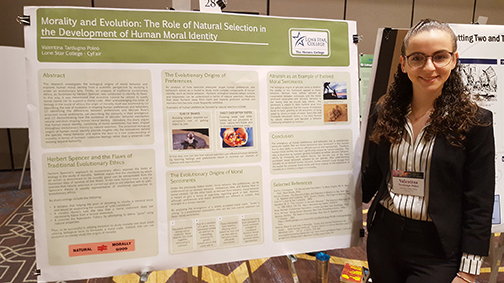 The 2019 Sloane Prize for Undergraduate Research from the National Collegiate Honors Council was awarded to Lone Star College student Valentina Tardugno Poleo.
Lone Star College offers high-quality, low-cost academic transfer and career training education to 99,000 students each semester. LSC is training tomorrow's workforce today and redefining the community college experience to support student success. Stephen C. Head, Ph.D., serves as chancellor of LSC, the largest institution of higher education in the Houston area with an annual economic impact of nearly $3 billion. LSC consists of seven colleges, eight centers, two university centers, Lone Star Corporate College and LSC-Online. To learn more, visit LoneStar.edu.