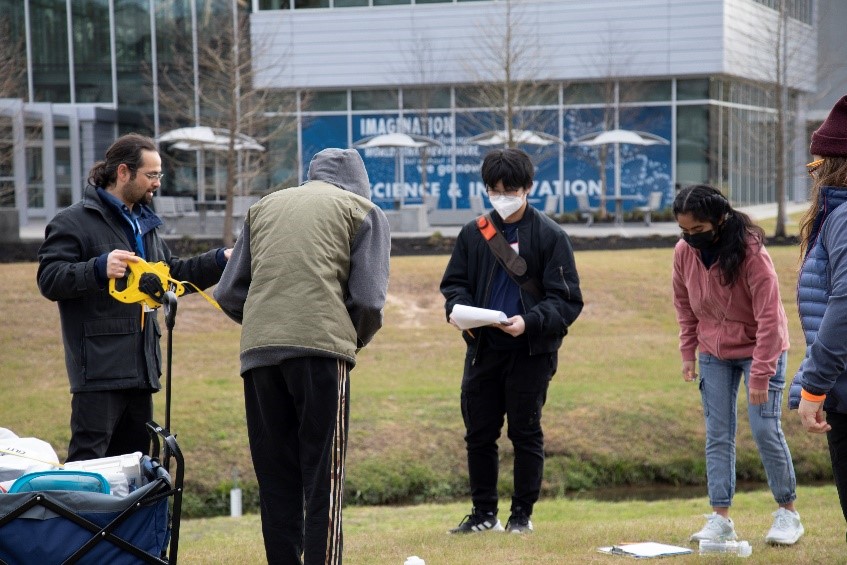 Professors and students tackle a real-world
issue – flooding – at a day-long immersive experience.
When 22 high-school students from Klein ISD and area homeschool groups came to the campus of Lone Star College-University Park on February 18, it was much more than a field trip.
As part of a grant-based project called "A Day in the Field: How to Mitigate Flooding and Maintain Healthy Streams," students made one-on-one connections with members of LSC-University Park's math, biology, chemistry, physics, and geology faculty and staff. They also collected data, learned about local streams from an interdisciplinary perspective, and provided solutions to drainage and flooding concerns in the area.
"The success of "A Day in the Field" is another credit to our faculty's compassion for students and the college's commitment to our community," said Dr. Shah Ardalan, President of LSC-University Park. "Student participants now have the hands-on learning experience of applying science and math to issues that affect their neighborhood and our world today."
The keynote speaker for the program was Rachel Windham from the Houston-Galveston Area Council. Windham explained the Cypress Creek watershed community, local to the area, and the importance of keeping area waterways open and clean.
"We wanted to give high school students hands-on experience with real science and math, as well as an in-depth look at cross-disciplinary learning," said Dr. Christa Spears, who teaches geology at LSC-UP. "LSC-University Park is a great resource to our local high schools."
After an introduction to the issue of drainage – a real-world scientific problem for Harris County, students and professors headed out to a man-made gully on the LSC-UP campus. Students spent part of the day as data collection specialists, using math and science to calculate discharge, measure biodiversity, water quality, and water velocity, as well as measure the topography and sediment type.
After lunch, the group became separate mitigation teams to suggest improvements in the drainage process during major storm events.
"I had such a wonderful time collaborating with faculty and other students who attended," shared student participant, Leah Sullivan, "We got to go out in the stream and get up close and personal with what is happening down there, and then present solutions to the problems facing the gully. It was awesome to be that up close with science."
In addition to Dr. Spears, "A Day in the Field' LSC-UP hosts included geology professors Dr. Bryn Benford, Sahara Ibarra, Karastin Katusin, and Jen Campo, math professors Dr. Matthew Shirley and Martha Donnelly, chemistry professor Dr. Pam Auburn, physics professors Dr. Jonathan Meair and biology professors Dr. Chris Lopez and Mike Elder.
"Students had the right tools to come together to tackle a complex problem," said Dr. Spears. "We wanted them to understand that the flooding issue is multidimensional. It's important to achieve both flood mitigation and have a healthy stream ecosystem.
The success of "A Day in the Field" is a harbinger of more LSC-UP program offerings for Klein students. Student participants now have first-hand experience of doing actual science for their resumes.
"This project aligned perfectly with our strategic priorities of culture, access, and success," said Dr. Jess Kelly, dean of the math and sciences division. "Potential future students were exposed to the strong culture we've built here, and they had access to some of our most talented faculty. The bonus is that the faculty got to join forces on something that builds the culture further. We hope for many more partnerships with Klein ISD and other area students down the road."
To learn about more student opportunities in working with the environment, visit: www.lonestar.edu/geology-dept-universitypark.htm
Established in 2012, Lone Star College-University Park has been recognized as one of the fastest-growing and most innovative higher education institutions in the country. Under its founding president, Dr. Shah Ardalan, LSC-University Park is devoted to holistic and immersive education and training in disciplines and industries that meet current and future workforce needs. The college's facilities include the Center for Science & Innovation, the Energy & Manufacturing Institute, Learning Innovation Labs, and the Geology Rock Wall. For more information on how to enroll at LSC-University Park, visit LoneStar.edu/UP-Enroll or call 281.290.2600.
Lone Star College offers high-quality, low-cost academic transfer and career training education to 93,000+ students each semester. LSC is training tomorrow's workforce today and redefining the community college experience to support student success. Stephen C. Head, Ph.D., serves as chancellor of LSC, the largest institution of higher education in the Houston area with an annual economic impact of nearly $3 billion. LSC consists of seven colleges, ten centers, two university centers, Lone Star Corporate College, and LSC-Online. To learn more, visit LoneStar.edu.