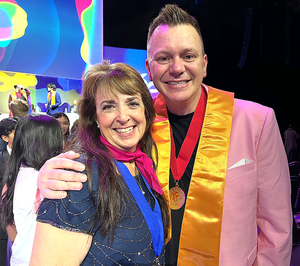 "Go big or go home" is the motto Liam Blakeway, Lone Star College-CyFair student, embodied as he started his campaign to be the next Phi Theta Kappa International President.
"When I attended the PTK Catalyst Convention in Denver last year and saw semifinalists competing for their positions, I realized I could do the same," said Blakeway. "I intended to run for a regional office first, but my PTK advisor and the district advisor encouraged me to go for the presidency."
Blakeway started his campaign in January and became a semifinalist with four other candidates in March. At the PTK Catalyst Convention in April, PTK selected him to be the 2023-2024 International President. Blakeway is the second LSC student to receive this prestigious position and the third to hold a PTK international position in the college's 50-year history.
"It is a surreal feeling knowing that I will be the next International President for PTK," he said. "I look forward to traveling to other regions to share my story and to be the voice for those who feel unseen or unheard. This role is life-changing."
Blakeway will oversee 1,300 chapters in 11 countries and sit on PTK's Board of Directors. He will work with PTK headquarters and Lynn Tincher-Ladner, Ph.D., CEO, to help develop a five-year strategic plan that advocates for policy changes to strengthen financial aid systems, meet students' needs and expand partnerships for career, employer and transfer opportunities.
"Liam has accomplished something huge, and his PTK international presidency shines a hopeful light of success on Lone Star College," said Leslie Jewkes, LSC-CyFair English Professor and Beta Lambda Mu PTK Chapter Advisor. "I am confident that Liam will fully represent communities that haven't been represented well in the past."
Blakeway and his husband, Mark, moved from South Africa to the United States in December 2020. He enrolled in LSC-CyFair in January 2021 as an international student on a F-1 Visa. Shortly after, Blakeway was invited to join the Beta Lambda Mu PTK Chapter. That offer was a game changer as he gained friends and a sense of belonging.
"As an unconventional student, part of the LGBTQ+ community and a foreigner, I was able to blend into my surroundings by wearing a mask and hat due to the pandemic," said Blakeway. "However, when the mask mandates dropped and I peeled back the layers, I battled to find where I belonged. Through PTK, I found my place within the college."
At LSC-CyFair, Blakeway served as the vice president of scholarship and president of the Beta Lambda Mu PTK Chapter. He also joined the LSC Honors College and presented his research paper on Gilgamesh at the Gulf Coast Intercollegiate Consortium and the International Education Biennial. Blakeway also participated twice in the Global Solutions Sustainability Challenge, where he worked on projects with students from Jordan.
"Liam is a friendly and talented student who is a perfect example of how cross-cultural learning is transformative in many ways," said Perzen Akolawala, LSC International Programs Director. "It gives me immense pleasure to know that he will be able to use his international presidency to be the voice of 50,000 international students and others enrolled in community colleges across the U.S."
Blakeway graduated from LSC-CyFair May 13 with an associate of science degree. However, to keep his PTK international presidency, he will continue his studies at LSC-CyFair. Blakeway will use his passion for engaging with others and public speaking to become an educator. Additionally, he's expressed interest in working at Lone Star College in the future.
"Lone Star College offered me a secure place to discover myself and has become a home where I can engage with individuals from diverse backgrounds and cultures," said Blakeway. "As an educator, I hope to shape and prepare the next future leaders of the world."
Lone Star College enrolls over 80,000 students each semester providing high-quality, low-cost academic transfer and career training education. LSC is training tomorrow's workforce today and redefining the community college experience to support student success. Stephen C. Head, Ph.D., serves as Chancellor of LSC, the largest institution of higher education in the Houston area and has been named a 2022 Great Colleges to Work For® institution by the Chronicle of Higher Education and recognized by Fortune Magazine and Great Place To Work® as one of this year's Best Workplaces in Texas™. LSC consists of eight colleges, seven centers, eight Workforce Centers of Excellence and Lone Star Corporate College. To learn more, visit LoneStar.edu.