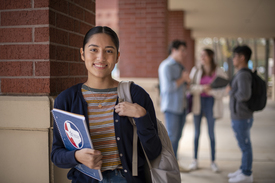 Lone Star College is introducing the "Tu Camino" (Your Path) program to help promote the value of higher education in the Hispanic community. Tu Camino is Spanish for "Your Path."
"Lone Star College looks forward to working with Univision Houston to expand educational opportunities for all students," said Mario K. Castillo, J.D., LSC Chief Operating Officer and General Counsel. "We are excited to offer this new program to help people improve their lives."
LSC has partnered with Univision Houston, the area's leading Spanish-language media company, to conduct an essay contest themed "How a Lone Star College Scholarship will help me to a better career." One essay writer will be selected and awarded an LSC scholarship through LSC Foundation.
"We want to motivate Latino Adults in the Houston area, who are post high school graduation, to attain greater education and/or certification that will enhance their career path or pursue a career shift," said Glenn L. Coleman, Univision Houston president and general manager.
Essays will be judged on creativity and why the writer would benefit from attending Lone Star College. Visit www.BecaTuCamino.com to register and for more information.
"Lone Star College has a rich history of helping its diverse and underserved communities improve their lives through higher education," said Castillo.
LSC opened LSC-Houston North Fallbrook in fall 2020 to address the needs of an underserved area in north Houston.
Lone Star College enrolls over 80,000 students each semester providing high-quality, low-cost academic transfer and career training education. LSC is training tomorrow's workforce today and redefining the community college experience to support student success. Stephen C. Head, Ph.D., serves as chancellor of LSC, the largest institution of higher education in the Houston area and has been named a 2022 Great Colleges to Work For® institution by the Chronicle of Higher Education and recognized by Fortune Magazine and Great Place To Work® as one of this year's Best Workplaces in Texas™. LSC consists of eight colleges, seven centers, eight Workforce Centers of Excellence and Lone Star Corporate College. To learn more, visit LoneStar.edu.