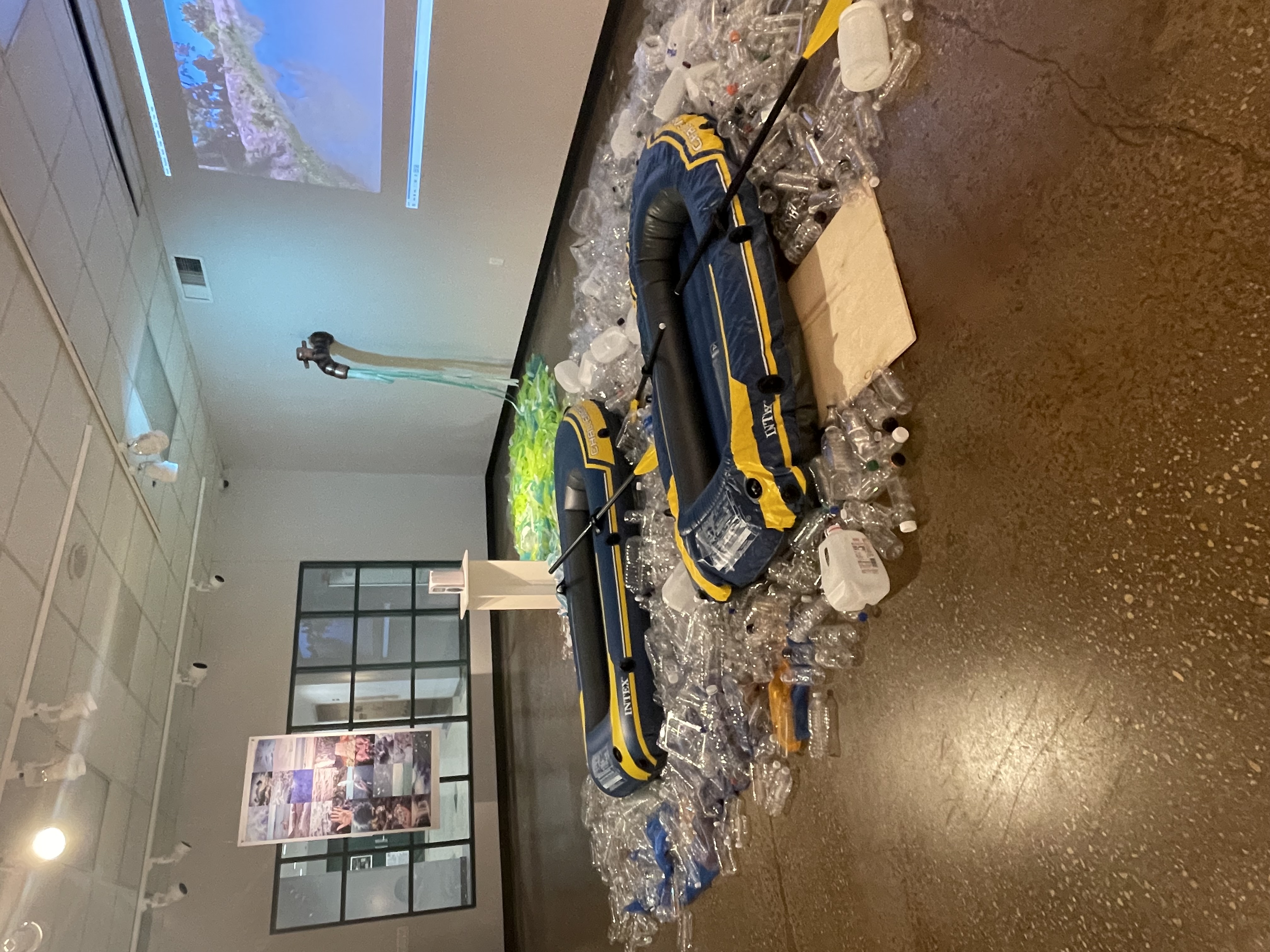 If you never considered water to be art, students at Lone Star College-Kingwood are showing that it can, in fact, be an impactful and interactive art form.
Currently on display in the Fine Art Gallery, the exhibit, "H2O&U," is a collaborative project between art and environmental science students. The project is designed to educate the student body and community about issues related to water security using creative intersections of artistic and scientific exhibits.
"Being able to fuse issues about the environment with the art students was such a transformative opportunity," Environmental Science student April Henshaw says. "Kingwood and the greater Houston area can't afford to ignore water quality issues, and this exhibit really allowed us to showcase the impact we all have on our communities."
While presenting perspectives on water security issues both local and abroad, the exhibit's creators reinforced workforce skills in the execution of critical thinking processes, scientific method, and artistic vision while simultaneously providing service to the community. H2O&U aims to enhance awareness, knowledge, and stewardship of the precious elements on earth.
Kevin Villareal, another student who worked on the project, says, "When we think about art, we never emphasize science or think about the other aspects that come in place. The H2O&U exhibition connects art and science in a form to visualize the world around us and to see the world differently. Save water today, secure your tomorrow."
Included in the show are representations of common water usage and a table where visitors can conduct their own water tests. There are two videos in the gallery, One Drop, and Water Vignette, written and produced by Environmental Science students. There is a heavy emphasis on the myths surrounding bottled and tap water. For instance, A Penn State researcher found there is an average of 325 plastic particles found in one liter of bottled water. By comparison, there were only 5.5 plastic particles in tap water.
This family friendly exhibit also features a "Reflection Pond" in the back gallery, where visitors are invited to leave ideas and drawings on a large canvas.
Henshaw explains, "Stepping into the audience's shoes was a vital part of how we put this exhibit together. We wanted to communicate issues and also propose solutions by asking visitors to consider how they feel seeing water treatment processes and consider their part in the water cycle."
"The time spent on the H2O&U exhibit was honestly eye opening and awe inspiring, says student Elizabeth Lapaglia. "H2O&U is a wake-up call that we all needed to start making more sustainably reliable decisions to keep our water clean and in turn, keep our planet Earth alive. Water is precious."
The concept, layout, and preparation for H2O&U was done by ARTS 1316/17 (Drawing I&II), ARTS 1311 (Design I) and ENVR 1402 (Environmental Science II) classes, Spring 2023. The Drawing I & II classes together installed during Summer I Session.
The public is invited to a gallery talk and reception September 6, 12:30 p.m. at the LSC-Kingwood Art Gallery in APA 114. Summer hours are Mon-Thu 12:00-3:00 or by appointment. Regular hours of operation are 11:00-3:00 and will resume September 4. Exhibition dates are July 31-September 7, 2023. For more information, contact: Kristine.M.Larson@lonestar.edu. For a virtual tour of the exhibit, visit: https://youtu.be/R1JB576h4SI.
###
Lone Star College enrolls over 80,000 students each semester providing high-quality, low-cost academic transfer and career training education. LSC is training tomorrow's workforce today and redefining the community college experience to support student success. Mario K. Castillo, J.D. serves as Chancellor of LSC, the largest institution of higher education in the Houston area. LSC has been named a 2022 Great Colleges to Work For® institution by the Chronicle of Higher Education and recognized by Fortune Magazine and Great Place To Work® as one of this year's Best Workplaces in Texas™. LSC consists of eight colleges, seven centers, eight Workforce Centers of Excellence and Lone Star Corporate College. To learn more, visit LoneStar.edu.