The Lone Star College-University Park (LSC-University Park) Transfer Center will host its annual fall College Fair – alternatively referred to as the Transfer Fair - on Monday, Oct. 2, from 9–11 a.m. in the second-floor hallways of the Richard G. Carpenter Academic Buildings 12 and 13. The event is free, open to the public, and requires no registration.
More than 40 colleges and universities, ranging from within Texas to across the country and internationally, will be represented. The event will feature both public and private institutions. Attendees can talk with admissions representatives, learn about degree programs, and explore scholarship options.
"Attending our college fair is a great chance for students to connect with universities and gather valuable information," said Stephanie Smith, manager of transfer services at Lone Star College-University Park. "We encourage all students to attend and to come prepared with questions for admissions representatives."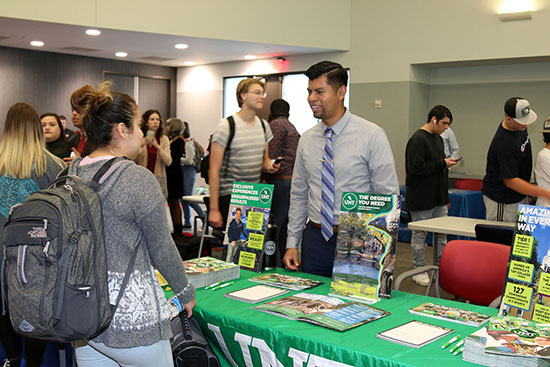 College fairs offer valuable opportunities for high school students, LSC-University Park students, and others preparing to transfer to four-year institutions to learn about their college options and begin their college planning. LSC-University Park Transfer Services advising staff provide personalized assistance with admissions application, degree pathways, course registration, and selection of transferable courses. LSC-University Park students who obtain an associate degree typically outperform their counterparts who start at four-year institutions right after high school.
LSC-University Park offers over 70 study programs, including both credit and non-credit courses, workforce training, and continuing education. Courses are available during weekdays, evenings, and weekends in traditional, online, and hybrid formats. For more details or to register online, visit www.lonestar.edu/upstudentsupport, call 281-290-2600, or email UPAdvising@LoneStar.edu.
Established in 2012, Lone Star College-University Park has been recognized as one of the fastest-growing and most innovative higher education institutions in the country. The college is devoted to impacting the community's prosperity and upward mobility through student success. LSC-University Park's expert and compassionate faculty and staff provide students with holistic and immersive education and training in disciplines and industries that meet current and future workforce needs.
Located on the grounds of the former Compaq Computer Corporation and Hewlett Packard's world headquarters, LSC-University Park's facilities include the Center for Science & Innovation, the Energy & Manufacturing Institute, Learning Innovation Labs, and the Geology Rock Wall. It is also home to the University of Houston-NW Downtown, Lone Star Corporate College, iSchool, and YMCA Children's Academy.
Lone Star College enrolls over 80,000 students each semester providing high-quality, low-cost academic transfer and career training education. LSC is training tomorrow's workforce today and redefining the community college experience to support student success. Mario K. Castillo, J.D., serves as Chancellor of LSC, the largest institution of higher education in the Houston area. LSC has been named a 2023 Great Colleges to Work For® institution by the Chronicle of Higher Education and recognized by Fortune Magazine and Great Place To Work® as one of this year's Best Workplaces in Texas™. LSC consists of eight colleges, seven centers, eight Workforce Centers of Excellence and Lone Star Corporate College. To learn more, visit LoneStar.edu.