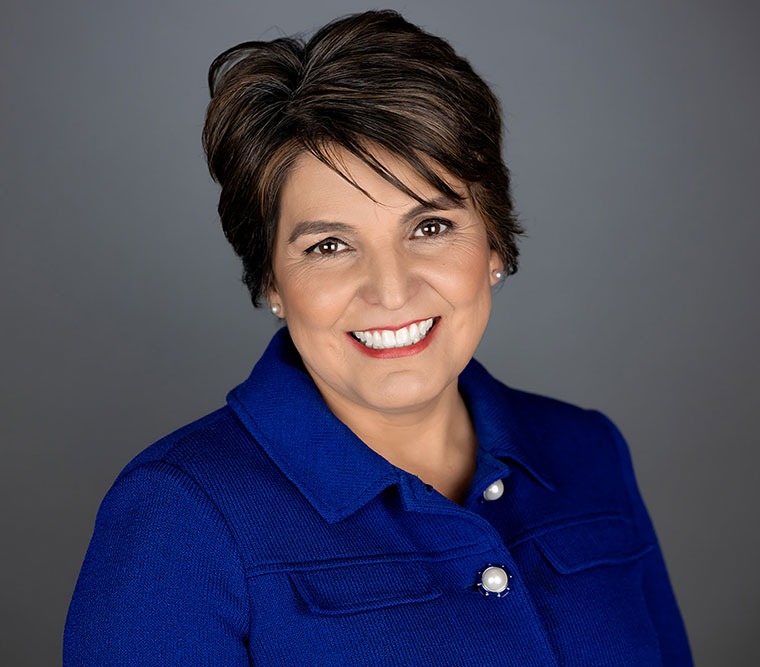 Dr. Virginia M. Fraire assumed the role as the second president of Lone Star College-University Park on October 1, 2023. Drawing from her nearly 30 years of experience in higher education, Dr. Fraire is a distinguished administrator committed to breaking down educational barriers.
Raised in public housing in El Paso, Texas, Dr. Fraire's personal journey has instilled in her a strong commitment to making education accessible and transformational. This is the cornerstone of her leadership style, influencing her strategic decisions as she aspires to nurture academic environments where every student will thrive and succeed.
Prior to joining Lone Star College, she served as vice provost for student success and strategic initiatives at the University of Texas at El Paso (UTEP), where she led the university's academic programs, serving nearly 5,000 entering students. She also played a central role in spearheading UTEP's efforts to enhance transfer pathways and advance active and integrative learning across the university. Notably, Dr. Fraire co-led the development of UTEP's ambitious 2030 strategic plan to solidify its position as America's Leading Hispanic-Serving University.
During her nearly two-decade tenure at Austin Community College (ACC), Dr. Fraire held various leadership roles, including dean and vice president of student affairs. As vice president, she led a complex network of 30 student and academic support units across 11 comprehensive campuses serving 70,000 students with a budget exceeding $40 million. Her key achievement was reshaping ACC's support services to prioritize equity and care, significantly improving student persistence and graduation.
A respected educator, Dr. Fraire has taught at several institutions. She proudly holds an Associate of Arts in Social Work from ACC. She earned her bachelor's and master's degrees in the same field from The University of Texas at Austin (UT Austin), culminating in a doctorate from UT Austin's Community College Leadership Program. Dr. Fraire is also an Aspen Institute Presidential Fellow.
Beyond her administrative roles, Dr. Fraire actively participates in various governing and advisory boards and maintains memberships in state and national higher education associations.
Dr. Fraire is joyfully married to Jacob Fraire, and together, they have five adult children. Her family life further underscores her belief in the power of education to transform lives.
To contact Dr. Fraire, email her at Virginia.Fraire@LoneStar.edu.
Make LSC part of your story.