VNSG1226: Gerontology Nursing Resources - LSC-Kingwood
Professor Terri L. Currie
The best library assignments are those that use a variety of resources including books, newspaper and journal articles, internet sites, and even videos or audiocassettes. We encourage you to use all of these sources for this paper. Books should provide some excellent background on your topic. You may apply for a library card and request materials online. We hope you will take full advantage of the many resources our libraries offer.
Please contact Lone Star College-Kingwood Librarians or Professor Currie with any questions you may have during your research.
---
Assignment:
You will be working in groups of six to provide information about a disease in both a research paper and a skit. The project is worth 25% of your final exam. Your presentation must include:
Definition and description of the disease process - focus on information related to the geriatric population


Signs and symptoms of the disease


Cause and expected nursing management/interventions


You will be summarizing your research to your classmates in a short skit. One or more of your group should "become" the geriatric client, acting out the part as if they have the condition - this person(s) will describe the thoughts, feelings, etc. Each group member may choose to play different parts in the skit - be creative, be different!
Requirements for the paper:
It must be typed on a computer, double spaced, and at least 4 pages long, not including the cover and reference list pages. Each group needs to turn in one paper.
Use 12 point font and one-inch margins at top and on each side.


It should include introductory, body, and summary paragraphs.


In addition to a minimum of 4 pages of content, add a cover sheet and a reference page which cites each source you used. Use APA format - see the APA guidelines for citing sources and a sample paper in APA style.


Use current journal sources from professional or scholarly journals.


You may also use information from reference books, books you can check out, and reputable internet sources.


Written paper is to be turned in prior to the Final Exam.


The last page of your research paper should include names of each group member along with their specific contribution to the paper and the skit.
Points will be deducted for criteria listed above not followed.
Contact your professor, Terri L. Currie , for questions about your assignment.
Topics:
Select from the following topics (sign up with your instructor):
Altered Mental Status/Dementia
Congestive Heart Failure
Cerebrovascular accident
Parkinson's Disease
Emphysema
Alzheimer's Disease
Librarian talk about Getting Started!
A
s you begin, narrow your topic to a size that you can manage. Consider keywords that will help you find the information you need. These can be names of people, events, or broader identifying terms. Use these keywords for locating information in the library catalog, electronic databases, and on the internet. Keywords will include the name of the disease or condition you have chosen, signs and symptoms, treatment, therapy, drugs or psychopharmacologic treatment, and interventions; also consider the age of the population you are focusing on.
Librarian Talk about Books!
Books can provide good background information on your topic. If you do not find a book specifcally about your topic, search for broader subjects and then look for your topic in the index and table of contents of any books resulting from your broadened search. Consider the publication date of each book to determine if the information is current.

Online books

(database paid for by our libraries) are available at the

EBSCO eBook Collection

. Use your library card to log in. Create a free account to save favorite titles or your own notes on the books you read.
REF R859.7 .I58 M436 2004 - Encyclopedic Guide to Searching and Finding Health Information on the Web - While printed material on Internet sources are likely to go out-of-date quickly, this one, from the Medical Library Association, includes tips for focusing your search as well as a selective list of specific web sites. Volume 3, part VI has a special section for "Seniors' Health Issues." Each section has a useful list of subtopics, with important sites, organizations, and recommended search terms for each.


REF RA777.6 .E534 2007 - Encyclopedia of Health & Aging - Content areas include aging and the brain, diseases and medical conditions, mental health and psychology, sociodemographic and cultural factors, and studies of aging. Also covered are biological theories of aging, complementary and alternative medicine, and Medicare and Medicaid. Cross-referenced entries include disorder causes, treatment recommendations, data graphs and charts.


STATRef!

- Electronic collection

of medical reference books, including Geriatric Medicine, the Merck Manual of Diagnosis and Treatment, Oxford Textbook of Medicine and more.

Check our online catalog or search the EBSCO eBook Collection to find titles like these. Focus on aging in general or search for specific diseases or concerns.
Caring for Older Adults Holistically (2007) - Browse, search or read this e-book written for the vocational nursing student. Off campus, login with your LSCS ID or library card barcode number.


RC954 .G455 2010 - Ebersole and Hess' Gerontological Nursing and Healthy Aging - Comprehensive evidence-based information on nursing care for the aging, diseases and conditions and strategies for managment consistent with AACN Older Adults: Recommended Competencies for Geriatric Nursing Care developed by the American Association of Colleges of Nursing, and the goals set forth by Healthy People 2020.


RA564.8 .V85 2006 - Vulnerable Older Adults: Health Care Needs & Interventions -This book takes a close look at vulnerability and how it affects five specific populations within the elderly: those incarcerated in prisons, the homeless, Gay, lesbian, bisexual, and transgender people, those who are HIV positive or living with AIDS, and the frail.


RC954 .G455 2005 - Gerontological Nursing & Healthy Aging - Discusses how to promote healthy aging when caring for older adults and examines significant problems that may occur and methods that nurses may use to make these problems more bearable, to solve some, and to help the elder find the best possible resolution towards healthy aging.
---
JOURNALS

: Finding current articles using databases
Librarian Talk about Finding Journal Articles!
Electronic databases are purchased by the libraries for your research use. To find articles in newspapers and journals, letters, reference books, illustrations, photographs and more, use your updated library card to log in to the following databases. If you find an interesting article that is not full-text, you may request it through interlibrary loan (I.L.L.). Contact the librarian if you need help getting an article. There is some overlap of articles in the databases, but all are excellent sources of information for research. We encourage you to use more than one.
HINT: Select from an alphabetical list of databases or choose an appropriate database from the Subject Guide to databases. Use your library card barcode number to log in to any of our databases.
From home, use your library card number to log in to these online journal databases.
CINAHL Plus with Full Text (Cumulative Index to Nursing and Allied Health) - Nursing & allied health journals, providing full text for more than 560 journals indexed in CINAHL. Explore limits listed below the search box to find publication types to quickly locate care plans, case studies, practice guidelines and more. On the results page, use the options to the left to refine and focus your search. Select an article to read the summary (also called abstract), print, email or view citation information.


PubMed - Includes the authoritative, comprehensive index to medical literature, Medline; from the National Library of Medicine. Free. Below the search box, there are links to tutorials, clinical queries and more. LSCS Libraries subscribes to a version of Medline that includes links to full text articles from other LSCS Libraries databases. Available articles will include this link - Linked Full Text - as part of the article record.


Academic Search Complete - Collection of journal, newspaper, and magazine articles. Limit to "Scholarly (Peer reviewed) Journals" if professional journal articles are required.


Alt HealthWatch - Broad coverage of alternative and complmentary healthcare from full-text research journals, pamplets, reports, proceedings and consumer health newsletters.


Health Reference Center Academic - Full-text articles from journals, and more on health, medicine and psychology.


Health Source: Nursing/Academic Edition - Scholarly journal articles for nursing and allied health; also included are drug monographs for herbal and nutritional supplements, and over-the-counter and new prescription drugs.
Online Journals
Geriatric Nursing (ISSN 1528-3984) - 2004 to date; view table of contents from 1980 - 2003. Published by Elsevier; available through ScienceDirect. Also available in the LSC-Kingwood Library in print; current year only shelved in Reference with the health and medical journals and reference books (call number R-RZ). Other LSCS Library holdings are listed in the catalog.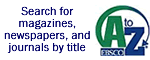 A-Z Lone Star College Electronic Journal List - Search for specific newspaper, magazine or journal titles or choose the Subjects tab to browse by subject.
---
Librarian Talk about the Internet!
The Internet will be a wonderful source of original documents. Browse the sites we have suggested below. Remember, you do want to find reputable sites. Look at:
Accuracy - The information should be researched and show proof that it has been.

Source - Who wrote the information? Look at the domain. - .edu .gov .org .net - are usually valid research sources.

Authority - What are the author's credentials? (Don't quote from another college freshman's paper.)

Coverage - Does the page have the information you need for your research?

Objectivity - If a work shows bias, use it - just make sure your professor knows YOU know. And offer both sides of issues, where applicable.
Also search for keyterms in combination with "organizations," "links," etc.
The American Association of Critical Care Nurses (AACN) offer self-paced courses, such as Best Practices for Elder Care. Nurses can take the course for free and members can receive CNE credit at no charge (nonmenber fee for certificate is $12).


AARP - articles, news, activities and links to health tools for older adults.


American Geriatrics Society - Webcasts from national meetings on specific medical, health and legal concerns.


Centers for Disease Control and Prevention: Seniors - Use the search box to find relevant articles and links from this government agency.


ConsultGeriRN.org is provided by the Hartford Institute for Geriatric Nursing . Choose a protocol or topic to get help, stardards of practice and further resources for your topic. If you find an article reference, search A to Z to see if the LSCS Libraries have the article text; if not, you may request the article through interlibrary loan.


Gerontological Society of America - List of resources for aging research available on the internet.


Medline Plus: Seniors' Health Issues - Consumer health and disease information from the National Library of Medicine includes full-text journal articles, news and links to reliable information from government agencies, hospitals and other health organizations.


Merck Manual of Geriatrics - short articles include discussions not only diseases and care of elderly patients, but also regarding social issues and health care funding.


National Institute on Aging - Health and research information from the lead government agency for research on aging.


NetWellness: Health Topics: Senior Health - Faculty from three universities developed this website to provide links to articles, images and more.
GETTING HELP FOR YOUR ASSIGNMENT
Librarian Talk about getting help!
Support for a successful paper is more than finding the right resources. Putting it all together takes time and effort. Sometimes it takes additional help from the librarians or tutors. Please consider the following resources if you need additional help. Remember, the expert on the assignment is your professor; use LSC-Online in-class email to contact her.
Citing Sources Using the Library APA Style Guide | Lone Star College-Kingwood Library guide. Examples of both paper and electronic citations.
Avoiding Plagiarism | Excellent information and guide on how to avoid plagiarism from the Online Writing Lab (OWL) at Purdue University.
University of Texas Copyright Crash Course | This helpful guide on copyright is suggested by Lone Star College-Kingwood Teaching and Learning Center.

The Learning Center | Check the TLC hours for in-house tutoring.
---
Page design by Becky Bradley. Page content by Jimmi Rushing. August 2006. revised 8/2012:jfr.