Child Care
Certified staff. Quality childcare you can trust.
What could be more convenient than attending class while knowing your child is in a safe and fun environment? Our childcare services are low on cost – but not quality – and available at nearly every campus. Some offerings include traditional curriculum-based, drop-in daycare and YMCA partnerships. You can feel confident that our degreed and highly-qualified staff is committed to providing the best experience possible to every child. Our programs are recognized on a state and national level and exceed accreditation standards.
We guarantee it will be a rewarding experience for the entire family!
Contact Information
Didn't find what you were looking for? Contact us for more information.
LSC-CyFair
LSC-CyFair does not have child care at this time.
LSC-Montgomery
Brighton Academy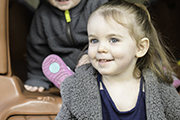 Brighton Academy will occupy space in Building A – Commons from 7:00 a.m. until 5:00 p.m., Monday through Friday, during the fall and spring semesters. Full-time and hourly schedules are available for children ages 18 months to Pre-Kindergarten. Rates for students are $10 for one hour or $9 per hour with a two-hour minimum; full-time rate is $225 per week. For more information about on-campus childcare, rates for employees and the community-at-large, and to make a reservation, call 281-465-4111 or visit brightonacademykids.com.
Contact:
Brighton Academy Kids
brightonacademykids.com
281.465.4111
LSC-North Harris
LSC-North Harris does not have child care at this time.
LSC-Tomball
LSC-Tomball does not have child care at this time.
YMCA Children's Academy at University Park
Our Learn and Play program is part of a partnership that we have with the students and faculty of Lone Star College. During the hours that we are open, children will use a hands on, nature based approach to learning that inspires children to be innovative and use their creative thinking skills.

Our Learn and Play program is available for children age 18 months to 5 years. We utilized a play based curriculum called the Creative Curriculum, where we use provocations to entice fun learning opportunities.

The Learn and Play program is available, Monday-Friday from 6:30 a.m. - 6:30 p.m.

Billing is made monthly on the 1st of the month. No refunds or credit will be issued for unused hours.

Registration Fee: $35 / semester
Hourly Rate: $3.50 / hour
Minimum hours available are 4 hours a week with a maximum of 20 hours per week.
**Full Time option available for Full Time students (12 hours of school minimum)