Dual Credit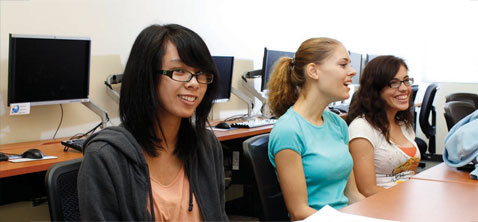 About
Dual credit is an opportunity for high school students to earn high school and college credit simultaneously. Students demonstrating college readiness through a college placement exam can earn college and high school credits in the same course by attending classes at their high school, on a Lone Star College campus and/or online. Dual credit students can also earn college level certifications while in high school that can lead to immediate job opportunities. Dual credit teachers are regularly employed faculty members of LSC or high school instructors verified by LSC to meet the same requirements as faculty teaching the same course on the college campus.
We partner with independent school districts, charter schools, private schools, and home school parents to offer courses in the core curriculum, foreign languages, and workforce education.
Advantages
Transfer many dual credit courses to Texas public colleges and universities, private institutions, and some out-of-state colleges and universities.
Complete college level certifications while in high school that can lead to immediate job opportunities
Save money on college tuition
Accelerate time to degree completion by getting a head start in college – dual credit students can earn up to a year or more of college credit.
Build confidence by easing the transition to college and life expectations.
Access the Lone Star College student support services – library, career services, computer labs, and tutoring.
Costs
Lone Star College waives 100% of the tuition for dual credit courses. Student only pays for fees and textbooks.

Tuition: the price you pay for classes by credit hours
Fees*: are charged to all students and provide services such as libraries, laboratories, learning centers and computer labs

Initial test fee for the Texas Success Initiative (TSI) Assessment is waived for dual credit students.
Textbooks and other instructional materials may be purchased from the campus bookstore or other textbook retailers in new, used, rental, or e-book formats. Visit LSC bookstores
LSC Dual Credit vs. College Credit Cost Comparison
| Credit Hours | Dual Credit (Fees Only) | College Credit (Tuition & Fees) | Savings |
| --- | --- | --- | --- |
| 1 | $32 | $76 | $44 |
| 2 | $52 | $140 | $88 |
| 3 | $72 | $204 | $132 |
To be eligible for dual credit you must:
Be enrolled in 9 - 12 grade;
See your high school counselor for approval;
Complete college admissions application; and
Meet minimum college readiness test scores in reading, writing, and/or math for the course(s) you want to take for dual credit.
See more information about eligibility requirements
In order to register for a Dual Credit Course, students must be assessed in Reading, Writing, and Mathematics prior to enrollment and show that they meet the Texas Success Initiative (TSI) requirement. This shows that they are college ready. There are a few test scores that are used to prove this. Students must have a qualifying score(s) on one of the following state-approved Texas Success Initiative (TSI) assessment to be deemed college-ready.
See more information about Testing Information
Grading Policies
LSC Grading
LSC uses a grading system in which students are assigned a letter grade of A, B, C, D, or F reflecting the student's performance in a course. Each grade will be recorded on the student's Lone Star College Transcript at the end of the semester.
ISD Grade Points
The student's high school grade for the course will be reported on his/her high school report card. The college letter grade will be recorded on the student's Official Lone Star College Transcript. (Please check with your local school district to determine your Dual Credit weighted rank factor.)
Different grading scales at LSC and your high school require that grades be converted between the two institutions. The following table demonstrates a SAMPLE conversion from the Dual Credit grade assigned by LSC and the semester grade recorded by an lSD. (Please check with your school for their grade conversion as this is only a sample.)
FERPA is a federal law that governs privacy of and access to personally identifiable student records. Instructors will only communicate with the student about their grade status and not the parent. Parents should communicate with their student about academic progress.
Apply for Dual Credit
Dual Credit Registration
Dual Credit Registration (ISD, Charter, and Private Schools) for Fall 2017:
Deadline is June 1, 2017 - please see your High School counselor for more information
Dual Credit Registration (Homeschool) for Fall 2017:
Please see your Dual Credit Representative on campus