Veteran Financial Services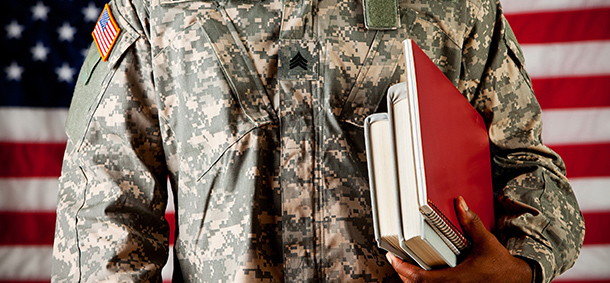 MISSION
To lead in the educational achievements of military veterans and those military-affiliated student populations – to continue to engage in mentorship and professional development of those who have and continue to serve and sacrifice for liberty and freedom.
To become a model of excellence with regard to providing best in class access to post-secondary education by embracing the spirit and intent of true advocacy on the part of the military-affiliated and traditionally under-served student populations.
Please contact Veteran Financial Services if you have any questions or concerns at GIBILL@LoneStar.edu or call 281-290-2922.
On The Spot Certifications
Fall On The Spot Certifications are scheduled as follows:
Monday, August 13
9AM - 4PM
Kingwood
Library | Classroom 203
Wednesday, August 15
9AM - 4PM
University Park
Building 12 | Room 623
Thursday, August 16
9AM - 4PM
Tomball
East Building | Computer Lab 258
Monday, August 20
9AM - 4PM
North Harris
Building 11 | Computer Lab 104
Wednesday, August 22
9AM - 4PM
Montgomery
Building A | Room A228
Thursday, August 23
9AM - 4PM
CyFair
CASE Building 6 | Room 203
B14 Eligibility Requirements
To be eligible for a B14, students must meet the following criteria:
Use Chapters 31, 33, Hazlewood* or Tuition Assistance
Not have an outstanding balance from a prior term
Submit a Request for Certification by the following date(s):
Semester Date

Fall 2018

Due Date

August 14, 2018
If you do not submit your Request for Certification by the due date(s) listed above, you will need to contact the Business Office to set up a payment arrangement so you will not be dropped from your classes.
*PLEASE NOTE: Hazlewood students must also follow the due dates above as well as submit all required documents no later than one week prior to the end of the term.
Work Study Positions Available
Veteran Financial Services is currently accepting applications, along with a resume and cover letter, for VA Work Study positions. Please email gibill@lonestar.edu for more information.

Follow the 6-step process to apply for admission and register for classes as a veteran at Lone Star College.
Assisting you with your education benefits is our top priority. Service members and veterans of the Armed Forces have numerous options when selecting education entitlements. Please speak to an advisor today to learn more about GI Bill opportunities.

Find forms available online for new/transfer students, military branch forms and enrollment forms including:

VetSuccess on Campus
The VetSuccess on Campus program is a collaborative effort between Lone Star College and the Department of Veterans Affairs (VA) with the purpose of providing a supportive, on-campus environment for student veterans.
For more information, contact Seketha Cook at 713-515-1608.
Lone Star College provides a variety of resources on campus including the following:
Do you need assistance with something else that is not listed above? If so, visit our Community Resources page.

Campus Veteran Liaisons
Students using GI Bill benefits must meet with their Campus Veteran Liaison prior to enrolling into classes to ensure eligibility requirements.
If you are unsure of who your advisor is, please send an email to GIBILL@lonestar.edu or call LSC Veteran Financial Services at 281-290-2922.