Veterans Affairs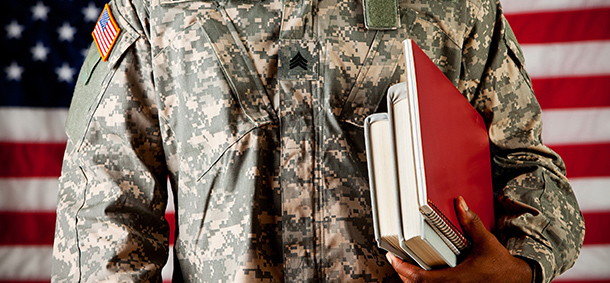 The Lone Star College Veterans Affairs Center mission is to provide veterans and their family members with assistance in achieving their educational goals, making career transitions, and aid with other personal issues which resulted from their service to our country.
If you are a veteran or a dependent of a veteran, our office is here to serve you. Please contact the Veterans Affairs Center at GIBILL@lonestar.edu or call (281) 290-2922 if you have any questions pertaining to the following services.
VA Education Benefits Counseling
Assisting you with your education benefits is our top priority. Service members and veterans of the Armed Forces have some options when selecting education entitlements. Please speak to an advisor today to learn more about GI Bill opportunities.
VetSuccess on Campus
The VetSuccess on Campus program (view flyer) is a collaborative effort between the Lone Star College System and the Department of Veterans Affairs (VA) with the purpose of providing a supportive on-campus environment for student veterans. VA has placed a full-time Vocational Counselor on the LSC-University Park campus to assist veterans, active duty military, and their eligible family members who attend or plan to attend Lone Star College.
Disability and Counseling Services
Lone Star College System is committed to ensuring that equal access is available to its educational programs, activities, and facilities for students with disabilities.
Financial Aid Counseling
Financial aid is an option for all students including students receiving VA educational assistance.
Career Services
Each LSCS campus has a Career Services counselor to help you with career planning and employment services. Additionally, LSCS partners with the Texas Veterans Commission and has an employment representative dedicated to our veterans students.
Student Veteran Groups
Student veterans groups are an important part of your transition into college life. Find out more about our student veterans and how you can get involved today!
Resource Providers
Do you need assistance with something else that is not listed above?
If so, visit our resource providers link or give us a call and we will work with our many community veteran providers to find someone to address your needs.

Academic Advising
Students using GI Bill benefits must meet with their Campus Veteran Academic Advisor prior to enrolling into classes to ensure eligibility requirements.
If you are unsure of who your advisor is, please call the Veterans Affairs Center at
281.290.2922, or email GIBILL@lonestar.edu.