At the crossroads of cultures the creative mind is seeded with possibilities. What lies between two points, whether cultural, chronological or geographical is the artist's playground for contemplation.
Vachu Chilakamarri
Karine Parker-Lemoyne
Rahul Mitra
Kay Nguyen
Mari Omori
Rolando Reyna
Vachu Chilakamarri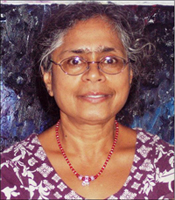 Vachu Chilakamarri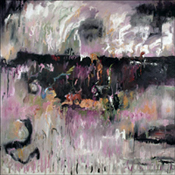 In the Clearing
48" x 48" oil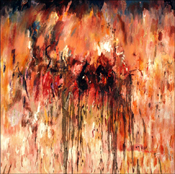 Act of Tearing, 2009
Oil on canvas, 48" x 48" oil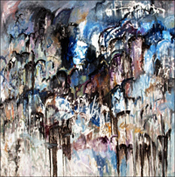 Moon-birds, 2009
oil on canvas, 48" x 48"
As an artist I am moved by the affects of time on every thing living in this universe. How time makes little or no difference, how it flees, how it brings philosophy into lives.
I paint with my subconscious intention, manipulating paint material creating a subject or paint a particular theme in mind. I love oil and the thrill it gives me, feeding me. In addition to this, I use water mixable oil to add texture and complexity in my work.
The painting evolves on its own, picking up speed while unifying, editing, balancing the form and color. I am finished with my painting only when I am satisfied that it be expressive and evocative.
As a Biologist, I am drawn to the natural forces in life, plants as well animals. This education from India, draws me to natural objects. At this juncture, I moved to the United States.I pursued art and poetry where the qualities of time in life, became more compelling aspect for me to compose, contemplate and create.
My painting methods evolved with time, with new culture, new experience and exposure, in this country. I reinvented myself, culturally, became an artist, to find an aesthetic balance in what I am expressing in unifying my fields.
Using a subconscious method and painting without preliminary studies, allowed me to express spontaneously, giving rigor, vividness and the qualities from the philosophies of science, art and poetry. Giving a balance between reality and intention is the key to success in my painting.
Vachu Chilakamarri was born in Hyderabad, India. She graduated with a degree in B.S, Biology, and received formal training in fine arts from Columbus College of Art and Design, and Central StateUniversity, Ohio. Her work has earned numerous awards and she was a finalist in the 2009 Hunting Art Prize. In addition to participation in numerous juried shows, her work has been shown in solo exhibitions at the Dallas Center for Contemporary Art, Intexure, Houston, Riverbend Art Center, Ohio, John Bryant Center, Ohio and Central State University, Ohio. Recently her paintings were featured in Andrews Art Journal of North Carolina. Her poems are published in American Poetry Annual, Treasured poems of America and Three Cup Morning.
Linguistic Intervals

My pen inks
deep
down into memories

through intervals
and pauses

if words have
all pauses

if words are like
rain
and then
sun

if words have all pauses
if words have all pauses

Act of tearing

my fingers to the bones
tear into the
earth
the
Sky

for
the
light.
Moon-birds
My knees closest to my chest
I embrace myself
My warm breath understands the creatures
Outside the window bushes
In solitude
In solitude
From the midnight moon, black birds come flying
Come flying
I wake up
I Wake up
The flapping sound of the wings frighten me
As if darkness approaching
I lay still. Holding my breath
My palms spread across the sky
To stop
To stop
The birds that come fly
Come fly
Karine Parker-Lemoyne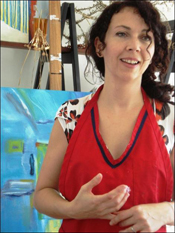 Some paintings have movement. Some paintings have waves that carry you. I have always been attracted by that. I like to introduce movement and colors in my work so that the flow can transport you to the painting's universe. For many years, I worked with watercolor and gouache to capture the secrets of this wave in figurative works.
Today, with acrylic, I feel more than ever the ability and the urge to express this life in movement. Acrylic brings texture, spontaneity. From the original urge to paint, I free the colors and the brush strokes. Only then I compose the universe of the painting on specific details that emerge from that first experience, the first delivery, the first rush. I build the painting on that foundation that is given to me.
The unexpected images and color combinations which emerge before and during the painting experience are the representations of my inner world, its colorful essence. They talk about the strength, the freedom and the peace that I feel when I listen to its movement and its music. They talk about ancient and new worlds where you can cross boundaries, and beckon the vitality of Life.
As a teenager, Karine Parker Lemoyne explored Art techniques at the "Beaux-Arts" of Amiens (academic French Art School). She developed her artistic talents through workshops in France, England and the US. She lived in London and Paris and decided to move to Houston, TX in 2007. Her life in London awakened an insatiable want for expressing her soul through art. Underground exhibits and a tight circle of friends made her London years decisive in knowing that Art was to become her calling.
Turning the page on a successful career as a top-level banking executive in Paris, she decided to set her creativeness free and harness the belief that living art is a way of life and a truth to live in. A truth she wants to share and enjoy with a series of exhibits she is organizing with other artists. This series of exhibits is focused on opening portals by creating events that bring known and emerging artists to the forefront of authentic encounters with the public. Her work has been sold in the U.S., in France and the UK.
INTERVAL 1: Life Force - In the beginning 36" x 48"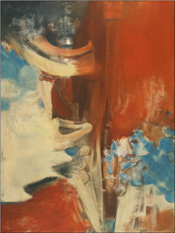 In the beginning, the forest.
A forest of tall pines and imposing oaks penetrated by the light. The night is falling. The shadows start to settle and the very green halo of the sunny afternoon, welcomes from now on the gilded light of the finishing day.
Doors of light appear between the trunks and lend to the forest a soul of cathedral.
Then gilded spots disappear here and reappear over there, a little further. These small fireballs are reassuring; they naturally come to life under the cover of the wood.
I sit down at the base of a large pine tree and let the night come to me. Rustle of the pine needles under my feet, fragrances of coniferous trees exhale and rise gently from the ground. I am observing the night. The greens have slowly yielded the place to the brown tints. I drink the colors. I quench my thirst at their source.
Then the world of the grays follows the warmth of the browns and covers the matter which surrounds me. An open space invites me to contemplate a circle of old trees whose forms are outlined strangely in the darkness. The perception of the forms changes the night. They are increased, omnipresent. They worry sometimes, and awake forgotten fears.
The range of gray fades quietly, replaced by a color of dark ink. Difficult to say the color of the night. There are white halos sometimes. The night is so strong that I cannot distinguish the colors anymore. There is much more than colors, there are obscure lights and plays of contrast.
I like the night in the loneliness of this moment. Little by little I feel the sensation to belong to these shadows which from now on, fill the forest. This night brings the awareness of belonging to a much greater whole.
I echo this force of Life in my paintings. As does this journey in the forest, painting brings me to a place of necessary loneliness, of responsibility and freedom. These open the possibility for me to create for finally discovering the true appeasement and the consecutive joy. They inspire my work. This forest is located in Brittany/France on the peninsula of Rhuys.
INTERVAL 2: All one – The Gift of Intentional Solitude 40" x 40"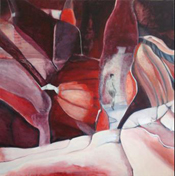 "Long ago the word alone was treated as two words, all one. To be all one meant to be wholly one, to be in oneness, either essentially or temporarily. In ancient times, purposeful solitude was both palliative and preventative. It was used as an oracle, as a way of listening to the inner self to solicit advice and guidance otherwise impossible to hear in the din of daily life." -Clarissa Pinkola Estes
In many civilizations, the cave is a magic place where is held initiations. The one who leaves the cave is transformed, taught, grown, and empowered with force because he or she went to seek an essential contact: the cave is related to the concept of the mother earth. To penetrate in a cave thus corresponds to come into contact with the entrails of the ground, with one's own roots, one's depth.
What messages will we discover in the solitude of the cave?
INTERVAL 3: Shadow House – Reveal 24" x 36"

"… One night
There's a heartbeat at the door.
Outside a woman in the fog,
With hair of twigs and a dress of weed,
Dripping green lake water.
She says "I am you,
And I have traveled a long distance.
Come with me, there is something I must show you…"
She turns to go, her cloak falls open,
Suddenly, golden light…. Everywhere, golden light…"

From "Woman Who Lives Under the Lake" - Clarissa Pinkola Estes


INTERVAL 4: Blue Alley – The Journey 24" x 36"

Follow me
I lay everything on my arms and take up anything that is mine
come with me
Do not look back for me because you will never see this old life of me
walk with me
Stepping out of this hallowed door red in full elegance to take on this world
breathe with me
Grasping to take one last breath of normalcy with you this soon to be past life
kiss me
For you will never taste my new lips spilling forth cascading columns of confidence
cling to me
Are you sure
you want me to go with canvas and bag on hand
and never to see me again?
watch me
Leaving trails of speckled dust for your dreamy eyes
to follow me into star ridden skies
leave me be
My destiny lies connected to colored soundscapes
orchestrated in new found spaces
depart from me
Forever is a promise with deliberate prose and senseless calculation
set me free
Leave with no regret of this cookie cutter life
filled with stuffy corporate bank jobs in white picket fenced house of cards
clutch for me
Embracing this challenge as if it is my best friend who sharpens my life
dance with me
Where freedom is forever aligning bodies with rhythm and reckless abandon
reflect on me
Through trial and triumph driven by perseverance our lives still worth living
envision me
Where ideas unite across the mental landscape
mobilizing the world
one canvas at a time

The journey by Jerome Vielman.

INTERVAL 5: Flamenco Tulip – Healing Nature 30" x 40"

Natures of green and blue
Bring me to the peaceful you
Natures of colors and dance
Invite you to discover France

INTERVAL 6: Metamorphosis - Enlightenment 36" x 36"

Once, there was a door…

Today's Art is perpetually evolving and is less inhibited. It invites to new ways of thinking. It can open new paths we wouldn't have opened in our everyday life.

How can we find this door, the door to our creative impulse? The creative impulse calls us to life. It shows us the known and the unknown. If we allow our thoughts to change, then our beliefs and our behaviors can change.

How can we use our native intuition and our senses to widen our perception?

What does Art have to tell us about who we are? What does it have to teach us about others, about our differences and what we have in common?

INTERVAL 7: Union 36" x 36"

Follow the curves, Ride the waves,
and give birth to these intertwined live movements.

No fear of the Unknown. Intuition and senses to guide you.
Appeasement of being where you are meant to be.

Union multiplies energy,
It increases life and momentum.
It's the one plus one equals three.
Rahul Mitra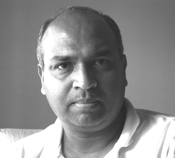 I attempt to create dialogues between civilizations in my art. Is globalization of art a product of contemporary dialogue between civilizations? Wasn't renaissance of the Western art a successful attempt of globalization, which seemed to endure for centuries? Wasn't the influence of miniature paintings and Yukio-e prints on Western art, globalization of art? No matter the phenomena it seems that the contemporary art more than ever is a true interaction between cultures. The difference in this millennium is that this dialogue is accelerated by the technology, which is rapidly making the influence of a particular school (or culture) of art obsolete. This parallels the life in urban spaces across the world that somehow seems to be similar (or globalized). I create a visual vocabulary with images that are displaced in time and space, and mixed culturally – in short I am recreating any city in America.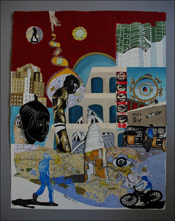 DNA, 2010
mixed media on paper
22"x30"
In a converse idea, the rest of the world is recreating America in their countries. What is the essence of these two anti-parallel universal phenomena? My work represents imagined global cities that form the dioramas of cultural indexes. I feel that drawing is immediate and integrates such type of ideas well on paper. I make my drawings using color markers (Prisma and others) on handmade paper.
August 2010
Rahul Mitra
Rahul Mitra is an artist, printmaker, writer, scientist and entrepreneur, born in Hyderabad, India, now living in Houston for the past 15 years. Mitra is exploring the urban spaces in flux. A curious experiment started in the late nineties (parallel to the development of the internet) is taking root in urban spaces around the world – a genetic, cultural, and linguistic blending.
Mitra's work creates a visual language reinventing the idea of Babel via personal, socio-political dialogues exploring poverty, ennui, custom, love, strangeness, technology, and linguistics captured as moments in life in urban spaces. His work has been exhibited in 20 exhibitions in 5 countries in the last 2 years, including JP Morgan Chase Foundation, Lawndale Art Center, The Art League of Houston, The Slovakian Academy of Art, Academy of Art, Serbia, Vera Cruz, Mexico, and in several galleries in India. He has also been instrumental in bringing the first contemporary Indian Art exhibition to Houston. His stories have been published in literary journals, Gowanus in NYC and Tell Tales in UK.

Rickshaw, Linocut
16" x 24"

Door, Linocut
16" x 24"

Journey, Linocut
16" x 24"

Black Car, Linocut
16" x 24"

Library of Babel_1, 2010,
Ink on handmade paper, 16" x 22"

Library of Babel_2,
Ink on handmade paper, 2010, 16"x 22"
Kay Nguyn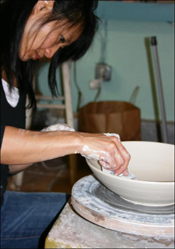 The new work for Intervals is part of an on-going series called "the pill project." The genesis for the project came from personal observations of how our fast culture deals life situations. The initial body of work was called, "The Art of Happiness," shown at Poissant Gallery in 2004, consisted of oversized (3.5" X 6.5") ceramic pill capsules used because they are easily recognizable to metaphorically represent the "quick-fix solutions" to the problems. The large scale of the capsules is both disconcerting and humorous.
The "pill project" continues to evolve. For Intervals, pill capsules are replaced with pill bottles. The work bespeaks my own circumstances relating to healing and working through specific challenges. It is more a revelation of the personal than a commentary of the social environment. The pieces are crafted on the wheel and some have been altered. These were fired in the Raku method to give a look of old and ancient artifacts as if they were unearthed in the 24th century.
'Supplements' is made of five pill bottle forms. The incorporated words, 'truth, wisdom, courage, acceptance, grace,' represent the process of letting go and moving forward. Alone, these simple words have powerful meaning, but together, the potency and effectiveness increases to deal with changes.
Born in Vietnam and Immigrated to America in 1975. Holds BFA from the University of Houston and MFA from Kent State University with a full-scholarship. She was artist-in-residence at University of Michigan and Houston Center for Contemporary Craft and a featured artist on HGTV series, "That's Clever" in 2005. Received funding for projects through Houston Arts Alliance, Kingwood College, I Have A Dream, Houston, and Writers in the School for projects that promote art and personal-empowerment. Currently, Nguyen is an adjunct professor at LSCS -North Harris. She also gives art workshops and private instruction at her studio in the Montrose.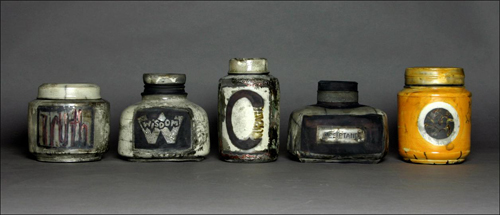 Daily Supplements, Truth, Wisdom, Courage, Acceptance, Grace 2010, Raku
| | | | |
| --- | --- | --- | --- |
| Truth, Raku, 6" x 6", 2010 | Wisdom, Raku, 6 1/2 " x 7" | Acceptance, Raku, 7" x 6" | Courage, Raku, 5" x 8" |
Mari Omori
Intervals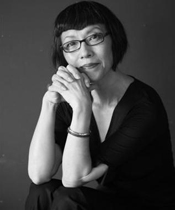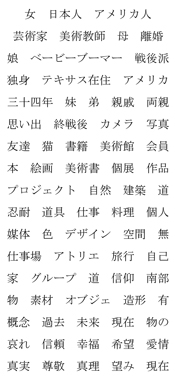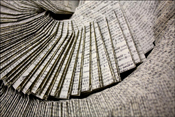 Kenkyusha's New College
English-Japanese
Dictionary, 2010
40" x 29 ½", nfs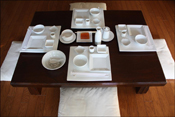 Danran, 2010,
58" x 78" x 17"
My experience living in the US for the past 34 years has been remarkable. I have experienced a life that would not be possible if I continued living in Japan. Here my life has been filled with different responsibilities and possibilities, purpose and meaning. My life is powered by art. I am a visual artist and I have been teaching art at the Lone Star College-Kingwood since 2001.
As a dual-cultural artist, my interest has balanced between the feeling of belonging in the US and longing to return to Japan. Through the work I have created for the intervals exhibition, I explore my own roots, my identity, and the path of self discovery, through how objects are assembled and how these objects are installed.
"Danran" means family gathering in Japanese, often used as dining with family members. The low table is set for four places with the cushions all facing each other. As this work evolved I realized the influence of my parents and grandmothers who guided and supported me in my formative years in art education. Yet all those four have long passed away and only their memories remain. On the other hand, my siblings and daughter are the immediate blood-relatives surviving, which make up four if I include myself. The table setting is an invitation to the spirits of those who have passed. But it is also a celebration of living and life in my present world.
Before coming to the US I purchased a leather covered Kenkyusha's English-Japanese dictionary. I have used this dictionary every day for the past 35 years. Each page shows wear and tear and the passing of time. There are some words and lines underlined and highlighted. The graphics in the dictionary seem more British than American, which illustrate the British English language educated in Japan in the early 70s. The 1,856 page parchment is smooth and high quality. Although it is impossible to memorize and master every single word in the dictionary, I feel confident that I now am able to let this dictionary be dissembled and converted into an art object of history and my life story.
Mari Omori
October, 2010
Born and raised in Japan, an artist and art educator, Mari Omori received a BA from Cal State University Northridge and MFA from UCLA. She is currently a Professor of Art at Lone Star College-Kingwood, Kingwood, TX, a position she has held since 2002. She was awarded an artist-in-residency at the Mino Cultural Village, Mino, Japan for three months in 2008 in conjunction with her Sabbatical Research Leave with the International Faculty Exploration Grant from Lone Star College Systems.
Omori's awards include the Palm Beach County Cultural Artist-in-Residency Grant in 2007 working with 25 non-profit organizations, over 500 participants in an exhibition at the Morikami Museum, Del Ray Beach, FL. Her works have been widely exhibited in solo and group shows in California, Massachusetts, Oregon, Texas, Japan, Taiwan and Thailand.
Her curatorial projects include "Washi5" (LSC-Montgomery, 2010), "Kyomei: Resonance" (Poissant Gallery, 2007), "cross roads: asia/america" (Galveston Arts Center, 2006), and "affinities" (Heritage Gallery, JP Morgan Chase, 2005). Her solo-exhibition in 2010 includes "Mothers/Daughters" at Bosque Gallery, LSC-CyFair and "akari kami mori: illuminare". at the College of the Mainland Art Gallery. Her up-coming solo exhibition in 2011 features "Japan: material and form" (tentative) at the Pearl Fincher Museum of Fine Art, Spring, TX in May-August.
object
thing article body
form phenomenon
device gadget a thing
that can be seen or
touched material thing
that occupies space
a person or thing to
which action thought
or feeling is directed
Rolando Reyna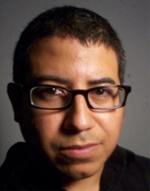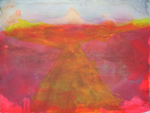 Sendero, 2010,
Acrylic on Paper,
28" x 32"
I began Ranchoverse because I wanted to explore myself in my work as a more figurative subject. This is also an elusive thing. I've spent so much time growing up just staring and being completely involved in certain designations of land. I make up the parts just to relinquish them as a whole, and as this body of work evolves it is beginning to reflect that more pure sense of not knowing. I'm painting more open spaces, more distances, and different pathways to allusions.
I never really know how to finish. With each work I have to make note of where I am when it ends and accept the aftermath of that experience. Painting is always just an attempt. Its pathways are cut into certain pastures in my mind where belief becomes an understanding of what I am able to see, and the presentation of which forces me to reconcile with accepting it as it is.
I remember often through the years seeing Mexicans, Guatemalans, and El Salvadorians travel through the same pastures that I've made metaphorical looking for food, water, and work. Paintings like the Red Sendero, represent that unspoken road. For ranchers it is important to check the status your cattle and their young, though man-made pathways, or senderos which offer a visible piece of pasture. After the initial application of inks and under painting, I selected to apply a few long narrow areas of form through paint that became a crossing. I wanted to distance my self from the place, and I wanted to allow the burning sun to fill and bathe the earth's relief as if its light had a chance to snow.
Perhaps it is there that my work has become more willing. I too have used the land for both cover and exposure. I set up situations so that it makes "the finishing" much more unknowable, more unmapped. If I could see that impossible organ, it might be like removing the water from a river in one instance.
Its location is hidden, its navigation is provided only through that place which preserves your magic, and arriving there is achieved only by suspicion.

Thundercloud,
2010,
Ink and Acrylic on paper,
28" x 32"

The Last Caliche Rock,
2010,
Ink and Acrylic on paper,
28" x 32"

Walk in Accident,
2010,
Ink, Acrylic on Paper,
28" x 32"

Creosote Post Capped with Box Turtle,
Ink and Acrylic on Paper,
28" x 32"
Rolando Reyna was born in George West, Texas, in 1971. He received a BFA from Texas A&M University-Corpus Christi, and the MFA from the University of North Carolina at Greensboro as a Holderness Fellow where he studied for two years with New York-based painter Cora Cohen.
As a young painter in the '90s, Reyna's paintings addressed issues of cultural identity in relation to the South Texas environment. At that time many sources were informing Reyna's painting, from Texas artists identified as Chicano artists like Cesar Martinez, Santa Barraza, and Luis Jimenez.
While a graduate student ('98-2000) Reyna was exposed to a different variety of art making practice and critical theories in painting. Reyna made several trips to New York and received studio visits from artists Carroll Dunham, Lydia Bengalis and Pat Steir, all of which furthered his critical thought. As a result Reyna's painting shifted into a very experimental and process oriented work that's content challenged most conventional painting he previously knew, which would continue to be reflected in later works.
Returning to South Texas in 2001, Reyna introduced himself to Santa Barraza and was hired to teach at Texas A&M University in Kingsville. A few months later, with the assistance of Barraza, Reyna made his first of several trips to Oaxaca, Mexico. As Reyna explored the Pre-colonial city and neighboring Pre-Columbian archeological sites of Yugal, Monte Alban, and Mitla, he felt as if he'd come home. He was also deeply effected with how the "Pintores Oaxaquenos" created their own contemporary narrative. Painters such as Juan Alcazar, Cecillo Sanchez, Justina Flores, Shinzaburo Takeda, and Mexican Master Francisco Toledo demonstrated an aesthetic based on defending a cultural core of art and community.
Rolando currently resides in Houston, and is the Program Director at City ArtWorks and adjunct professor at Houston Community College. His work is included in the collections of the Art Museum of South Texas, and Weatherspoon Art Museum, North Carolina among others. Recently curators have included his work in Lawndale Art Center in Houston, and Weil Gallery in Corpus Christi.
Make LSC part of your story.