Transfer Academy for Tomorrow's Engineers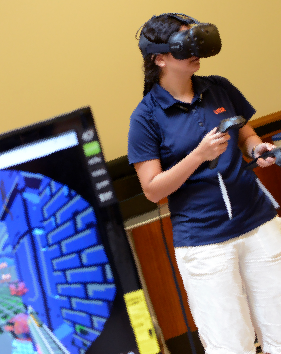 Lone Star College (LSC) and The University of Texas at San Antonio (UTSA) have partnered together to offer students a seamless pathway to earn a four-year degree in engineering from UTSA's College of Engineering.
LSC engineering students can participate the UTSA Transfer Academy for Tomorrow's Engineers (TATE) program, where students will be co-enrolled at both institutions, take engineering courses taught by UTSA and LSC faculty. Upon completion of the program, students will transfer to UTSA to obtain their bachelor's degree in any of the six UTSA engineering degree programs.
Why join the Transfer Academy for Tomorrow's Engineers?
UTSA COURSES & LSC
It's an opportunity to take UTSA engineering courses from UTSA faculty at LSC-CyFair.
ASSOCIATE + BACHELOR'S
It's an opportunity to earn your associate of science degree at LSC while pursuing your bachelor's degree.
COHORT LEARNING = SUCCESS
It's a cohort-style program where UTSA TATE participants will take math, science and engineering courses with other TATE particpants.
STUDENT SERVICES X2
You'll have access to student services, student activities, student organizations, etc. at both institutions.
SEAMLESS TRANSFER
Your transfer process will be streamlined, with no additional application or fee required.
AFFORDABLE PATHWAY
It's an affordable 4-year pathway to a UTSA engineering degree.
CAREER OPPORTUNITY
Top employers of UTSA graduates include the U.S. Air Force, Valero Energy, H-E-B, Intel, CPS, USAA, IBM, Accenture, Proctor & Gamble, and more.
$60,797
Average starting salary for engineers.
UTSA College of Engineering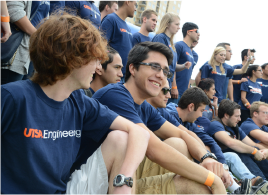 As one of the fastest-growing engineering colleges in Texas, UTSA creates an atmosphere of innovation, research, and collaboration.
Our diverse faculty gives you exposure to the best of the best on your journey to becoming a skilled technologist that will make our world a little more brilliant, efficient, and powerful. Our state-of-the-art facility with cutting-edge teaching environments provides the opportunity for a hands-on learning approach.
Degree Programs
The UTSA College of Engineering (COE) offers six Bachelor of Science degree programs:
Biomedical Engineering (BME)
Chemical Engineering (ChemE)
Civil Engineering (CE)
Computer Engineering (CmE)
Electrical Engineering (EE)
Mechanical Engineering (ME)
What to Expect
In order to complete the UTSA TATE program at Lone Star College and successfuly transfer to UTSA, students must:
TAKE 12 CREDIT HOURS / SEMESTER
Enroll in a minimum of 12 credit hours each fall and spring semester at LSC.
TAKE 1 UTSA COURSE / SEMESTER
Enroll in at least one UTSA approved engineering course each semester.
EARN 50+ CREDIT HOURS
Complete at least 50 hours of transferable work from LSC, including two math and two science core curriculum courses and 10 hours of UTSA engineering courses.
CALCULUS COMPLETE
Complete all required calculus courses for a UTSA engineering degree.
2.5-3.0 CUMULATIVE GPA
Maintain 2.5 cumulative GPA (3.0 GPA if transferring into Biomedical or Chemical Engineering). (We will calculate your cumulative GPA for all college-level courses from all schools attended. For repeated courses, grades from all course attempts will be used for calculation of cumulative GPA.)
Eligibility & Requirements
Be enrolled in an LSC engineering program. New students can apply at LoneStar.edu/apply.
Meet UTSA's admission criteria for Biomedical, Chemical, Civil, Computer, Electrical or Mechanical Engineering. Criteria can be found at future.utsa.edu/studies.
Be calculus ready and TSI complete, as determined by Lone Star College.
Meet with a Lone Star College advisor to determine eligibility. Upon qualification, eligible students will receive an application link to their email address.
Questions?
Dr. Yiheng Wang
Professor of Engineering, LSC-CyFair
281.290.3411
yiheng@LoneStar.edu
Email Transfer Services for general transfer information, transfer questions, and university representative.
About UTSA
The University of Texas at San Antonio is one of the fastest growing higher education institutions in Texas and the second largest of nine academic universities and six health institutions in the University of Texas System.

As a multicultural research and teaching institution of access and excellence, UTSA aims to be a premier public research university, providing access to educational excellence and preparing citizen leaders for the global environment.
You can learn more about UTSA and the the TATE program at future.utsa.edu/tate.
Make LSC part of your story.