LSC-Montgomery Biotechnology Department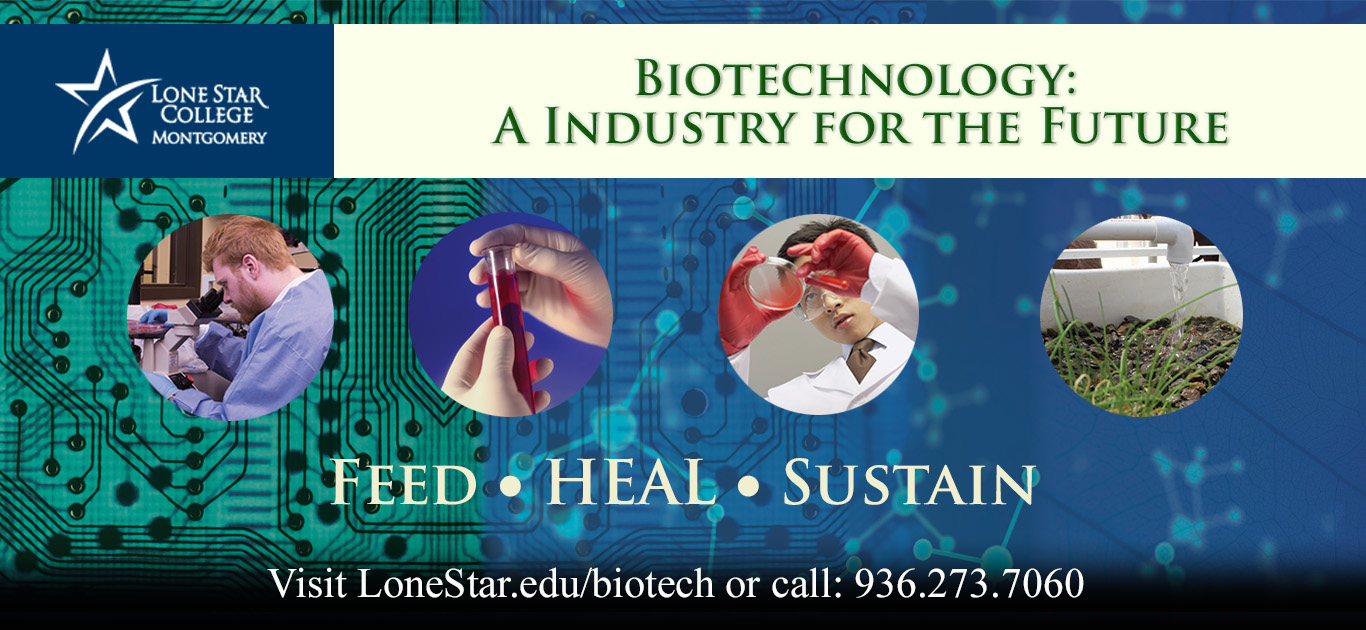 Your Pathway to a Meaningful Career: Biotechnology Laboratory Technician
The mission of the Biotechnology Program at Lone Star College-Montgomery is to prepare students to become biotechnology laboratory technicians. The program includes experiences with basic laboratory skills, genetic engineering, protein purification, cell culture, quality assurance and quality control, bioinformatics, electronic lab documentation, ethics, and teamwork. Students who complete the program are prepared to work in a variety of positions in companies such as pharmaceutical, molecular diagnostics, manufacturing, research, agriculture and cell culture. The hands-on approach also serves students interested in other laboratory technician jobs such as those in the chemical and oil/gas industries.
The LSC-Montgomery Biotechnology Program offers a two-year Associates of Applied Science (AAS) degree and an Advanced Technical Certificate (ATC) for students with a prior degree. The AAS degree provides students the skills necessary to be a biotechnology laboratory technician as well as the core courses that will transfer to a four-year university such as University of Houston-Downtown, Stephen F. Austin State University or UT M. D. Anderson Cancer Center School of Health Professions. The ATC program also provides students the hands-on skills necessary to be a biotechnology laboratory technician but is composed solely of biotechnology courses. At the end of either program, students are required to do an internship. Many of our students acquire permanent positions while working at a biotech company as an intern while other students choose to continue their education at a four-year university.
About Biotechnology
The term biotechnology was coined in 1919 by Karl Erecky, a Hungarian engineer, and referred to the types of work that involved using living organisms to make products.
By the mid-20th century, many teams of researchers were putting together the pieces that explained how a nucleic acid, DNA (deoxyribonucleic acid), carried the genetic information of the cell. In 1953 James Watson and Francis Crick developed a model of DNA -- the famous "double helix" -- that demonstrated how the molecule replicates itself and transmits this genetic information.
These discoveries opened the floodgates to today's biotechnology, where researchers and technicians are manufacturing new DNA, combining DNA from different life forms, and identifying which particular sequences of DNA are responsible for genetic traits, both good ones (like pest resistance in crops) and bad ones (like cystic fibrosis in humans). By working with these DNA sequences, researchers can eliminate undesirable traits, promote desirable ones, and move the traits from one life form into another. The major focus of biotechnology today is the manipulation of not only living organisms but their sub-cellular parts. Welcome genomics and the golden era of genetics: What was once obscure research for scientists has become relevant to all of us.
Biotechnology Contacts
Make LSC part of your story.