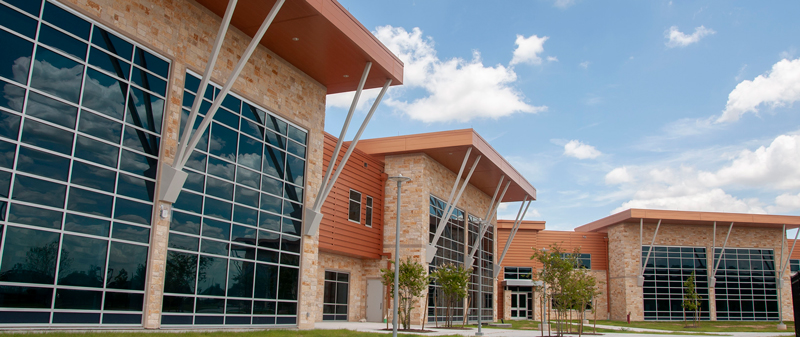 This location brings affordable, higher-education opportunities to the East Aldine community. Like its sister satellite campuses, the center is a comprehensive educational campus that provides a mix of academic college transfer courses as well as workforce training programs in high-demand fields such as welding and construction trades.
Philosophy
To provide greater community access to higher education and better serve students and residents in the East Aldine community.
Offerings at LSC-East Aldine Center
We offer a wide selection of day and evening classes, including university-transfer courses, workforce certificates, computer/office skills, ESOL (English as a Second Language), GED and developmental studies.

Services on-site include registration, college placement testing, free tutoring, academic and career advising, financial aid assistance and a state of the art Learning Center. Additionally, the LSC-East Aldine Center building includes the Aldine ISD Rose M. Avalos Pathways in Technology Early College High School. Here, students earn a high school diploma and 60 college credit hours through a dual credit program at no cost to students. The pathways available for students at Avalos P-TECH include Associates Degrees in Paralegal Studies, Cisco Networking, Teaching and Training, and Inspection Technology. Workforce certificates may also be acquired by students depending on their pathway of study.
HVAC Occupational Entry Certificate
The heating, ventilation, air conditioning and refrigeration program prepares students for a technical career, servicing HVAC residential and commercial systems, refrigeration coolers and freezers as well as ice machines and indoor environmental air quality management.
The student will study the mechanical and electrical/ electronic systems involved in contemporary environmental controls.
Program prepares the individual for basic, entry-level employment in the residential and/or light commercial heating, air-conditioning and refrigeration service industry.
Inspection Technology Specialization AAS Degree
Certificate programs are designed to train students for entry level skills in metallurgy, advanced ultrasonic including phased array, liquid penetrant, magnetic particle, radiographic film interpretation, electromagnetic testing and other means of inspecting a material, weldment, or product while maintaining structural integrity.
An inspector's safety, including safety in high radiation areas is covered.
All courses exceed the requirements of the American Society of Nondestructive Testing (ASNT) recommended practice SNT-TC-1A.
Welding Technology AAS Degree
The associate of applied science degree in welding technology is designed to prepare the individual for a career as a welding technician in the fabrication, construction, and manufacturing industries.
The program includes hands-on application of SMAW, GTAW, GMAW, and FCAW processes, in all positions, using pipe, plate and structural shapes. The student is also exposed to basic metallurgy and inspection procedures.
The academic requirements of the program provide the foundation for continued studies should the student desire to continue his or her education.
How to Apply:
STEP 1: Apply to Lone Star College at: https://www.applytexas.org/adappc/gen/c_start.WBX
How To Search and Enroll for classes at LSC-East Aldine Center
Cómo Buscar y Inscribirse en clases en LSC-East Aldine Center
Make LSC part of your story.