Jack Kent Cooke Scholarship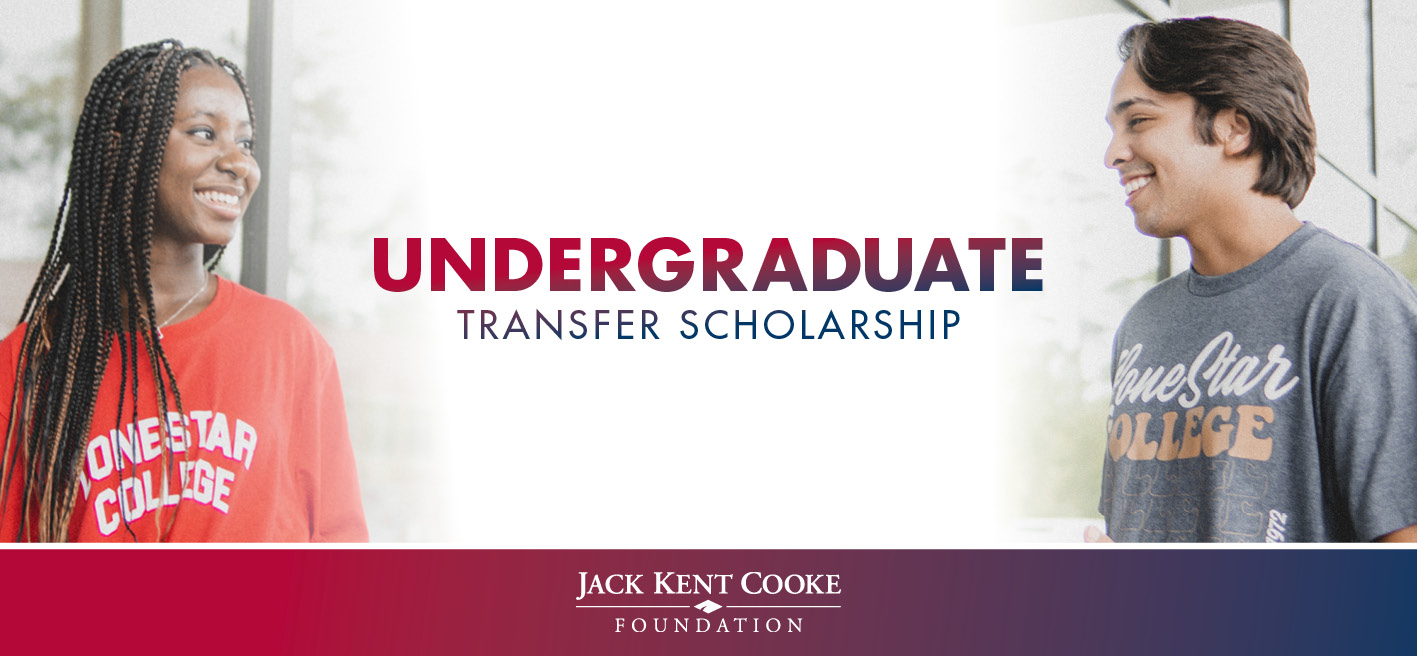 Download the Scholarship Flyer
The Jack Kent Cooke Foundation Undergraduate Transfer Scholarship makes it possible for the nation's top community college students to complete their bachelor's degrees by transferring to a four-year college or university. The Foundation provides up to $55,000 per year to each of approximately 85 deserving students selected annually, making it the largest private scholarship for two-year and community college transfer students in the country.
Jack Kent Cooke Scholarship Application
Selection Criteria
The selection process for these awards is rigorous and highly competitive with approximately 85 scholarships awarded each year out of hundreds of applicants. A review panel of distinguished university faculty and admissions professionals judge the applicants using criteria including:
Achievement and academic ability
Financial need
Persistence
Leadership
Desire to help others
Service to others
Minimum Eligibility Requirements
Be a current student at an accredited U.S. community college or a two-year institution with sophomore status by January 1, 2024, or a recent graduate (within the last 5 years).
Intend to enroll full time in an accredited four year college or university in fall 2024.
Earn a cumulative unweighted GPA of 3.5 in college.
Demonstrate financial need. We will consider applicants with family income up to $95,000.
Have not previously enrolled at or attended a four-year institution
Additional information can be found on the Jack Kent Cooke Scholarship Website.
Application Deadline
The application, recommendations, and parent form(s) (if applicable) are all due on January 11, 2024 (11:59 p.m., in your local time zone).
The Foundation
The Jack Kent Cooke Foundation is a private, independent foundation dedicated to advancing the education of exceptionally promising students. The Foundation offers several scholarship programs, including this program for community college students.
LSC Representative
To learn more about this scholarship, contact your campus representative(s). You can also visit the Jack Kent Cooke Foundation's Web site or call 1-855-509-5253.
Lone Star College–CyFair: Leslie Jewkes and Aurora Lugo
Lone Star College-Kingwood: Jared Miller and Mari Nicholson-Preuss
Lone Star College–Montgomery: Rebecca Howard, Kevin Fritze and Michael Maningas
Lone Star College-North Harris: Lynda Dodgen, Abrahim Abou Saad and Dana Van De Walker
Lone Star College–Tomball: Laura Dupree and Ava Veselis
Lone Star College–University Park: Sandra Velazquez, Joseph Butler and Stephanie Kelly
Lone Star College-System Office: Katie Caruso (Chair)
If you have any additional questions contact HIE@Lonestar.edu.
Make LSC part of your story.