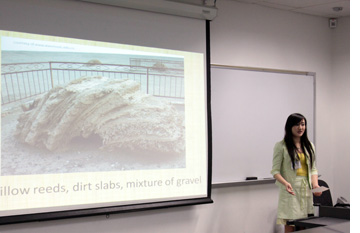 Record participation was not the only measurement for success of Lone Star College-CyFair's fifth annual Student Symposium, but rather the value realized among all the student presenters, faculty members and community members.
"The annual symposium honors the finest academic achievements of students throughout the campus," said Stacy Gresell, speech professor. "It's for any student who made a real impression on a professor for any academic work."
Professors nominate students with outstanding work to present their final end-of-the-semester projects in a professional conference setting. This year, the conference guest speaker was former student and LSC-CyFair sign language instructor Jonathan Leach, who is also a pilot.
"Jonathan, deaf from birth, was an inspiring, funny and thoughtful speaker," said Gresell. "The take away was don't let obstacles get in your way or let anyone tell you that you can't succeed."
The symposium, which LSC-CyFair's Honors Council and Phi Theta Kappa Honor Society sponsored, served as an opportunity for all students - honors, international, non-traditional as well as transitional studies students - to be recognized for academic success, for excelling rather than just getting by, said Gresell.
"The symposium was a complete collision of ideas and disciplines with really interesting conversations happening and benefits to all," she said.
More than earning a grade, students stood a little taller because they gained confidence in their public speaking skills, improved networking skills, felt a sense of pride in their academic work and could add the experience to their resume as a professional conference, said Gresell.
Students like, Saveem Afraz, a presenter of Hidden Identity in a Fully Exposed World, and Jessica Ponder, a presenter of Learning Community: A Closer Look at Non Verbal Communication, said the symposium was also "just fun."
Ponder said "I learned new things and got to teach people what I know," while Afraz said, "I was glad I was given the opportunity to present my work and I enjoyed the engaging audience."
Professors benefited from attending the symposium as they got to see their students apply knowledge in a different way. It was also an opportunity for faculty, students and even community members, to see the cool things going on in the classrooms at LSC-CyFair, Gresell said.
The community part of the symposium included not only attendance from family and friends of the presenters, but members of the college's Academy for Lifelong Learners (A.L.L.), who volunteered to help with check in, served as room hosts and provided audience support.
"The A.L.L. members were great about asking students about their research and how they came up with their ideas, which excited the students," said Gresell. "They loved Amanda Atwood's presentation on the Titanic (titled Unsinking The Titanic: Sifting Through 100 Years Of Titanic Lore.) One woman had a list of students they'd like to see give an encore presentation at future A.L.L. classes."
Among the titles of student presentations, which featured projects representing ultrasound, history, math and psychology classes, were: Dilated Cardiomyopathy; Vessels of Potteryl; Congenital Heart Defects: The Importance of Screening; A Year in Ceramics I; To Be A Meat Eater Or Not To Be, That Is The Digestion!; It's Red. It's Itchy. It's Ringworm!; Immigrant Anchors: Birthright Citizenship's Affect on Structure; Ancient Greek Religion; The Fight For Equality In The 21st Century: African American vs. Middle Easterners; Great Wall-The Way of Building and My Parents Are Crazy.
For information on the symposium, e-mail symposium chair and Honors Program sponsor Jamili.L.Omar@LoneStar.edu or Stacy.B.Gresell@LoneStar.edu. For information on A.L.L., go to LoneStar.edu/cyfair-all.