Commencement at Lone Star College-University Park is scheduled for 7 p.m. Friday, May 9 at West Dining on the campus located at 20515 SH 249 (at Louetta Road). We proudly spotlight graduates from the 2014 commencement class of LSC-University Park.
Ayse Balta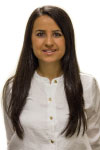 International students enrolling in colleges and universities account for a 7 percent increase in the recent academic year with most of the growth in numbers coming from Asia and Southeast Asia. International students leave family and home and community and arrive in the United States for higher education and employment opportunities offered here.
Ayse Balta's learning journey is typical of the international student seeking opportunities in the United States. She considers how far she has come as she recalls her first semester at Lone Star College-University Park. As a student whose first language was Turkish, she felt anxious she might say something wrong speaking in English.
She credits several LSC-University Park professors for their attention and support, in or out of the classroom. "I was blessed to have Devika Lalsinghani and Tom Rogers," Balta said. "They were tolerant, accepting and positive."
Her speaking anxiety now gone, Balta has grown into several student leadership roles. Out of a desire to share her culture, she engaged in talks over coffee or tea and helped increase membership in the International Students Club. She developed communication and executive skills at LSC Leadership College and began taking part in Student Government Association (SGA) meetings. By May of 2013, she had been named SGA president.
A highlight of her tenure was an inspiring video that introduced SGA members to LSC-University Park students and showed them how they can participate in the organization and in the life of their campus.
When asked how she came to develop such a high level of focus, Balta responded, "Confidence comes from facing challenges. I'm not a genius, but beyond that I can learn and be prepared."
Balta has garnered a scholarship from the University of St. Thomas where she would like to earn a degree in business management after graduation at LSC-University Park this May.
Christopher Brown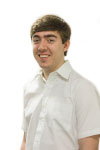 Lone Star College-University Park dual credit student Christopher Brown found inspiration in A Brief History of Time by Stephen Hawking at age 10.
"Hawking's explanation of physics was most interesting," said Brown, who will graduate in May with a high school diploma and an associate's degree in science. "He wrote in an animated, accessible style. I wanted to become a physicist after I read the book." Not one to limit his options, Brown has since pondered math and engineering as potential careers.
Brown enrolled in the Lone Star College dual credit program for high school students who demonstrate a readiness for college-level coursework. The tuition-waived program allows students to earn college and high school credits simultaneously so they can get a cost-effective jump start on four-year degrees.
Brown's parents, who are both engineers, placed him on an independent course of study at the end of 5th grade when they realized the private school he attended did not offer advanced math.
A disciplined, goal-oriented approach to learning worked especially well for Brown, who has taken a wide range of online courses, including astrophysics and art. To meet the high school requirement for 2 years of a foreign language, Brown even decided to tackle Latin.
Armed with homeschool course syllabi and textbooks, he has accessed resources and materials from OpenCourseWare at MIT and distance learning at Northwestern University and Texas Tech. He has mastered several Advanced Placement tests as a result of his studies.
Brown has also earned a National Merit Scholarship and plans to attend the University of Oklahoma in the fall.
Ashley Blaha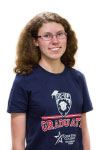 Ashley Blaha, Lone Star College-University Park and iSchool High dual credit student, became fascinated by the inner-workings of the piano when a college friend of her mother's took apart the Weber baby grand she had played for 8 years. Blaha immediately became awestruck with the components of the soundboard, the keys, the hammers, the strings.
"I'd never seen the inside of a piano," she said of her interest which has since turned into an entrepreneurial dream of running a piano tuning and repair service. "I wanted to learn more."
Blaha read all she could about the vocation, took a correspondence course, found a mentor and even attended a Piano Technicians Guild convention. Her membership in the guild was summarily revoked when they discovered she was only 16.
Not one to be discouraged, Blaha continued job shadowing and tinkering on the family baby grand, now in various stages of repair. She sought out every opportunity to learn about the piano technician's trade. Once she turned 18, Blaha became a bonafide Piano Technicians Guild member.
Blaha will graduate in May with an associate's degree in science from LSC-University Park and in June with a diploma from iSchool High. This Early College High School program Blaha enrolled in as a junior provided a tuition-waived option to earn college and high school credits with a cost-effective jump start on a four-year degree.
"Mom liked that I would receive an accredited diploma and high school class rank," said Blaha, who will attend Sam Houston State University in the fall and study business administration. She considered a major in chemistry, but wanted a practical foundation in managing taxes and expenses for her piano tuning and repair service.
Picture yourself at LSC-University Park! Registration is underway for fall classes, which start Aug. 25. For more information, please visit LoneStar.edu/Registration.
LSC-University Park is the sixth LSCS campus located in the former Compaq Computer's world headquarters complex. The 71-acre campus houses four university partners, a charter high school, several business partners, Lone Star Corporate College and the LSC Energy and Manufacturing Institute. Under the first President, Shah Ardalan, LSC-University Park's vision is to be nationally recognized as the model for the innovative college of the 21st century. In just two years, LSC-University Park's Invitation-2-Innovate (i2i) has resulted in many local, national and global recognitions, including one patent. The campus is located at the corner of State Highway 249 and Louetta Road across from Vintage Park. For more information about LSC-University Park, call 281.290.2600 or visit LoneStar.edu/UP.
Lone Star College System has been opening doors to a better community for 40 years. Founded in 1973, LSCS remains steadfast in its commitment to student success and credential completion. Today, with 78,000 students in credit classes, and a total enrollment of more than 90,000, Lone Star College System is the largest institution of higher education in the Houston area and one of the fastest-growing community college systems in the nation. Dr. Richard Carpenter is the chancellor of LSCS, which consists of six colleges including LSC-CyFair, LSC-Kingwood, LSC-Montgomery, LSC-North Harris, LSC-Tomball and LSC-University Park, seven centers, LSC-University Center at Montgomery, LSC-University Center at University Park, Lone Star Corporate College, and LSC-Online. To learn more visit LoneStar.edu.