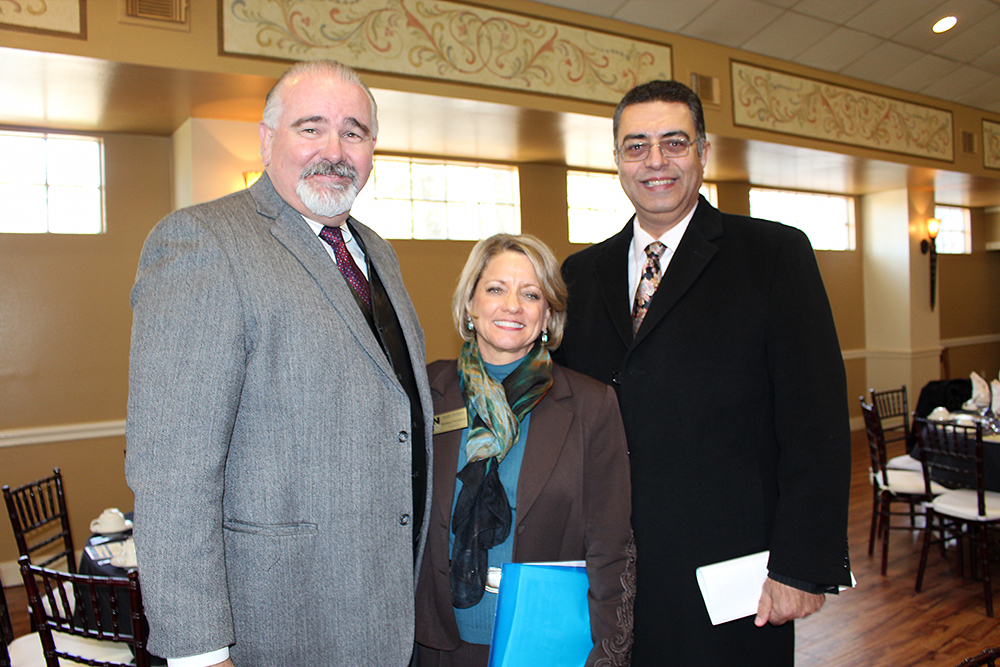 Harris County Precinct 4 Commissioner R. Jack Cagle (left) swore in 2015 officers for the Houston Northwest Chamber of Commerce. Also pictured are, Barbara Thomason, President of the Chamber; and Lone Star College-University Park President Shah Ardalan who is chair of the Chamber's Board of Directors for the coming year.
Lone Star College-University Park President Shah Ardalan became Chairman of the Board of Directors of the Houston Northwest Chamber of Commerce Wednesday, Jan. 8, during the Chamber's annual membership and awards luncheon at Shirley Acres.
R. Jack Cagle, Houston Precinct Committee 4 Commissioner, swore in the new board officers and directors. Cagle also served as the keynote speaker for the event. He presented a lively and informative presentation updating Chamber members and guests about significant road and highway projects under way in the area that will improve the quality of life and shorten commutes for those in greater Houston.
Cagle said the Tomball Toll Road that runs from just south of Spring Cypress Road to just north of FM 2920 is on track to open this spring. Once complete, it will feature six lanes in each direction, three of which will be tolled and three of which will remain free, feeder roads.
Work also continues on the Grand Parkway. Segments and interchanges for the last extensions across north Harris Country are now visible from other highways and thoroughfares in the area. The Grand Parkway project should open before the end of 2015 and will greatly improve transportation for the fast-growing north and northwest suburbs.
"Harris County is one of the fastest growing areas in the country and President Ardalan is correct when he says Precinct 4 has become a national destination for businesses, families and corporations," Cagle said.
Ardalan said he is looking forward to leading the chamber for the next year.
"I am honored to serve as the chairman, and I will work to make our community stronger for businesses and families," Ardalan said. "I am especially looking forward to leveraging our educational resources by collaborating with our excellent school districts and universities to attract families and new businesses and industries. We are starting the new year on sound footing and I will work with our membership, the rest of the board and the Chamber's excellent staff to advance the organization."
Houston Northwest Chamber of Commerce President Barbara Thomason said she looks forward to working with Ardalan and the rest of the new Board of directors.
Ardalan, who served as chair-elect last year, promises to work to promote growth and prosperity while focusing on five strategic goals.
They are:
Creating a safer and more secure community
Creating a sense of community
Increasing the economic health in the community
Supporting and championing education and human development, and
Creating a more excellent Chamber organization.
Other board officers for 2015 are: Nancy Blackwell, AEI Engineering, LLC, chair-elect; Adrian Cadena, Frost Bank, treasurer; Juan Fresquez, Houston Northwest Medical Center, chair ex-officio; Ross Radcliffe, Radcliffe Bobbitt Adams Polley, PLLC, secretary.
Directors At-Large are: Gabe Bonacci, Counts, Bonacci & Smith; Paul Wilson, CenterPoint Energy; Captain Jay Coons, Harris County Sheriff's Office District 1; Ray Laughter, Lone Star College System; Bradley England, Cypress Creek EMS; Brenda Crawford, Willowbrook Mall/General Growth Properties; Sucre Woodley, Houston Methodist Willowbrook Hospital; and chamber president Barbara Thomason.
Media Contact: Sue Davis, Executive Director for College Relations LSC-University Park, 281.290.1801 (O), 618.521.1288 (M), sue.davis@lonestar.edu
LSC-University Park is the sixth LSCS campus located in the former Compaq Computer's world headquarters complex. The 71-acre campus houses three university partners – University of Houston- Downtown, University of Houston and Sam Houston State University; ischool High, a charter high school; several business partners, Lone Star Corporate College and the LSC Energy and Manufacturing Institute. Under its first President, Shah Ardalan, LSC-University Park's vision is nationally recognized as the model for the innovative college of the 21st century. The campus is located at the corner of State Highway 249 and Louetta Road across from Vintage Park. For more information about LSC-University Park, call 281.290.2600 or visit LoneStar.edu/UP.
Lone Star College has been opening doors to a better community for more than 40 years. Founded in 1973, LSC remains steadfast in its commitment to student success and credential completion. Today, with almost 83,000 students in credit classes, and a total enrollment of more than 95,000, Lone Star College is the largest institution of higher education in the Houston area and one of the fastest-growing community colleges in the nation. Stephen C. Head, Ph.D., is the chancellor of LSC, which consists of six colleges including LSC-CyFair, LSC-Kingwood, LSC-Montgomery, LSC-North Harris, LSC-Tomball and LSC-University Park. To learn more visit LoneStar.edu.
###