Klein Collins High School senior Ethan Collins thought he wanted to become a nuclear engineer – until he spent two weeks in a Project GRAD Houston program at Lone Star College-University Park.
"I saw all the petroleum stuff here and I kind of want to do that now instead," Collins said. "You get to travel a lot and I like what you get to do as a petroleum engineer. I didn't know too much about it before."
Collins was among nearly 70 high school students who learned about energy careers, college options and interviewing skills during the last of Project GRAD's eight summer JPMorgan Chase College and Career Institutes.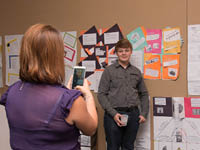 Klein Collins High School senior Ethan Collins poses for a snapshot by the career presentations made by Project GRAD students during a two-week institute at Lone Star College-University Park.
LSC-University Park hosted students from the Klein and Houston school districts.
During the institute at LSC-University Park, students learned about programs housed in the Energy and Manufacturing Institute, including floor-hand roustabout, machining, petroleum field services and mechanical engineering. They also toured industry partner facilities and visited two university campuses.
LSC-University Park President Shah Ardalan said, "One of our important roles as a community college and more importantly as the community's college is to lead by bringing people and organizations together for a greater good. We are proud to connect so many outstanding individuals from school districts, industries, businesses and agencies as we help our youth begin considering career paths."
Ardalan added this Project GRAD session focused on energy careers and was a perfect match with the work and connections forged by the College's Energy and Manufacturing Institute. "We are pleased that our expertise and facilities were beneficial, and are very happy that our first Project GRAD program was so successful. We thank everyone who made it possible," he said.
Steven Kahla, LSC-University Park's dean of instruction for workforce programs, said the institute represented a perfect opportunity for community outreach.
"It's a great partnership," Kahla said. "We are always excited to have high school students on our campus and in the EMI building, learning more about the different disciplines they are interested in and using our equipment."
Project GRAD began more than 25 years ago in Houston's Near Northside to prove that with the right support and preparation, college and a brighter future are possible for all. Project GRAD serves low-income communities, helping students and their families navigate the journey to and through college.
The institute arms students with information that helps them understand that college is within their reach, said Felicia Mora, who co-led the institute at LSC-University Park.
"A lot of our students are going to be first generation college students — and for some of them, high school graduates — so it's definitely a life-changing experience," Mora said. "When they come to these campuses, their perception changes. They see students and faculty that are just like them. Everybody has barriers and everybody finds a way to overcome them."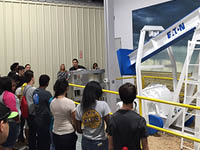 Klein and Houston ISD high school students attending a Project GRAD college and career institute at Lone Star College-University Park visit Eaton's Houston Experience Center for an overview of the energy industry. 
For example, the students learned about the process to apply for federal financial aid.
"It makes me feel secure that I can pay for this," said Chelsea Parada, a junior at Klein Collins.
Students also spent time learning how to market themselves to potential employers through their resumes and by becoming more comfortable talking about themselves in interviews.
Klein Forest senior Ushante Cannon said she had to create and deliver a 30-second commercial about herself.
"It got me out of my comfort zone," Cannon said. "I had to talk in front of everyone. There were about 15 other people in the room."
Industry partners who made presentations or hosted the high school group included Subsea Systems-FMC Technologies, Eaton and SafeKick.
Workforce Solutions, the Gulf Coast Workforce Board, collaborated with Project GRAD on the summer institutes. The board's education industry liaison Daniel Zendejas said Workforce Solutions invests in programs like this because it's important to be proactive about setting up pipelines to post-secondary education.
"If you can connect a student directly to a college with an actual program, that is the best type of direct insight that they can get," Zendejas said. "The idea of this triad of college preparation, career preparation and the hands-on knowledge is stellar. Nowhere else have I seen this type of programming put together."
LSC-University Park is the sixth LSCS campus located in the former Compaq Computer's world headquarters complex. The 71-acre campus houses a University Center with three university partners – University of Houston-Downtown, University of Houston and Sam Houston State University. It is also home to a Law Enforcement Academy, the Energy and Manufacturing Institute, iSchoolHigh, a charter high school; several business partners and Lone Star Corporate College. Under its first President, Shah Ardalan, LSC-University Park has been recognized nationally as a model for the innovative college of the 21st century. The campus is located at the corner of State Highway 249 and Louetta Road. For more information about LSC-University Park, call 281.290.2600 or visit LoneStar.edu/UP.
Lone Star College has been opening doors to a better community for more than 40 years. Founded in 1973, LSC remains steadfast in its commitment to student success and credential completion. Today, with more than 83,000 students in credit classes, and a total enrollment of more than 95,000, Lone Star College is the largest institution of higher education in the Houston area and one of the fastest-growing community colleges in the nation. Stephen C. Head, Ph.D., is the chancellor of LSC, which consists of six colleges including LSC-CyFair, LSC-Kingwood, LSC-Montgomery, LSC-North Harris, LSC-Tomball and LSC-University Park. To learn more visit LoneStar.edu.