HOUSTON (Sept. 25, 2015) — Parents who attend Lone Star College-University Park could receive full-time childcare scholarships for the current fall semester, but applications should be submitted as soon as possible.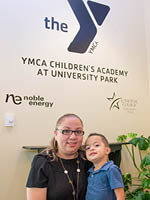 Noble Energy, the D. Bradley McWilliams YMCA and LSC-University Park joined forces this summer to establish the Children's Academy Scholarship Program. Noble Energy provided a $20,000 grant to the YMCA to cover full-time childcare tuition at its satellite location, the YMCA Children's Academy at University Park.
Each scholarship is worth about $9,000, which pays for about 50 hours per week of childcare for one child between the ages of 3 and 5. The YMCA will cover the remainder with donations received through its Annual Campaign. A 30-year-old mother has received the first scholarship award and began using the YMCA's childcare this month. The selection committee will continue to accept applications until the remaining scholarships are awarded.
LSC-University Park President Shah Ardalan said the scholarship program is changing lives.
"We are extremely grateful to Noble Energy for its tremendous generosity and to the YMCA for its continuing support of us," Ardalan said. "This unique three-way partnership will help deserving students overcome what can be a significant financial barrier to full-time studies. It will also ensure their young children receive an excellent educational foundation."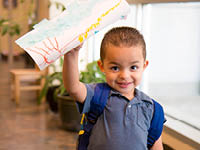 Recipient Griselda Argueta and her husband have three children, ages 10, 3 and 2. She works part-time and takes classes full-time in pursuit of an Associate of Arts in Teaching. She said her 3-year-old son has already fallen in love with the YMCA program.
"It's a good experience for my son for going into Pre-K next year," Argueta said. "The scholarship was such a gift. It helps every parent knowing their child is in good hands and close by."
On campus, Argueta serves as president of the Teachers2B club and vice president of the Justice Agents of Change, the criminal justice club. She said she ultimately plans to become a bilingual elementary teacher.
"Coming from a Hispanic heritage, I've always liked to help minorities," Argueta said. "When I got to this country I didn't speak English and I always had a second hand from somebody. I want to be that second hand to these kids."
Lee Robison, Noble Energy's senior vice president of human resources and administration, said the program is part of Noble Energy's commitment to the Houston community.
"As in all the communities where we operate, we sought ways to support the future of northwest Houston. We found it in our partnership with Lone Star College and the Y Children's Academy," Robison said. "Our funding of these scholarships aligns directly with our purpose – Energizing the World, Bettering People's Lives – and two of our strategic corporate social responsibility pillars – education and workforce development. We commend Griselda for her commitment to family and continuing education."
Noble Energy, LSC-University Park, and the YMCA Children's Academy at University Park are located within the same corporate complex at Louetta Road and State Highway 249.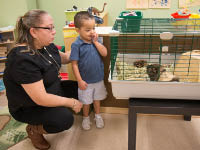 Cesar Silva, Chief Financial Officer for the YMCA of Greater Houston, said the collaboration supports the organization's belief that all children should have the opportunity to succeed, no matter their circumstances.
"This partnership allows us to close the achievement gap for youth in need with a unique program that will improve their educational readiness, engagement and outcomes, while helping them grow emotionally and physically," Silva said. "Early learning programs allow children the opportunity to learn to share, follow instructions, and begin the foundation for learning in a safe, nurturing environment."
Applicants must be full-time students pursuing associate degrees or workforce certificates during the 2015-2016 academic year. They must be taking at least 12 hours during both the fall and spring semesters, have at least a 2.5 Lone Star College GPA and establish financial need for childcare.
Applications may be picked up from several offices in LSC-University Park's Building 13: Academic Advising in Suite 200, Admissions in Suite 210 and Financial Aid in Suite 220. For additional information, contact advisor Jennie Do at 281.290.3795 or JennieDo@LoneStar.edu.
"We are thrilled to offer these scholarships, but time is of the essence," said Zack Coapland, LSC-University Park's vice president for student success. "We encourage all eligible students get their applications together right away."
Noble Energy (NYSE: NBL) is a global independent oil and natural gas exploration and production company, with total proved reserves of 1.7 billion barrels of oil equivalent at year-end 2014 (pro forma for the Rosetta acquisition). The company's diverse resource base includes positions in four premier unconventional U.S. onshore plays — the DJ Basin, Marcellus Shale, Eagle Ford Shale and Permian Basin — and offshore in the U.S. Gulf of Mexico, Eastern Mediterranean and West Africa. Driven by its purpose, Energizing the World, Bettering People's Lives®, the company is committed to safely and responsibly providing energy to the world while positively impacting the lives of our stakeholders. For more information, visit www.nobleenergyinc.com.
First organized in 1886, the YMCA of Greater Houston is one of the city's leading nonprofits dedicated to strengthening communities through youth development, healthy living and social responsibility. The YMCA, a United Way of Greater Houston agency, seeks to serve all – regardless of age, income, faith or background and we welcome everyone.
In the greater Houston area, 36 YMCA centers, one overnight camp and hundreds of program sites nurture the potential of children and teens, improve the city's health and well-being, and provide opportunities to give back and support neighbors. Anchored in the Houston community, the Y has the long-standing relationships and physical presence not just to promise, but to deliver lasting personal and social change. To learn more, call 713-659-5566 or visit ymcahouston.org.
LSC-University Park is the sixth LSCS campus located in the former Compaq Computer's world headquarters complex. The 71-acre campus houses a University Center with three university partners – University of Houston-Downtown, University of Houston and Sam Houston State University. It is also home to a Law Enforcement Academy, the Energy and Manufacturing Institute, iSchoolHigh, a charter high school; several business partners and Lone Star Corporate College. Under its first President, Shah Ardalan, LSC-University Park has been recognized nationally as a model for the innovative college of the 21st century. The campus is located at the corner of State Highway 249 and Louetta Road. For more information about LSC-University Park, call 281.290.2600 or visit LoneStar.edu/UP.
Lone Star College has been opening doors to a better community for more than 40 years. Founded in 1973, LSC remains steadfast in its commitment to student success and credential completion. Today, with almost 83,000 students in credit classes, and a total enrollment of more than 95,000, Lone Star College is the largest institution of higher education in the Houston area and one of the fastest-growing community colleges in the nation. Stephen C. Head, Ph.D., is the chancellor of LSC, which consists of six colleges including LSC-CyFair, LSC-Kingwood, LSC-Montgomery, LSC-North Harris, LSC-Tomball and LSC-University Park. To learn more visit LoneStar.edu.