A team of Lone Star College-CyFair students are creating a prototype zip tie cutter tool designed for use during Extravehicular Activities (EVA) or "spacewalks" and that will be tested at NASA's Johnson Space Center later this year.
LSC-CyFair's Team CERO (an acronym name - Cutting, Extraction, and Retention Operations – based on their tool design) competed last fall in the Texas Space Grant Consortium's (TSGC) Annual Design Challenge against mostly senior teams at four-year universities, such as University of Texas and Texas A&M University. They placed in multiple categories, including winning first for best poster and overall winning third for top design team.
With some personnel changes, this spring's LSC-CyFair Team CERO - consisting of Ryan Gomez (Team Lead), Daniel Vasek (Deputy Lead), Maria Gonzalez, Sean Palmer, Francesca Liso and James Philippi - is advancing to the testing phase in NASA's Micro-g Neutral Buoyancy Experiment Design Teams – Micro-g NExT Challenges, This team will spend the next several months building their zip tie cutter prototype in preparation for the test, which will take place in NASA's Neutral Buoyancy Laboratory (NBL), a 40-feet deep pool where astronauts train for spacewalks.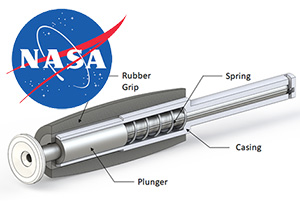 "The zip tie cutter tool must be compatible with bulky EVA gloves, only use manual power during one-hand operation, and must be ambidextrous. In their proposal, Team CERO designed a pen-shaped tool with which the astronaut can cut and retain a zip tie securely in a motion similar to clicking a pen," said Associate Professor of Engineering Yiheng Wang, co-adviser with Associate Professor Jared Cammon. "The team's preliminary tool design received constructive feedback for modification from NASA experts, but was still creative and practical enough for the team to move on to the final testing stage."
LSC-CyFair was the only community college team invited among 22 schools across the country, such as Cornell University, Embry-Riddle Aeronautical University, Purdue University, Rochester Institute of Technology, Tennessee Technological University, University of California-Los Angeles, University of Texas-Austin, and Virginia Tech, just to name a few.
The tools these college and university teams are designing for Micro-g NExT address an authentic, current space exploration challenge. Upon successful testing, these student-designed tools have the possibility of being used for future NASA exploration missions.
The Micro-g NExT program helps support an education policy of using NASA's unique missions and programs to engage and encourage students to pursue science, technology, engineering and math (STEM) careers.
Late Start spring semester classes at LSC-CyFair are available. For information go to LoneStar.edu/late-start.