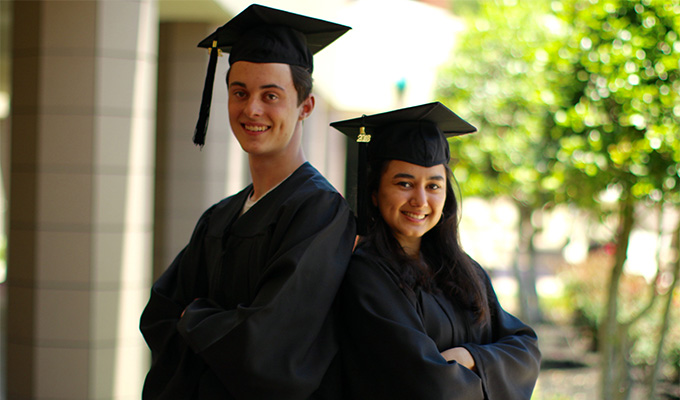 When Bethany Perez and Caden Sanborn walk across the stage at Lone Star College-Montgomery commencement on Thursday, May 10 at The Woodlands Church - Fellowship Campus, they will be receiving their associates of arts before their high school diplomas. Perez and Sanborn attend iSchool High, a public charter school located on the LSC-Montgomery campus.
"Some people might say I did not go to 'normal high school,'" said Perez. "I did not have homecoming or pep rallies, but instead I got an associates degree. I feel weird talking about it because I feel like I am bragging, but to me, my associates degree is just a result of my coursework. People who learn about my age are always in awe and think I am really smart, but I always tell them I just work hard like they do, it does not matter how old you are."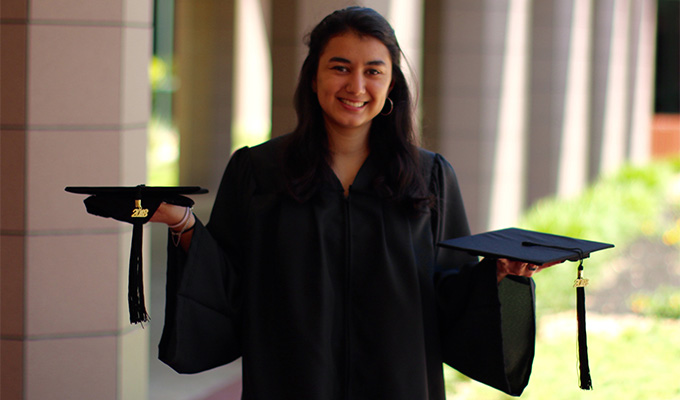 Both Perez and Sanborn started taking college classes the spring semester of their freshman year. Perez was 15-years-old and Sanborn was 14-years-old. They started with just one class at a time. Perez has gone on to take four college courses at one time while balancing high school and Sanborn is currently taking five college courses while balancing high school and working 20-30 hours at Chick-Fil-A.
"LSC-Montgomery classes are more difficult than iSchool classes, but LSC-Montgomery classes quickly became my favorite," said Sanborn. "They are interesting and engaging and I learn a lot."
"Caden really has enjoyed his LSC-Montgomery classes," said Caden's mom, Laura Sanborn. "He lights up when he tells us about his professors and class discussions. It has been wonderful to see how much he has learned."
iSchool High blends high school and college into one educational experience. Students like Perez and Sanborn teach themselves while iSchool High teachers are available for questions. Plus, while Bethany and Caden are teaching themselves during the day, they come and go per their LSC-Montgomery course schedule.
The best part: there is no cost for the college classes.
"The cost of college is a major investment for a family," said Bethany's mom, Tammy Bailes. "I have four children and sending them through school is expensive. It was a huge help that Bethany was able to take college courses during her regular high school day because we did not have to pay for tuition, fees, or books."
"I am a stay at home mom, my husband is a high school teacher and we have five kids, with Caden being the oldest," said Laura Sanborn. "We always said we would figure it out when the time comes and we will do what we can, but the idea of getting two years of college paid for was hard to pass up."
"iSchool is considered a public institution," said Guamma Goff iSchool High Montgomery Campus Director. "We are able to offer our students free college classes because Lone Star College has waived tuition and fees."
Perez and Sanborn say they have learned valuable lessons during their time at LSC-Montgomery.
"iSchool High and LSC-Montgomery both taught me to work independently," said Perez. "LSC-Montgomery taught me how to solve problems on my own."
"My LSC-Montgomery professors have taught me a lot of life lessons," said Sanborn. "One of my favorite professors was a geology professor, Cynthia Lawry Berkins. In her class she taught us how important it is to plan ahead and stay organized."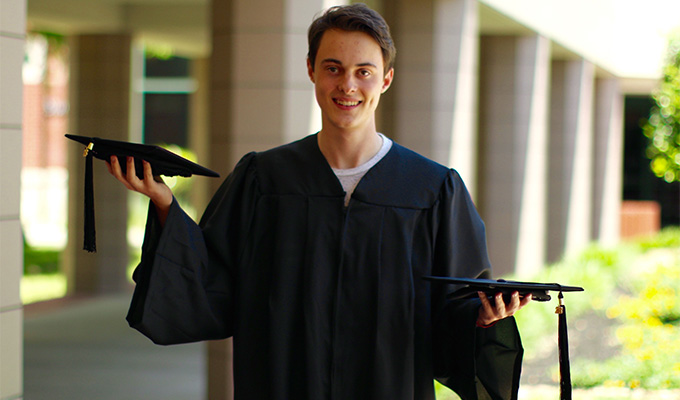 Bethany will attend Texas State in the fall. She plans on majoring in international relations. She credits her Spanish classes at LSC-Montgomery for helping her find this degree path.
"I did not previously know Spanish and I had the opportunity to study it at iSchool, but I wanted to learn in a traditional classroom setting," said Perez. "My Spanish professor Norseman Hernandez created such a fun, interactive environment."
Hernandez remembers Perez fondly.
"Bethany was an inspiring student to have in class," Hernandez said. "She was very proud of her Salvadoran roots and always willing to help others. I was utterly flabbergasted with her level of maturity at such a young age: she is a high school student with the mind of a college graduate."
"I am so proud of Bethany, it is hard to talk about without crying," said Bailes tearing up. "She has maintained a 3.48 college GPA. She is more prepared to go away to college. Taking these courses in high school helped her mature on a collegiate level. She is my youngest and I am not really ready for her to leave, but I am ready to see what is next for her. As a mom I think the greatest thing is when your child figures out what they want to do and they go and do it. I am appreciative of the opportunity iSchool High and LSC-Montgomery gave Bethany. This experience has opened up her educational path."
Caden plans to continue his education, but first he is going to serve as a missionary in Haiti with a group called CoreLuv.
"As parents we have had to shift our mindset a little bit, because we both graduated with our bachelor's degrees," said Caden's mom, Laura. "The track has always been you are going to go to college, but he has always felt he is supposed to be in Haiti. We are on board with him doing that and it helps us feel a little bit more comfortable knowing he has an associates degree. I am really proud of him. He has worked so hard, he had a goal and he followed through on it. We are impressed with him and the young man he is becoming. This experience has set him up with more than just having a degree, it sets him up for his future. He knows what he can accomplish if he sets his mind to it."
Lone Star College offers high-quality, low-cost academic transfer and career training education to 99,000 students each semester. LSC is training tomorrow's workforce today and redefining the community college experience to support student success. Stephen C. Head, Ph.D., serves as chancellor of LSC, the largest institution of higher education in the Houston area with an annual economic impact of $3.1 billion. LSC consists of six colleges, eight centers, two university centers, Lone Star Corporate College and LSC-Online. To learn more, visit LoneStar.edu.