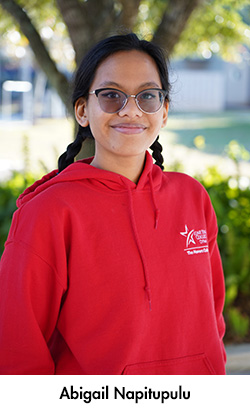 Three Lone Star College-CyFair Honors College students are among 17 LSC students – the most of any community college in Texas – named as semifinalists for the prestigious Jack Kent Cooke (JKC) Foundation Undergraduate Transfer Scholarship.
This year, Abigail Napitupulu, Valentina Tardugno and Humberto Leal Acosta, are competing to receive up to a $40,000-a-year scholarship toward completing their bachelor's degrees at a selective four-year college or university.
"We congratulate Abigail, Humberto and Valentina for being named a Jack Kent Cooke semi-finalist. This recognition acknowledges their impressive academic accomplishments, volunteer efforts and leadership ability," said LSC-CyFair President Dr. Seelpa Keshvala. "We are just so proud of each of them!"
The scholars said this honor not only shows them that hard work pays off, but if chosen as a finalist, such a scholarship would open doors and lessen, if not relieve, financial worry as they continue their education journey.
While these three have not decided upon which school they will transfer to when they graduate in May, they all plan to earn at least a bachelor's degree and make a difference in the world.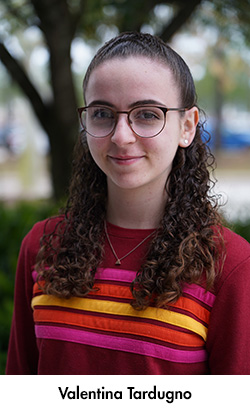 Napitupulu's participation in the National Model United Nations changed her focus from biology to a political science career. She hopes a summer internship will help her better understand impactful options in this career path.
"After learning about countries and politics from all over the world, my desire is to help those whose voices cannot be heard.," she said. "I am inspired to heal lives; however, not through medicine or healthcare, but through fixing the systems that fail these people."
Tardugno's experience conducting research at an undergraduate level and sharing her findings at local, regional and national conferences, led to being recognized with the 2019 Sloane Prize for Undergraduate Research from the National Collegiate Honors Council.
"I aspire to become a physics researcher and professor because I find the greatest joy in studying how our universe functions," said Tardugno, who hopes to earn a Ph.D. in physics. "I also find teaching to be extremely rewarding."
At LSC-CyFair, Leal Acosta was able to research and explore many different topics, including creation of an award-winning pivot mechanism prototype space tool that will be tested at NASA this summer. Now he's ready to focus on bioengineering research, more specifically, neuro-engineering.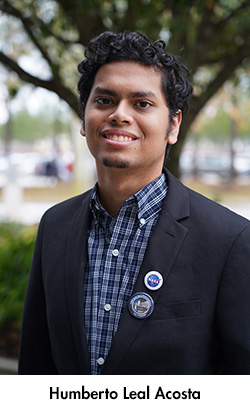 "Since I was little, I've dreamed about making new discoveries. I want to specialize in research to develop technology that improves human well-being," he said. "Bioengineering is a relatively new field with many mysteries to uncover. So far, we have discovered ways to allow paraplegics to run, the blind see, the deaf hear and we can do so much more."
Finalists for the JKC scholarship will be announced in April. LSC-CyFair has had three students preciously win this national undergraduate scholarship, including Thanhphuong Le in 2012, Rey Laurencio in 2016 and Michael Aguilar in 2018.
This year's 456 semifinalists were chosen from nearly 1,500 applicants attending 311 community colleges in 45 states and the District of Columbia. These scholars are selected based on exceptional academic ability and achievement, financial need, persistence, service to others, and leadership.
Late Start spring semester classes at LSC-CyFair are available. For information go to LoneStar.edu/late-start. For information on LSC-CyFair go to LoneStar.edu/CyFair.