LSC-CyFair Welding Technology Department
Lone Star College – Cypress Center
19710 Clay Road
Katy, TX 77449
Front Desk: 832.920.5001
Welding Technology is a comprehensive program of studies designed to provide skill development opportunities in oxyacetylene (gas) and electric welding. Classes are conducted in laboratories that are equipped with modern industrial welding equipment, and skills development opportunities are afforded in advanced welding techniques.
Welding Technology
Welding student equipment requirements:
Welding Hood – Shaded Lenses Needed (10-13) or Auto Dark hood with adjustable 10-13 lens shades
Welders Cap
Jeans Without – Frays, holes, or cuffs (Jeans will not be tucked into your boots)
Long sleeve welding shirt with covered pockets, Welding Jacket, or Leathers (shirt must be Cotton or Wool)
Clear Safety Glasses – Will be worn at all times in the Lab, cutting, yard, and layout areas.
Cutting Goggles or Glasses Shade #5 -for Oxyfuel cutting area and Plasma cutting area.
Textbook as required by your syllabus
Tape Measure
Soap Stone
Paper
Pen
Channel Locks
Pencil
Welding Pliers
Paint markers
Speed Square
Tool File - Small
Magnets
4 1/2-inch Grinder
Grinder Cut off wheels
Abrasive grinding wheels
Grinder Flap Disks
Grinder Wire Wheel
Chipping Hammer
Vise Grips
Large Wooden Wire Brush
C-Clamps
Toolbox/bucket
Basic hand tools pliers/wrenches/screw drivers
Required Gas Tungsten Arc Welding Torch and Parts as indicated below.
Gas Tungsten Arc Welding Torch and Parts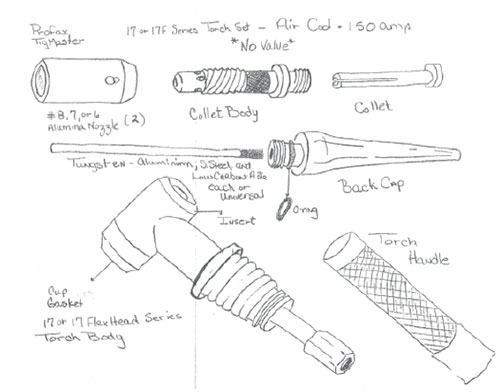 IMPORTANT NOTICE!
Safety first and follow directions always. You will be welding, and there is a high possibility you will get burned, exposed to heat, exposed to smoke, or receive minor cuts and abrasions. You are to take the necessary precautions and purchase the required equipment and any additional equipment you feel is appropriate. No equipment will be loaned out and none of your equipment will be stored on campus for you. If you show up to the welding lab in baggy or frayed pants, tennis shoes or flip flops you will be asked to go home and change, and you will lose points for the day. If you show up without your equipment you will be asked to leave and return with your equipment, and you will lose points for the day.
When there is lecture you will need your textbook as required per your syllabus, pen, pencil, paper, folder, or binder, and a ruler. Bring these items to class or you will be asked to leave and retrieve the required items, and you will lose points for the day. The instructors in the Welding Program take their job and safety seriously. The same is expected of you as students. If you cannot comply with these requirements, do not register for the welding courses. There are other students that are willing to comply, make the sacrifice, and take your place.
Faculty and Staff
Bridgette Sellers
Dean, Instruction
832.920.5021
Office: CYC 213G
Michael Young
Director, Advanced Manufacturing Center
832.920.5062
Office: CYC 102A
Kris Villarreal
Assoc. Professor - Welding
832.920.5063
Office: CYC 102D
Innocent Yapo
Assoc. Professor - Welding
832.920.5033
Office: CYC 102I
Make LSC part of your story.