Communities In Schools of Houston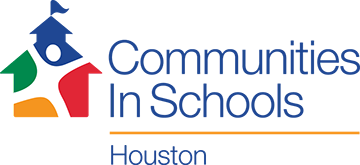 Who We Are
We are a nationwide network of passionate professionals working in public schools to surround students with a community of support, empowering them to stay in school and achieve in life.
We provide direct services and referrals for:
Emergency Needs: Food, Shelter and Clothing
Supportive Guidance: Family and Personal Concerns
Crisis Intervention: Grief and Trauma
Strategies for Managing Stress, Anxiety, and Depression
Mental Health & Community Resource Referrals
Social and Life Skills Support
Positive Self-image and Self-worth
Relationship Skills Training
Academic Support and Counseling
Goal Setting
Need help?
Up to 44% of college students report having symptoms of depression and anxiety. Lone Star College students who are Texas residents and are currently enrolled have access to Communities in Schools 24/7 Emotional Support Line. This phone line will provide students with emotional support and resources available in their respective service area. Call (844) 844-4007 for support. Emotional support is just a phone call away.

You can also fill out this form and a CIS team member will respond to your request within two business days. You can also find our individual campus contacts below. Feel free to call or email us.
While CIS hours are Monday through Friday 8:00 am - 4:00 pm, we work with students to make appointments that work for them. We offer appointments on evenings and Saturdays as needed and can meet in-person, over the phone, or virtually.

For more information please visit: https://www.cishouston.org/

Students from all Lone Star College campuses are eligible for services. Walk-ins are Welcome!
If you are in crisis, please reach out to one of the following resources for immediate assistance:
National Suicide Prevention Lifeline 1-800-273-8255 (TALK)
Tri-County Behavioral Healthcare Crisis Line 1-800-659-6994
The Harris Center 713-970-7000 option 1
Crisis Text Line: Text CONNECT to 741741
If you have a life threatening emergency, dial 911
Lone Star College Campuses Contacts
LSC-CyFair
Kimberly Alvarez, LMSW
Program Manager
KAlvarez@CIS-Houston.org
Kimberly.Alvarez@LoneStar.edu
832.745.5032
Office CASA 109D
Sophia Phillips, LMSW
Service Coordinator
sphillips@cis-houston.org
Sophia.J.Phillips@lonestar.edu
281-290-3261
Office CASA 109E
Frank Sreshta, LPC
Service Coordinator
fsreshta@cis-houston.org
Frank.Sreshta@lonestar.edu
281-290-3424
CASA 109D
Joumana Azzam, LMSW
Coverage Specialist
Jazzam@cis-houston.org
CASA 109G
LSC-Cypress Center
Jennifer Davis, LPC
Program Manager
JDavis@cis-houston.org
Jennifer.Davis@LoneStar.edu
832.920-5073
Office CY131
LSC-Houston North
Jazmine Goodman, LMSW
Program Manager - Fairbanks
JGoodman@CIS-Houston.org
Jazmine.Goodman@LoneStar.edu
Office: 832.782.5140
Office 222C
Adriana R. Cedillo, LMSW
Program Manager - Greenspoint
ACedillo@cis-houston.org
Adriana.Cedillo@LoneStar.edu
281.260.3820
Student Services 109.4
Holly Heil, LMSW-Cluster Leader
Program Manager - Victory
HHeil@CIS-Houston.org
Holly.Heil@Lonestar.edu
281.810.5659
Office 104B
Alexa Foster, LMSW,
Coverage Specialist
AFoster@cis-houston.org
Alexa.Foster@lonestar.edu
281-836-9561
Office Number 210
LSC-Kingwood
Titania Jackson, LMSW
Program Manager
TJackson@CIS-Houston.org
Titania.Jackson@LoneStar.edu
281.312.8408
Office TIB 209-D
LSC-Montgomery
Ashley Shell, LMFT, LPC -Consultation Support Team
Program Manager
AShell@CIS-Houston.org
Ashley.L.Shell@loneStar.edu
936.273.7426
MSC Building Office 262
LSC-Conroe Center
Tanya Shelby, LPC Associate- Cluster Leader
Program Manager
TShelby@CIS-Houston.org
Tanya.Shelby@LoneStar.edu
936.521.4562
Office CC103B (Library)
LSC-North Harris
Danyelle Williams, LMSW,
Program Manager
Dmwilliams@cis-houston.org
281-618-7144
Academic Building, Room 200A
LSC-East Aldine Center
C. Julian Barnwell-Joseph, LPC
Program Manager
CBarnwell-joseph@cis-houston.org
LSC email TBD
346.378.7585
Office 106
LSC-Tomball
Valerie Gonzales, LMSW
Program Manager
Vgonzalez@cis-houston.org
Valerie.GonzalezMedina@LoneStar.edu
832-559-4216
E211E
Darnell Vithanage, LMSW
CIS Service Coordinator
DVithanage@cis-houston.org
Darnell.Vithanage@LoneStar.edu
281-401-1852
E211C
LSC-Tomball Health Science Building & LSC-Creekside Center
Amanda Heij, LMSW
Program Manager
AHeij@CIS-Houston.org
Amanda.Heij@LoneStar.edu
832.761.6609 LSC-Creekside Center, Office 117E (Wed. and Thurs in office)
281.826.5354 LSC-Health Science Building, Office 115 (Monday, Tuesday, and Friday in office)
8am-4pm
LSC-University Park
Linda Leon, LCSW
Program Manager
LLeon@CIS-Houston.org
Linda.I.Leon@LoneStar.edu
281.655.3753
Building 12, Suite 232B
Kelsea Grant, LPC
Service Coordinator
KGrant@CIS-Houston.org
Kelsea.Grant@LoneStar.edu
281.290.3741
Building 12, Suite 232D
Sarah Slaughter, LPC
Service Coordinator
SSlaughter@CIS-Houston.org
sarah.slaughter@lonestar.edu
281.655.3761
Building 12, Suite 232A
Learn More
Make LSC part of your story.