Welcome from the President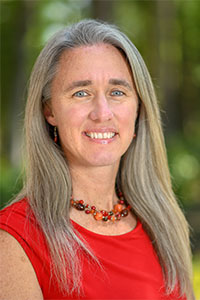 Welcome to Lone Star College-CyFair! We are excited to have you as part of our vibrant campus community Ė you belong here. LSC-CyFair embodies the commitment our community has to higher education and to meeting each of you where you are to help you grow to where you want to be. You will find our faculty and staff eager to support you on your learning adventure both inside and outside of the classroom. We will set high expectations, because we believe in your ability to exceed them, and we are committed to ensuring you have the resources and support to thrive.
If you are new to LSC-CyFair, come visit us on campus or reach out to us virtually.
If you have been part of our community previously, welcome back!
And if you have been with us consistently, thank you for making us the amazing college we are.
Presidentís Bio
Valerie Jones, Ed.D. joined Lone Star College-CyFair as President in June 2022 having been the associate vice chancellor for academic affairs since 2019. Prior to joining LSC, she served for six years as the vice president for instruction at Odessa College, earning national recognition for transformative student success outcomes. Between both colleges, she has led the creation and implementation of five applied bachelorís degrees.
Dr. Jones previously served the community college students of North Carolina for 15 years where her passion for community college students began as English faculty. The move across the southeast with kayaks, 11 chickens, 3 dogs, 2 horses, and an RV in tow reflects the healthy sense of humor Dr. Jones brings to important undertakings.
Dr. Jones earned her Doctorate in Education from University of Illinois Urbana Champaign in Education Policy, Organizational Leadership with a focus on Diversity & Equity, her MA from East Carolina University in Multicultural Literature & Gender Studies, and her BS from Indiana University Bloomington in Secondary Education, English.
The Office of the President
The Office of the President houses the leadership team at Lone Star College-CyFair, including the college president and the vice presidents of administrative services, instruction, and student success.
Regular Hours
Monday - Friday: 8:00 am - 5:00 pm
Saturday - Sunday: Closed
Summer Hours
Monday - Thursday: 7:30 am - 5:00 pm
Friday - Sunday: Closed
President's Cabinet
Make LSC part of your story.