Academic Departments
|
LSCS Emergency Medical Services Departments
|
LSC-Montgomery EMS Department
LSC Montgomery is an innovative leader among Emergency Medical Services (EMS) educational institutions. The EMS program is intended for students who wish to receive a high quality education experience and desire to dedicate themselves to careers in emergency medical services. Lone Star College-Montgomery provides the educational and clinical background necessary to become eligible for certification/licensure at the EMT and Advanced EMT levels.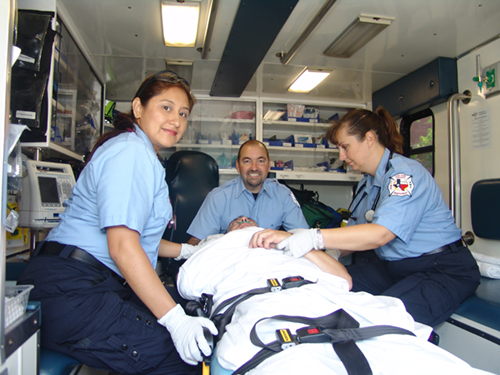 In order to learn more about becoming an EMT or Advanced EMT, and the particular requirements of our program, you are strongly encouraged to attend an information session. No reservations are needed. These sessions are held on the Lone Star College-Montgomery campus.
 Date

 

Time

 

Location

March 3 
 4:00 pm - 5:00 pm

 B 102

April 14
 4:00 pm - 5:00 pm
 B 102
April 29
 4:00 pm - 5:00 pm 

 B 102

May 7
 4:00 pm - 5:00 pm 
 B 102 
 
 
 
 
  
 
 
  
 
In the spring of 2014 LSC-Montgomery will offer a one semester fast track AEMT program for individuals currently certified as an EMT. Applications are due by November 30 and are available in the B120 office suite. For more information, contact the Health Professions office at 936.273.7030.  
Students are eligible to apply for certification to the Texas Department of State Health Services (DSHS) and the National Registry of Emergency Medical Technicians (NREMT). Completion of the LSC-Montgomery EMS Program does not guarantee eligibility for DSHS/NREMT certification. Criminal background checks are conducted by DSHS as part of their application process.  Candidates with concerns about their background should contact the Texas Department of State Health Services in Austin.
Job earning potentials and Job forecasts
EMT-Basic salaries range from $18,000 to $24,000 per year. Job opportunities in the greater Houston area are plentiful. EMTs can be found employed in many places including:
Ambulances (Private and Public)
Hospitals
Offshore oil rigs
911 Dispatchers
Firefighting
Emergency Rooms
Camp counselors
First responders groups for companies
What do EMT's Do?