The LSC-Kingwood Men's Center is a center that facilitates comprehensive support services, mentoring and educational programs to increase male academic achievement, campus involvement and enrollment. Essentially, the Men's Center will cultivate mentoring services, leadership opportunities and community building activities within and outside of the college.
Mission Statement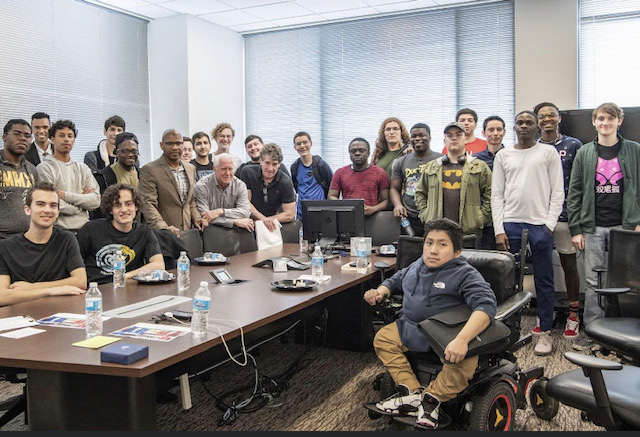 The LSC Kingwood Men's Center seeks to recruit, engage and equip male students with essential life and social skills necessary to begin and complete their degree, license or certification plan. We are committed to the enhancement of a positive LSC-Kingwood experience for current male students and to providing enrichment learning opportunities to future male students from surrounding school districts.
Goals
Implement programming that addresses their socioeconomic and cultural diversity needs to adequately adapt to the academic demands of LSC.
To enrich the experience of the entire student body and community by providing opportunities to engage and educate the campus as a whole on issues related to men.
Strengthen our community and build partnerships with local organizations such as local school districts, businesses, and non-profit organizations to ensure a positive experience for those from historically under-represented backgrounds
Facilitate educational programming such as the African-American and Hispanic Summer Institute for Males, a Financial Literacy Program, Youth Mentoring (District Collaborative) , Men's Leadership Forum/Symposium and Youth Leadership Camps
Establish a comprehensive mentoring program for all first-year male students, starting primarily with male student are from under-represented backgrounds
Identify, develop and provide male student leaders opportunities to demonstrate cultural competence and service in a diverse and multicultural society.
Men's Center Fall Hours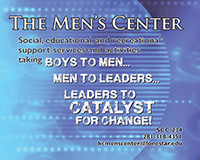 Director
Osvaldo Arzate-Bañuelos
Coordinator III, Menís Center & SSI
Location: SSC 255/
Phone: (281)312-8468
Email: Osvaldo.Arzate-Banuelos@lonestar.edu
Make LSC part of your story.