[Digital Photo Available]
TOMBALL, Texas – In some ways Brianna Greenberg, a LSC-Tomball Chancellor's Fellow with The Honors College, embodies the characteristics of her research subject, Ripley, the courageous and commanding character in the Alien movie series. Smart and driven, qualities that served Ripley's Hollywood character well, have played a big role in Greenberg's academic life, ultimately paying off when her research project earned acceptance into the prestigious National Collegiate Honors Conference (NCHC) and an invitation to attend the 2018 conference in Boston.
"It was amazing and inspiring," said Greenberg, a second-year Honors College student at LSC-Tomball, "There were a lot of different research posters and I met a lot of interesting people from around the country. I even came away with some new ideas for my next research project."
"The National Collegiate Honors Conference is the premiere honors education conference in the country," said Ava Veselis, Director of The Honors College, and one of the professors who advised Greenberg on her research.
According to Prof. Veselis, students who successfully present their undergraduate research at regional conferences are then competitively selected by The Honors College Committee to submit formal research abstracts to the NCHC Fall conference. The Committee weighs the quality of the research, the students' leadership and their honors academic record.
Prof. Veselis and Dr. Sean Tiffee, LSC-Tomball Speech faculty member, jointly taught the course that assigned the research project and were her primary mentors. They provided much of the direction and guidance that helped Greenberg meet the standards, guidelines, and frameworks required of academic research. Dr. Katherine Caruso, the Associate Vice Chancellor of Honors and International Education, advised Greenberg as she fine-tuned her abstract for submission to the NCHC. Dr. Caruso was particularly well-suited to help during this phase since she had previously worked on research similar to Greenberg's.
Greenberg feels fortunate to have completed research of this caliber so early in her collegiate life.
"I was able to do graduate level research," Greenberg said. "I felt like it was good to get [the first one] out of the way as an undergraduate and I'm better prepared now than I would have been in graduate school."
Greenberg showcased her research in a setting where judges freely engage with the young scholars, quizzing them on their methodology and conclusions. Greenberg's research explored how art and culture, influenced by feminism, may have contributed to unrealistic expectations of women. In the Alien films, Ripley represents and reinforces the idea of the "Super Woman."
"But Ripley struggles," Greenberg said. "She has trouble being both commander and consoler. Leader and nurturer. And after analyzing the movies, it becomes apparent Ripley cannot be this 'ideal' woman. And if a character created by a filmmaker cannot become the ideal woman, how can we?"
Greenberg thinks that portrayals like Ripley's have actually resulted in confusion and uncertainty about gender roles. And the elevation of one gender over the other promotes inequality which may lead to competition and confrontation.
The depth and breadth of Greenberg's project demonstrates the desire of LSC professors to challenge, and the willingness to support, Honors College students. Greenberg, who is considering a pre-med degree plan, believes the LSC-Tomball Honors College has a lot to offer high-achieving students. The program includes smaller class sizes, close interaction with dedicated faculty, and specialized coursework. The college has cultivated a faculty of educator-mentors who want to inspire, encourage and nurture students. Moreover, they are willing to devote the time and effort to help initiate and accomplish scholarly research.
To learn more visit The Honors College at Lone Star College Tomball.
Lone Star College-Tomball is located at 30555 Tomball Parkway, at the intersection of SH 249 and Zion Road. For more information about the college, call 281.351.3300 or visit LoneStar.edu/Tomball. Registration is currently underway for spring 2019 classes.
Lone Star College offers high-quality, low-cost academic transfer and career training education to 99,000 students each semester. LSC is training tomorrow's workforce today and redefining the community college experience to support student success. Stephen C. Head, Ph.D., serves as chancellor of LSC, the largest institution of higher education in the Houston area with an annual economic impact of nearly $3 billion. LSC consists of six colleges, eight centers, two university centers, Lone Star Corporate College and LSC-Online. To learn more, visit LoneStar.edu.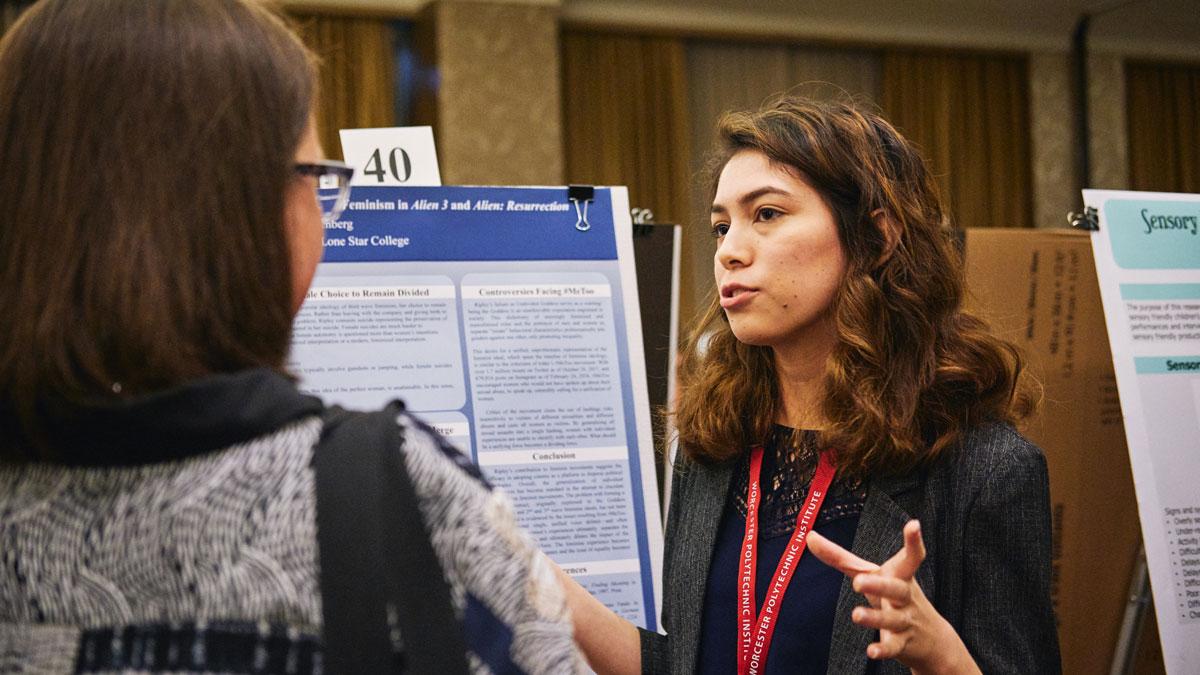 LSC-Tomball student Brianna Greenberg presents research on the Alien movie series at the National Collegiate Honors Conference. PHOTO CREDIT: DIEGO DEGENHART.