Lone Star College-CyFair graduates will hear from Scott McClelland, president of H-E-B Food/Drug Stores, and Noah Reed, LSC Honors College Chancellor's Fellow, at this year's May 11 commencement ceremony.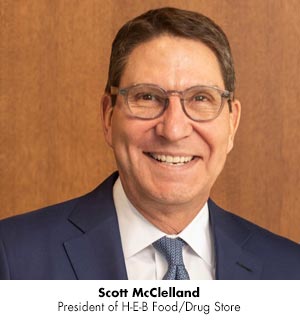 Known as the "H-E-B Guy", McClelland is the local face for H-E-B starring in TV commercials along with JJ Watt, Deshaun Watson, Jose Altuve and other local notables. He has worked for H-E-B, a $26 billion retailer that operates 390 stores in Texas and Mexico, since 1990 holding a number of marketing and operations positions before being named president of all H-E-B stores in July 2017.
McClelland serves on numerous local boards and is co-founder of Good Reason, an education based non-profit focused on improving education for all students across Harris County from cradle to career by eliminating achievement gaps.
In addition to this keynote speaker, LSC-CyFair commencement attendees will hear an inspirational message from one of their fellow graduates, Reed, who is now prepared to pursue a career in psychology.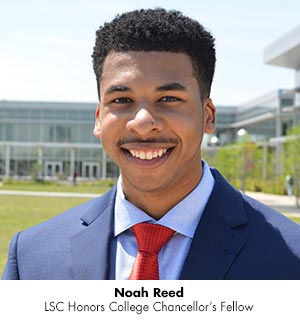 "My experience at LSC-CyFair has really been life changing," said Reed. "So much has happened from freshman year until now that I would never had expected to happen. I have had a lot of opportunities here – learning the research process, building my resume, making unique lifelong friends and finding my interest."
Reed began his community college experience as a victim of Hurricane Harvey, when 6 feet of flood waters forced his family to leave their home. However, with the support of his parents as well as LSC-CyFair faculty members, he persevered with his studies and got involved in campus life.
This Phi Theta Kappa member strengthened and improved his people and public speaking skills serving as moderator for campus events and as presenter in the Honors College Undergraduate Research Day, Regional Gulf Coast Intercollegiate Consortium and the Regional Great Plains Honors Conference in Oklahoma.
"This semester I got to go to China (through the Honors International Capstone project) and it taught me to enjoy the moment," said Reed. "My advice is to cherish the little things that life brings and don't let other's opinions define your worth."
LSC-CyFair has 2,500 graduates receiving their degree or certificate this year with 625 graduates expected to attend commencement, which is set for 9 a.m. Saturday, May 11 at the Cypress-Fairbanks Independent School District's Berry Center, located at 8877 Barker Cypress. A graduation reception will follow at LSC-CyFair's College Center, located at 9191 Barker Cypress Road.
Registration is open for summer sessions, which start June 3 and July 11 and for fall classes, which start Aug. 26. For information, go to LoneStar.edu/registration.