Professional Pilot Program - Associate of Applied Science and Certificate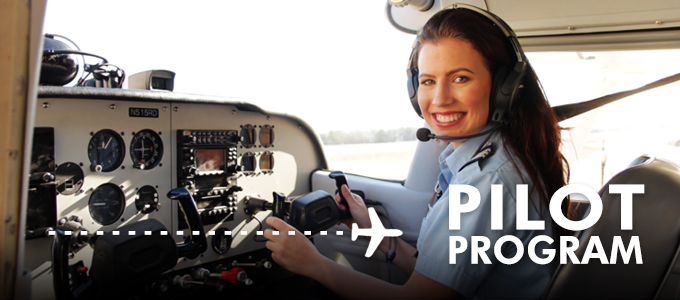 Professional Pilot Program - Associate of Applied Science and Certificate
The Associate of Applied Science - Professional Pilot degree provides the flight training and academic education to prepare students for a career as a professional pilot. Authorized by the Federal Aviation Administration (FAA) as a Part 141 institution, students will complete Private, Commercial, Certified Flight Instructor-Airplane (CFI-A) and Certified Flight Instructor-Instrument (CFI-I) along with the instrument and multi-engine ratings. Upon degree completion graduates are eligible to pursue employment as a certified flight instructor, aerial photography pilot, pipeline patrol pilot, corporate pilot and more. The academic requirements of this program, which have been closely mapped to the needs and demands of the aviation industry, provide the foundation for students to continue their education to a bachelor's degree.
Lone Star College's priority is to provide each student with a quality education. Students pursuing the program can expect to gain the tools and knowledge to become a successful member of the workforce while enjoying a rewarding career. The Professional Pilot Program at Lone Star College at LSC-Conroe Center is on track to be one of the most efficient and cost-effective collegiate flight programs in the country. Students can expect to see all the benefits that Lone Star College has to provide while pursuing a career as a Professional Pilot through LSC-Conroe Center. The program is continually developing and more information about these advancements will be updated soon.
Professional Pilot Program Interest Form
Read the Prospective Student Newsletter
Associate of Applied Science Professional Pilot Degree
Professional Pilot Level II Certificate
Applicant Information
This program is a selective admission program.
Overview
Two year program
Training for FAA certificates
Full program offered at LSC-Conroe Center
Certification - Employment in this field requires industry certification from the FAA.
Review information: LoneStar.edu/Fly
Professional Pilot Application Process Documents to View and Download:
Find our program using the "Apply Now - Texas" link.
Select New Application > Two-Year College > Lone Star College System > Two Year > Semester > First Choice School/Program > Transportation & Logistics > Associate of Applied Science in Professional Pilot then start Application.
Application Deadlines
More Information
Make LSC part of your story.